Simulation Picks
Maximize Your Odds of Winning with SportsLine Model and Our Top-Rated Picks
Maximize Your Odds of Winning with SportsLine Model and Our Top-Rated Picks
Maximize Your Odds of Winning with SportsLine Model and Our Top-Rated Picks
Expert Picks
Point Spread
N.Y. Giants +10.5 -108
5-4-1 in Last 10 NFL Picks
Bob's Analysis:
The New York Giants are not in the same class at the 49ers. New York is without Saquon Barkley and starting LT Andrew Thomas. The 49ers are the better team on both sides of the ball, by far. The public is all over the San Francisco and why not, they're one of the best teams in the league. The Giants have played two good quarters of football this season, but this could be a game that San Francisco may take their foot off the gas towards the end of the game, leading to a possible backdoor cover.
Pick Made:
Thu 11:40 pm UTC
Prop
Christian McCaffrey UNDER 16.5 Total Carries -135
Todd's Analysis:
Sometimes you have to take coaches at their word. After Christian McCaffrey played every single snap in Week 2, 49ers coach Kyle Shanahan said it was a mistake not to get Elijah Mitchell involved and he'll rectify that. With San Fran expected to cruise in this matchup, I see the 49ers limiting McCaffrey's workload.
Pick Made:
Thu 10:57 pm UTC
Point Spread
San Francisco -10 -110
6-3-2 in Last 11 NFL Picks
6-3-2 in Last 11 NFL ATS Picks
2-1-1 in Last 4 SF ATS Picks
Adam's Analysis:
The Giants are badly beat up at multiple positions and now must travel on a short week across the country to face arguably the best team in the NFL at nearly full strength? That's not a recipe for success. Even if you believe in the signs of life New York showed last week, it accomplished that turnaround against the most talent-deficient team in the league (Arizona). San Francisco is anything but talent-deficient. Expect the 49ers to win this going away with Christian McCaffrey getting whatever he wants and Brock Purdy cleaning things up through the air. I don't know how the G-men score with any consistency.
Pick Made:
Thu 7:52 pm UTC
Prop
George Kittle Player To Score 2 or More Touchdowns +1100
Alex's Analysis:
George Kittle and prime time are a match made in heaven. It makes sense for the 49ers to hold Brandon Aiyuk out tonight considering he's not 100%. Kittle is coming off of two subpar performances and I like his chances of making a huge impact tonight, especially in the redzone.
Pick Made:
Thu 7:33 pm UTC
Prop
Brock Purdy UNDER 228.5 Total Passing Yards -119
Larry's Analysis:
Brandon Aiyuk is a gametime decision Thursday night, but that's not the main reason why I bet Under on Brock Purdy's passing yards. This is a run-first offense. And, as a double-digit favorite, San Francisco should get the game script it needs to go run-heavy in the second half.
Pick Made:
Thu 7:32 pm UTC
Prop
Daniel Jones OVER 37.5 Total Rushing Yards -128
Larry's Analysis:
The Giants don't have Saquon Barkley, and their best chance of moving the ball on the ground is via QB Daniel Jones. He's averaged 51 rushing yards through two games. Brian Daboll and Mike Kafka will dial up designed runs for Jones, plus he'll be fleeing the 49ers' pass rush.
Pick Made:
Thu 7:24 pm UTC
Prop
Darren Waller OVER 45.5 Total Receiving Yards -133
Zack's Analysis:
A big part of the New York Giants come back victory over the Arizona Cardinals was tight end Darren Waller. Waller caught six catches for seventy six yards. Additionally, it was the second straight week he had a big play for over twenty yards. With the Giants likely playing catch up Waller should benefit enough to clear this yardage prop. Play his over.
Pick Made:
Thu 6:50 pm UTC
Prop
Jake Moody OVER 2.5 Total Made Extra Points -145
Larry's Analysis:
New 49ers kicker Jake Moody should be busy again tonight, as his team is a double-digit favorite over a Giants team with a subpar defense. Moody has cashed this prop in both games this season, going 6 for 6 overall. This is basically a bet on San Fran, which has scored 30 in each of its first two games, scoring three touchdowns.
Pick Made:
Thu 5:12 pm UTC
Prop
George Kittle OVER 42.5 Total Receiving Yards -119
Eric's Analysis:
I'm all aboard the George Kittle train tonight! With Brandon Aiyuk's health in question and Deebo Samuel more of a weapon against zone defenses, I'm expecting San Francisco's tight end to feast tonight. New York allowed 8 catches and 88 yards combined to Arizona's tight ends last week. I'd say 50+ seems like a good floor for Kittle tonight and I'd be a bit surprised if he doesn't ball out.
Pick Made:
Thu 4:26 pm UTC
Over / Under
UNDER 44.5 -110
5-3 in Last 8 SF O/U Picks
Matt's Analysis:
Can't say I like giving double-digit points so we'll try the total. Bet365 is our last one with 44.5 -- I'm starting to see 43.5s elsewhere, so I guess I'm getting value -- and it's sure tough to see New York doing much offensively down Saquon Barkley and a few offensive linemen. Could be the Niners are without very good wideout Brandon Aiyuk. Kyle Shanahan's offense is rather conservative and if the Giants can hold SF to 27 points, I think we are good. Maybe even at 30. I'm not a referee trends guy but will pass this along: Shawn Hochuli will be the official, and the Under has gone 42-33 (56%) in games he has officiated career.
Pick Made:
Thu 1:50 pm UTC
Prop
Jason Pinnock OVER 4.5 Total Tackles Plus Assists -161
Matt's Analysis:
Little juiced so a half unit -- Pinnock, a safety, had five tackles in Week 1 and 13 last week. He has played all but one defensive snap after winning a starting job in camp and has been maybe the Giants' best defender. The Niners will provide a steady dose of Christian McCaffrey, so Pinnock could be up in the box often.
Pick Made:
Thu 12:04 am UTC
Prop
Daniel Jones OVER 0.5 Total Passing Interceptions -115
Matt's Analysis:
Jones has reverted to his turnover ways with three picks so far and is without his security blanket in Saquon Barkley and a couple of starting offensive linemen. There's also the real chance the Giants are down big early so DJ throws plenty. The Niners have four picks already.
Pick Made:
Wed 8:52 pm UTC
Point Spread
San Francisco -10 -110
14-5 in Last 19 NFL Picks
7-2 in Last 9 NFL ATS Picks
32-18 in Last 50 SF Picks
34-24 in Last 58 SF ATS Picks
R.J.'s Analysis:
Saquon Barkley has been ruled out as expected, but the bigger issue for the Giants may be the offensive line injuries with both the left tackle and left guard out as well. Matthew Stafford needed 55 pass attempts to get to 300 yards against this 49ers defense, and we should expect much worse from this Giants pass attack, so I can't see how they move the ball consistently into scoring range here. The 49ers scored 30 points in back-to-back games on the road and now faces a Giants defense that allowed 6.3 yards per play against a mediocre Cardinals offense. Factoring in the Giants' OL injuries, I think this line should be 49ers -13.
Pick Made:
Wed 8:00 pm UTC
Over / Under
UNDER 44.5 -110
14-8-1 in Last 23 NFL Picks
13-7 in Last 20 SF O/U Picks
Mike's Analysis:
The Giants needed more than six quarters of play this season to dent the scoreboard. After busting out for 31 points in less than two periods Sunday at Arizona, they might revert to recently old, bad times. RB Saquon Barkley is sidelined, along with OT Andrew Thomas and OG Brent Bedeson. The 49ers yielded only seven points in their opener. New York should be stuck in the teens. San Fran has forged a pair of 30-point games, but the Giants' defense is a cut above what it has confronted.
Pick Made:
Wed 7:41 pm UTC
Point Spread
San Francisco -10 -105
5-2 in Last 7 NFL ATS Picks
Emory's Analysis:
What an epic comeback the Giants had against the Arizona Cardinals last weekend. Unfortunately in that game they saw their star, and best player, Saquon Barkley leave the game late with an ankle injury. Facing a great team in San Francisco, without the best offensive weapon, will make it tough for the Giants to find points consistently against the 49ers.
Pick Made:
Wed 12:48 pm UTC
Prop
Daniel Jones OVER 214.5 Total Passing Yards -118
Larry's Analysis:
Daniel Jones isn't going to repeat the 321-yard passing performance he delivered at Arizona. But several factors have me going Over his passing yards here. He'll be playing from behind, rookie speedster Jalin Hyatt is now involved in the offense (two catches, 89 yards vs. Cardinals), and the 49ers just gave up 307 passing yards to Matthew Stafford. With Saquon Barkley not expected to play, the Giants will go pass-heavy throughout.
Pick Made:
Wed 3:31 am UTC
Point Spread
San Francisco -10 -115
4-2 in Last 6 SF ATS Picks
Allan's Analysis:
The Giants were blown out in Week 1 and then needed a miraculous 21-point comeback to eek out a win against what could be the worst team in the NFL this season...and I'm supposed to be afraid of a 10-point number? Against a 49ers team motivated to clean up sloppy play from their previous game? Not buying it, and especially without Saquon Barkley either. San Francisco's offense will not only put up 27+ at home here but even when they punt and play field position their defense will do the rest against that Giants OL and Daniel Jones. 49ers roll here.
Pick Made:
Tue 11:38 pm UTC
Over / Under
UNDER 45 -110
2-1 in Last 3 NFL O/U Picks
Mike's Analysis:
The 49ers are the best team in the NFL right now, in my power ratings, and it's largely because of the defensive side of the ball. I expect the 49ers to run the ball more against this Giants defense and operate a more conservative game plan on the short week. Brandon Aiyuk is questionable after being limited in practice on Tuesday. The Giants offense is down Saquon Barkley and will struggle to score against the top defense on a short week on a road back-to-back. 45 gets us through a few pretty key numbers in this matchup. I make the total 41.5
Pick Made:
Tue 9:06 pm UTC
Point Spread
San Francisco -10 -110
2-1-1 in Last 4 NFL ATS Picks
18-5 in Last 23 SF ATS Picks
22-9-1 in Last 32 SF Picks
Micah's Analysis:
Does the Giants comeback win in Week 2 mean the Giants are back to being normal or is the comeback more about the Cardinals shabby defense? It might be a little of both, but now add in that star RB Saquon Barkley (ankle) is out. The Cardinals offense behind back-up QB Joshua Dobbs was shredding the Giants in a 20-0 first half. The Giants had no answer and RB James Connor ran for 106 yards. What will RB Christian McCaffrey do to the Giants defense? I'm on the 49ers, perhaps the best team in the NFL, to cover.
Pick Made:
Tue 6:08 pm UTC
Point Spread
San Francisco -10 -110
4-1-1 in Last 6 NFL Picks
3-1-1 in Last 5 NFL ATS Picks
Will's Analysis:
This line's ticked down a half point after getting a lot of Niners movement on Monday so I'm going to buy in now. Saquon Barkley isn't going to play in this game and there are several other injuries the Giants have to deal with. The Giants needed a franchise-record comeback against the Cardinals to win in Arizona and now face the NFL's best roster on a short week where they'll be staying on the West Coast. James Conner just ran for 123 yards against the G Men, imagine what Christian McCaffrey is going to do. The 49ers defensive line is not a solution to what ails the Giants protection of Daniel Jones either. Niners roll big here.
Pick Made:
Tue 5:34 pm UTC
33 Total Player Props Projection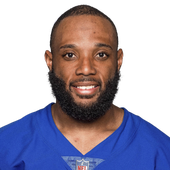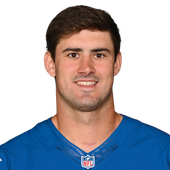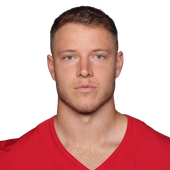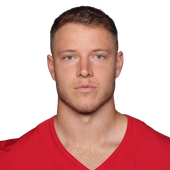 AI Picks for M. Breida, D. Jones, C. McCaffrey, C. McCaffrey and 29 more players!
Join Now
Best prop picks are generated from a combination of Sportsline AI's projection, analysis of the opposing team, and the bets value based on the current odds.
When Spread was +9 to +12
When Spread was -12 to -9
vs Teams That Win >55% of Games
vs Teams That Win 40-55% of Games
vs Teams Allowing <21 PPG
vs Teams Allowing 21 to 25 PPG