Simulation Picks
Maximize Your Odds of Winning with SportsLine Model and Our Top-Rated Picks
Maximize Your Odds of Winning with SportsLine Model and Our Top-Rated Picks
Maximize Your Odds of Winning with SportsLine Model and Our Top-Rated Picks
Expert Picks
Point Spread
Baltimore -3.5 -110
60-33-6 in Last 99 NFL ATS Picks
12-3-2 in Last 17 CIN ATS Picks
Adam's Analysis:
The hook makes a handicap difficult given three of the last four meetings have been decided by a field goal or less. There's belief in the Bengals given the importance of this game to their season goals and the upset at home to Houston. Let's not forget the Ravens gave away a home win to Cleveland and got to stay home on a short week where they got to fester. There's also been talk about Cincinnati being far improved from its Week 2 loss to Baltimore. That's true! But the Ravens are also far better, and their run game should give the Bengals fits. Baltimore is 8-2 in its last 10 home games. Lamar Jackson is 7-1 against Cincinnati. Take this through -4.
Pick Made:
Nov 17, 12:07 am UTC
Prop
Trenton Irwin OVER 2.5 Total Receptions -179
44-25 in Last 69 NFL Player Props Picks
Erik's Analysis:
Irwin has Burrows trust. WithTee Higgins out Irwin takes on this role. On the road in a huge spot he should go over…maybe by halftime
Pick Made:
Nov 16, 11:31 pm UTC
Prop
Trenton Irwin OVER 33.5 Total Receiving Yards -114
44-25 in Last 69 NFL Player Props Picks
Erik's Analysis:
Trenton Irvin has Joe Burrow's trust. Like he knows his ATM PIN number kinda trust. And in a huge road game that matters. Over.
Pick Made:
Nov 16, 11:28 pm UTC
Prop
Ja'Marr Chase OVER 80.5 Total Receiving Yards -120
4-2 in Last 6 NFL Player Props Picks
James's Analysis:
Ja'Marr Chase was also one of my top DFS plays tonight, as I believe this matchup sets up nicely for him to have a monster game. In four career games against Baltimore, Chase has 30 catches for 462 yards and two touchdowns. I expect him to stay on trend with those numbers and go well over 80.5 receiving yards on TNF.
Pick Made:
Nov 16, 11:26 pm UTC
Point Spread
Cincinnati +4 -110
33-24-2 in Last 59 NFL Picks
7-3 in Last 10 BAL ATS Picks
Matt's Analysis:
Don't have a strong opinion here as there are some pretty drastic trends favoring both teams. Baltimore down Ronnie Staley and Marlon Humphrey is definitely not ideal but also tough to see the Ravens lose twice at home in four days. I'm simply hoping for yet another walk-off field goal after a record six in Week 10. At least at 4, we push on 31-27, etc.
Pick Made:
Nov 16, 11:16 pm UTC
Prop
Trenton Irwin OVER 33.5 Total Rushing + Receiving Yards -114
Alex's Analysis:
Trenton Irwin has filled in admirably for Tee Higgins who has been on has already missed two games this season. Irwin played 76% and 81% of the teams snaps when Higgins was inactive and should once again assume a full time role in the Bengals high volume passing attack. He eclipsed this line in both games and I expected him to flirt with 5-7 targets tonight against a tough Ravens D. Baltimore will be without All-Pro cornerback Marlon Humphrey which should give the Bengals pass catchers a nice upgrade. Look for Irwin to provide a reliable target for Joe Burrow in a game that has shootout potential.
Pick Made:
Nov 16, 10:58 pm UTC
Prop
Lamar Jackson OVER 45.5 Total Rushing Yards -147
Alex's Analysis:
I like this spot for Lamar Jackson who has had a quiet season from a rushing perspective, which I believe in large part is due to his effectiveness as a passer. That said, Lamar still has incredible dual threat capabilities and is at his best when he is moving around and making splash plays with his legs. He has tremendous career rushing splits against the Bengals who he averages 71 rushing yards against. Look for Jackson to show off his trademark versatility and make plenty of plays with his legs tonight in a game that could be potentially be uptempo.
Pick Made:
Nov 16, 10:57 pm UTC
Prop
Mark Andrews Anytime Touchdown Scorer +145
11-7 in Last 18 NFL Player Props Picks
Josh's Analysis:
The sure-handed TE had just 2 catches on 4 targets last week, but Lamar Jackson's favorite target should see plenty of opportunities in this one. He has received 10 targets twice in the past six games, and has found the end zone in four of the past five outings against the Bengals.
Pick Made:
Nov 16, 10:53 pm UTC
Prop
Germaine Pratt OVER 7.5 Total Tackles Plus Assists -169
81-50 in Last 131 NFL Player Props Picks
Larry's Analysis:
Bengals linebacker Germaine Pratt made a critical mistake on the last play from scrimmage last Sunday, enabling the Texans to get into position for an easy game-winning field goal. I like Pratt to bounce back and play a strong game Thursday versus the run-heavy Ravens. Pratt has made 19 combined tackles the past two weeks and should notch at least eight in Baltimore.
Pick Made:
Nov 16, 10:43 pm UTC
Prop
Lamar Jackson OVER 0.5 Total Passing Interceptions -115
Allan's Analysis:
Lamar Jackson is having a career year completion percentage wise and when you watch the film it's by design from new Ravens OC Todd Monken. Simply put, Monken has eliminated Jackson's low-percentaged zones and put focus on the areas where he succeeds. Timing and placement is everything and it's been great...but when he's disrupted it goes south quick, which should happen tonight.
Pick Made:
Nov 16, 9:35 pm UTC
Prop
Tyler Boyd OVER 4.5 Total Receptions +110
81-50 in Last 131 NFL Player Props Picks
Larry's Analysis:
Tyler Boyd caught eight of 12 targets last week with Tee Higgins sidelined, and he should be busy again Thursday. Boyd has the easiest matchup among Cincinnati's top three available wideouts, as he'll be matched up often with 30-year-old CB Arthur Maulet (57.1 PFF coverage grade). I bet Boyd to make at least five grabs at plus money.
Pick Made:
Nov 16, 8:20 pm UTC
Prop
1st Half Baltimore -2.5 -115
3-0 in Last 3 NFL Game Props Picks
Sia's Analysis:
The Ravens have been mauling teams in first halves and have covered every 1st half spread since Week 4. Typically I avoid trends like this, but this trend speaks to Baltimore having a great gameplan coming into games, particularly with their scripted plays (and it also speaks to poor adjustments at halftime as many of these teams make signfiicant comebacks against the Ravens in the second half). The Ravens will have the home crowd behind them and the best FG kicker in the game at their disposal to cover this 1st half spread.
Pick Made:
Nov 16, 7:29 pm UTC
Point Spread
Cincinnati +3.5 -108
18-10-2 in Last 30 NFL Picks
12-7-2 in Last 21 NFL ATS Picks
Micah's Analysis:
The Bengals and Ravens come off improbable losses to end four-game win streaks. Before the Ravens 33-31 home loss to the Browns last week, home was where they torched the Seahawks 37-3 and before that at home, they made the Lions look weak in a 38-6 win. The Bengals barely get over 300 yards of offense on the season and the defense is ranked No. 30, but the X factor is Joe Burrow who wasn't himself in a Week 2 27-24 home loss to the Ravens. But Burrow won and covered four of his previous five meetings. Taking the half point on +3 was attractive, Bengals to cover.
Pick Made:
Nov 16, 6:22 pm UTC
Prop
Tyler Boyd OVER 44.5 Total Receiving Yards -119
Matt's Analysis:
Boyd is usually third in Joe Burrow's pecking order but now second with Tee Higgins out a second straight week. Boyd blew up vs. Houston with a season-high 12 targets and 117 yards (granted, a 64-yard catch helped). He also topped this in Week 2 vs. Baltimore when Higgins was healthy. As in that game, the Ravens are down Pro Bowl corner Marlon Humphrey.
Pick Made:
Nov 16, 2:36 pm UTC
Prop
Tyler Boyd OVER 44.5 Total Receiving Yards -119
24-15 in Last 39 NFL Player Props Picks
Sia's Analysis:
With Tee Higgins still out and with injuries to some of the backup Bengal receivers, you will likely find Tyler Boyd on the field most of the game. Add a likely trailing or neutral game script on an offense that is unlikely to move the ball effectively behind Joe Mixon, and we should have enough volume for Boyd to get to this number. Last week Boyd exploded with 8 receptions on 12 targets for over 100 yards. We can cut those numbers in half and get there tonight.
Pick Made:
Nov 16, 2:02 pm UTC
Point Spread
Cincinnati +3.5 -110
29-18-3 in Last 50 NFL Picks
27-18-3 in Last 48 NFL ATS Picks
Bruce's Analysis:
Suddenly this game takes on added significance for the Bengals, who are already trailing the rest of the pack in the combative AFC North, but risk falling to 5-5 and further behind if they can't win on Thursday. Moreover, beating Lamar Jackson (7-1 all-time vs. Cincy) has proven more than a bit of a chore. But the Bengals are proven stretch-runners from the past two seasons, when their best football came from late November into January, and a healthy Joe Burrow (not counting the first month of this season) has lost by more than three points only once (at Cleveland last November) the past two seasons. Play Bengals
Pick Made:
Nov 16, 4:26 am UTC
Prop
Justin Tucker OVER 1.5 Total Made Field Goals +104
21-11 in Last 32 NFL Player Props Picks
Eric's Analysis:
We're getting plus-money for arguably the greatest kicker ever to boot multiple field goals in an important rivalry game...sign me up! Tucker has six multi-field goal games this season and Cincinnati also has allowed six kickers to boot multiple three-pointers against them this season. Tucker is 9 of 10 in his last three regular season games vs. Cincinnati and I expect another 2-3 field goals again on Thursday night.
Pick Made:
Nov 16, 4:07 am UTC
Point Spread
Cincinnati +3.5 -110
131-91-1 in Last 223 NFL Picks
59-40-1 in Last 100 NFL ATS Picks
Larry's Analysis:
Trey Hendrickson (8.5 sacks) doesn't have a game designation, which is great news for the Bengals ahead of this critical AFC North matchup. The Bengals won't have Tee Higgins, but the Ravens won't have starting corner Marlon Humphrey. Baltimore's defense was on the field for 75 plays in Sunday's 33-31 loss to Cleveland. That unit could be worn down on this quick turnaround. In the first meeting, a 27-24 Baltimore win, Joe Burrow's calf was an issue and he averaged 5.4 yards per attempt. Burrow is fully healthy and he's 15-2 ATS as an underdog of 3-plus points.
Pick Made:
Nov 16, 3:44 am UTC
Prop
Keaton Mitchell OVER 46.5 Total Rushing + Receiving Yards -120
Matt's Analysis:
Fellow SL expert Jason La Canfora's crush (and sound logic) on Keaton Mitchell has won me over -- and that I won my Fantasy waiver claim on him two weeks ago helps as now I am rooting for him. Dude ain't gonna average 14.3 yards per carry much longer, but he's like fellow former East Carolina star Chris Johnson in that every touch can go to the house. And John Harbaugh flat-out said Mitchell will be getting more touches moving forward after only four Sunday yet still 66 yards: "Looking back on (Sunday's game), would we have wanted him out there more? Yes. I think that'll factor into this game plan."
Pick Made:
Nov 15, 10:06 pm UTC
Prop
Keaton Mitchell OVER 46.5 Total Rushing + Receiving Yards -120
Jason's Analysis:
So if I'm playing his rushing props in alt 70+ markets, then you know I am on this too. He has shown an ability to take a simple pitch or option look or screen pass for 40-plus, despite such a limited sample. And that sample size will expand against a Bengals team that struggles to defend running backs. Speed kills and he has ridiculous speed and when paired with Lamar Jackson in the backfield with stud fullback Patrick Ricard helping to clear out a path, anything is possible, Racked up 138 scrimmage two weeks ago vs. Seattle and I wouldn't be shocked if he got there here.
Pick Made:
Nov 15, 9:31 pm UTC
Prop
Mark Andrews OVER 55.5 Total Receiving Yards -128
3-2 in Last 5 NFL Player Props Picks
Jeff's Analysis:
Mark Andrews has averaged 59.4 receiving yards over his past ten games. He had a relatively low total of 44 receiving yards against the Cleveland Browns and has gone over 55.5 in six of his last ten games. The Bengals have allowed the sixth-most fantasy points against opposing tight ends. With Ronnie Stanley out, expect many quick passes that should add up quickly.
Pick Made:
Nov 15, 8:47 pm UTC
Prop
Mark Andrews OVER 55.5 Total Receiving Yards -128
R.J.'s Analysis:
This is expected to be a relatively high-scoring game for primetime with a total of 46, and on the Baltimore side that should mean big things for Andrews. He's been held in check in two of the last three games with 40 and 44 yards but topped 60 in the other five of his last seven games. And this should be a great matchup for him, as the Bengals have allowed nearly 67 yards per game to tight ends, third worst in the league. That includes Dalton Schultz, Dalton Kincaid and George Kittle all topping 70 yards in their last three, even with other elements of those passing attacks doing well. Let's bank on a big day from one of the league's best TEs.
Pick Made:
Nov 15, 8:00 pm UTC
Over / Under
UNDER 46 -110
18-13 in Last 31 NFL O/U Picks
Jason's Analysis:
By now we all know prime time unders have hit 11 in a row. Ravens are under in 10 of the last 12 at home (last week included two defensive scores and a muffed punt to go over). Bengals 5-0-1 to the under in prime time since 2021. Ravens are under in five of their last six prime time. The Ravens hold Cincy to 17 points lately, and I anticipate a barrage from Baltimore in the run game against a beat up Bengals D. John Harbaugh will play it slow. Ravens RZ D is elite and Bengals only allow 21/G. They played a 19-17 TNF game in Baltimore a year ago. I have this one pegged around 23-20, but all the injuries give me pause.
Pick Made:
Nov 15, 5:58 pm UTC
Prop
Gus Edwards Anytime Touchdown Scorer -105
Jason's Analysis:
He continues to get ample opportunities inside the 10 and the Ravens have pounded Cincy in heavy personnel over the years and this is their preferred back in those groupings. Edwards has a TD in 4 straight and seven total TDs in that span. There is variance with Lamar keeping it, of course, or Keaton Mitchell scoring from further out, but I'm following this trend for now.
Pick Made:
Nov 15, 5:47 pm UTC
Prop
Lamar Jackson OVER 8.5 Total Carries -115
Jason's Analysis:
Jackson has destroyed the Bengals on the ground since he entered the league and he's still going to get a chance to sustain drives himself even without all the options looks under former OC Greg Roman. Ravens have 1 game in 23 days once they get past this one, and they won't hold back on unleashing Lamar's legs after a brutal loss to the Browns. if you think Ravens have late lead, a few kneel downs would only help. Regardless, I am banking on 4-5 designed runs and at least 4-5 scrambles and I would not be surprised he surpasses his 12 rushes from the Week 2 game at Cincy.
Pick Made:
Nov 15, 3:54 am UTC
Prop
Gus Edwards OVER 48.5 Total Rushing Yards -103
Jason's Analysis:
The Bengals are just 28th against the rush, Baltimore went for 178 on them in the first meeting and Houston rolled up 188 at CIN on Sun). Bengals likely without their two starting ends, who don't just rush the passer; they need them to the set the edge, too. Edwards averaged 6.2/carry at Cincy Week 2. He's hit 48 in eight games, and if Ravens have a second-half lead he is the sledgehammer. I anticipate lots of volume in the run game here to keep Joe Burrow on the sidelines. Edwards averages nearly 5.5/carry against the Bengals in his career, and with LT Ronnie Stanley out Baltimore will lean on the run game. Gus had several explosive runs out of heavy personnel in first meeting.
Pick Made:
Nov 15, 3:47 am UTC
Prop
Keaton Mitchell OVER 34.5 Total Rushing Yards -120
Jason's Analysis:
This kid is lightning and with John Harbaugh taking heat in Baltimore about how he somehow played 4 snaps in second half of loss to the Browns (1 touch), it won't happen again. Electric runner averaging 13.9 yds/touch. Tears off 40-yard runs like it's nothing and watch him shred the Bengals behind FB Pat Ricard, who excels vs.Bengals. I am playing him at 70+ in alt markets and will play alt scrimmage totals as well as he can win big in the screen game. Has 15 touches for 199 yards and 2 TDs. Ravens will attack leaky Bengals run D on the ground like they always do. I'm playing him over in longest run markets as well. He could hit this number on one touch.
Pick Made:
Nov 15, 3:33 am UTC
Prop
Mark Andrews OVER 52.5 Total Receiving Yards -128
Alex's Analysis:
Mark Andrews has an elite target profile and is the engine of Baltimore's revamped passing attack. Andrews not only leads the Ravens in every single receiving category and metric but he leads all TE's in ESPN's open score for the third consecutive season. On Thursday Andrews fill face a Bengals pass defense that is ranked 30th according to PFF's coverage grade. The Bengals coverage unit is surely to be tested, especially if they're missing both their starting DEs who are questionable (Sam Hubbard and Trey Hendrickson). The Bengals are also giving up the most yards per game to opposing TEs this season. This looks like a potential spike game for Andrews.
Pick Made:
Nov 14, 3:21 pm UTC
Point Spread
Baltimore -3.5 -110
61-44-3 in Last 108 NFL Picks
42-31-2 in Last 75 NFL ATS Picks
35-14-1 in Last 50 BAL ATS Picks
Mike's Analysis:
Cincinnati emerged from the weekend with greater injury issues than the Ravens. The Bengals could survive without WR Tee Higgins, but the absence of DEs Trey Hendrickson and Sam Hubbard would be a boon to elusive Baltimore QB Lamar Jackson. The Ravens have mostly contained Bengals QB Joe Burrow in their six encounters. As sharp as Cincinnati's Zac Taylor is, the coaching edge in a short week with both teams coming off buzzer-beating defeats goes to John Harbaugh. Though the spread is not likely to dwindle to a field goal, there is no harm waiting to see if it moves off the less-palatable -3.5.
Pick Made:
Nov 14, 1:52 am UTC
38 Total Player Props Projection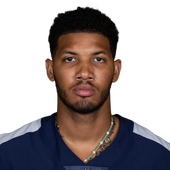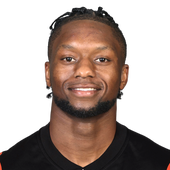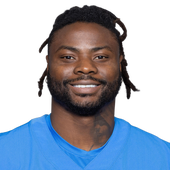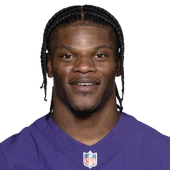 AI Picks for T. Boyd, J. Mixon, G. Edwards, L. Jackson and 34 more players!
Join Now
Best prop picks are generated from a combination of Sportsline AI's projection, analysis of the opposing team, and the bets value based on the current odds.