Simulation Picks
Maximize Your Odds of Winning with SportsLine Model and Our Top-Rated Picks
Maximize Your Odds of Winning with SportsLine Model and Our Top-Rated Picks
Maximize Your Odds of Winning with SportsLine Model and Our Top-Rated Picks
Expert Picks
Prop
1st Half UNDER 23.5 -110
Mike's Analysis:
It takes awhile for the Packers' offense to get revved up. Green Bay ranks 31st in first-half scoring, and the drought could continue without ailing RB Aaron Jones and with injuries to teammates. Detroit does crank up its offense early, but the Pack's defense has become accustomed to starting strongly to account for the offense's early lack of productivity. Sure wish the number were 24 but will take the hook just below two-dozen.
Pick Made:
Nov 23, 4:31 pm UTC
Prop
Jahmyr Gibbs Anytime Touchdown Scorer -110
11-7 in Last 18 NFL Player Props Picks
Josh's Analysis:
The dynamic rookie dual-threat RB saw 14 touches last week against the Bears and found the end zone for the fourth straight game. Although we wouldn't want to play a price any steeper for anytime TD prop, there is still value in this one as Gibbs should have plenty of opportunities to score again Thursday.
Pick Made:
Nov 23, 4:28 pm UTC
Prop
Jordan Love OVER 232.5 Total Passing Yards -118
11-7 in Last 18 NFL Player Props Picks
Josh's Analysis:
This number has jumped at least 5 yards from the opener but it's still playable amid what should be a favorable game script. The Packers are without RB Aaron Jones, and veteran AJ Dillon has limited rushing upside. Love is coming off perhaps his best performance as an NFL starter, throwing for 322 yards and 2 TDs last week against the Chargers. Green Bay will have to produce in the passing game in order to keep pace with Detroit and, if it's the Lions blowout many observers anticipate, he'll have plenty of opportunities to rack up yardage in a trailing game script.
Pick Made:
Nov 23, 4:19 pm UTC
Prop
Quay Walker OVER 8.5 Total Tackles Plus Assists -135
Matt's Analysis:
Totally lifting this from social media -- props I don't mind "borrowing" because there's only so much time in the day; game results I need to learn/decide for myself -- as Walker had 19 tackles in the first meeting with Detroit and the Lions apparently allow more tackle opportunities for opposing linebackers than any team in the league. I truly have no idea whose job it is to figure that statistic out and I like math, but yeah that's so inside baseball. So I assume Walker is held without a tackle now ...
Pick Made:
Nov 23, 4:14 pm UTC
Point Spread
Green Bay +8.5 -110
50-31-5 in Last 86 NFL Picks
38-24-5 in Last 67 NFL ATS Picks
9-5 in Last 14 GB ATS Picks
Josh's Analysis:
The Packers have underachieved relative to their talent level, but four of their six losses have come by 4 or fewer points and they are coming off likely their best overall performance of the season in their 23-20 win over the Chargers. The Lions had to rally with two TDS in the final 3 minutes to get past a Chicago team that outplayed them most of the way, and the public is getting way too comfortable laying massive points with an outfit that isn't used the role of fromt-runner.
Pick Made:
Nov 23, 4:13 pm UTC
Prop
Jordan Love OVER 2.5 Total Carries -169
Matt's Analysis:
Green Bay has some major injury issues at tailback so Love might have to run a bit more on designed plays alone. His season high is nine carries and it wouldn't shock me if we got somewhat close to that. Depends on the game flow as well.
Pick Made:
Nov 23, 2:48 pm UTC
2-1 in Last 3 NFL O/U Picks
3-0 in Last 3 DET O/U Picks
Allan's Analysis:
This might be the most fun NFL game on Thanksgiving Day. Jordan Love and the Packers' offense are picking it up quickly, averaging roughly 21 PPG over their last three. We know Detroit can score and especially after last week's near disaster, don't expect four turnovers from the Lions today. Playing on a holiday is fun early in the day, sitting in a hotel room waiting for a night game is the opposite and usually leads to 1st half sludge. Green Bay and Detroit will be ready to go first, should be fun. Happy Thanksgiving!
Pick Made:
Nov 23, 12:44 pm UTC
Point Spread
Green Bay +8.5 -110
29-18-3 in Last 50 NFL Picks
27-18-3 in Last 48 NFL ATS Picks
4-0 in Last 4 GB ATS Picks
Bruce's Analysis:
In quick order the Lions have become a public team, but not sure Detroit has enough defense to support the new bandwagon riders. handling bigger spreads is part of the deal with such new-found respect but last week vs. the Bears was an indicator that his won't be an easy ride down the stretch for Detroit, which in recent history hasn't fared too well on Thanksgiving (just 4-15 Su the last 19). The Packers only have a glimmer of hope but maintain a pulse after Sunday's exciting win over the Chargers and the latest encouraging performance by Jordan love (another pair of TD passes; 322 YP on the afternoon). Play Packers
Pick Made:
Nov 23, 11:42 am UTC
Point Spread
Detroit -7.5 -120
60-33-6 in Last 99 NFL ATS Picks
31-21 in Last 52 GB ATS Picks
Adam's Analysis:
Would not be surprised to see this line surge to -8.5 before kickoff due to the momentum of the Lions and number of Thanksgiving players. This actually feels like a buy-low spot for Detroit given its defensive performance last week and the Packers' win. Unlike Chicago, Green Bay does not have a player that can beat Detroit over the top, and the Packers will be missing arguably their top offensive weapon in Aaron Jones. It's tough to beat an opponent twice in the same season, but the Lions won by double digits at Lambeau Field in Week 4 and have only gotten better since. Also a fan of Lions -1.5 / 49ers -1 as a Turkey Day Wong Teaser. Might go two units on that.
Pick Made:
Nov 23, 5:29 am UTC
Prop
Jayden Reed OVER 38.5 Total Receiving Yards -114
24-15 in Last 39 NFL Player Props Picks
Sia's Analysis:
The Packers are likely to be trailing for a majority of this game and Jayden Reed has provided plenty of efficiency and explosion over the last 4 games to be a primary beneficiary of that trailing game script (he has surpassed this yardage total in 3 of the last 4 games). Reed was banged up earlier in the week but was listed as a full participant on Wednesdays practice report and I expect him to be thoroughly involved in the gameplan with Christian Watson and Romeo Doubs.
Pick Made:
Nov 23, 4:30 am UTC
Prop
Jahmyr Gibbs OVER 45.5 Total Rushing Yards -132
81-50 in Last 131 NFL Player Props Picks
Larry's Analysis:
The Packers are weak against the run (24th, 4.3 yards per carry) so there should be plenty of carries for both David Montgomery and Jahmyr Gibbs. Especially on a short week, look for Gibbs to get nearly an even split. The Lions ran the ball over 40 times in the first meeting at Green Bay. We likely only need 30 or so carries in this one to get Gibbs the volume he needs to clear this prop.
Pick Made:
Nov 22, 6:47 pm UTC
Point Spread
Detroit -7.5 -105
5-3 in Last 8 NFL ATS Picks
2-1 in Last 3 DET ATS Picks
Will's Analysis:
I'm a big fan of this over as well but think the Lions could steamroll Green Bay here. The Packers looked explosive against a bad Chargers defense at home and now will get a much more aggressive Lions pass rush on the road in a hostile environment. Detroit was likely looking ahead a little bit to this game and it will be ROWDY inside Ford Field as the Lions chase an NFC North title, not to mention a No. 1 seed in the NFC. Speaking of which: the Lions are +250 to get the No. 1 seed over at DraftKings. It's less likely with the Eagles beating the Chiefs on the road but still very possible and a wager worth taking.
Pick Made:
Nov 22, 5:58 pm UTC
Prop
David Montgomery OVER 14.5 Total Carries -125
Jason's Analysis:
Maybe this won't be such the early blowout game we saw when these teams met at Lambeau, when Montgomery got 32 rushes ... But he averages 17 and Green Bay is very vulnerable on the ground and he steamrolled them last time. After Goff just thew three picks in a divisional game, I suspect Detroit stays away from that top 10 pass D and gets both backs going. I see this being more of a 25-27 attempt game for Goff, leaving plenty of opportunity for both backs.
Pick Made:
Nov 21, 8:47 pm UTC
Prop
David Montgomery OVER 66.5 Total Rushing Yards -119
Jason's Analysis:
I think he definitely goes over his rushing attempts total, too, but if this is a blowout and maybe Dan Campbell calls people off on a short week, I think it's an even safer bet Montgomery gets to 67 rushing yards before then. He averages 17 rushes a game and had damn near twice that against GB the first time. He racked up 121 on them and has done over this number easily the last two weeks as he gets back his wind and legs after an injury absence. Has a run of 20+ in each of his last three full games, and those chunk runs make it easier to cash this total.
Pick Made:
Nov 21, 8:43 pm UTC
Prop
Jared Goff UNDER 33.5 Total Passing Attempts -128
47-33 in Last 80 NFL Player Props Picks
Alex's Analysis:
Jared Goff is having a career season and as a result the Lions find themselves in first place atop the NFC North. He will face a Packers defense that has been a major run funnel as they are much easier to run on. I believe Dan Campbell will deploy a run heavy approach and likely limit passing volume.
Pick Made:
Nov 21, 8:34 pm UTC
Prop
David Montgomery Player To Score 2 or More Touchdowns +375
Jason's Analysis:
I'll sprinkle on this after Montgomery sucked the soul out of the Packers with 32 runs and 3 TDs in their first meeting. His return has unlocked Detroit's redzone offense, one that bogged down with him out. Dan Campbell seems to like getting old-school around the goal line and he'll go for it on 4th down around the goal knowing Jordan Love can't sustain long drives against him. Held the ball for 38 mins in the first meeting and could probably do it again, trying to finish drives on the ground.
Pick Made:
Nov 21, 8:33 pm UTC
Prop
David Montgomery Anytime Touchdown Scorer -143
81-50 in Last 131 NFL Player Props Picks
Larry's Analysis:
David Montgomery has scored eight touchdowns in seven games with the Lions, including three in a Week 3 win over these same Packers. Since coming back from a rib injury that cost him two games, Montgomery has played in two games and scored in each. He's averaging a career-high 4.9 yards per carry. Against Green Bay's run-funnel defense, look for Montgomery to score on Thanksgiving.
Pick Made:
Nov 21, 8:33 pm UTC
Prop
Jahmyr Gibbs OVER 77.5 Total Rushing + Receiving Yards -119
Jason's Analysis:
In a short week against a winded Packers defense that struggles to defend the run (24th) look for Dan Campbell to road grade them again. Lions ran the ball 43 times at Lambeau and both backs will feast here. Even the run-averse Chargers got it going on the ground at Lambeau on Sunday. Gibbs had a more defined role now and has 4 straight games at 90+ scrimmage yards and he'll get his share of looks in the pass game as well, with the chance to take it to the house on this fast track in the dome. Lions will run with vigor early then bludgeon in play action where Goff excels.
Pick Made:
Nov 21, 8:29 pm UTC
Prop
1st Half Detroit -4 -115
Jason's Analysis:
The Lions led 27-3 at Lambeau at the half. The Packers are 31st in first half scoring for the season, and have a -59 differential, while Detroit is top 6 in first half scoring (153 points) with a +51 margin. Even last week, with Jared Goff in INT mode and having rare breakdowns, they still won the first half by four points. Lions 1st half margins at home: +4, +9, +18, +10, +7. They road graded the Pack from start to finish in Green Bay and will exert their will early and often. I believe in Ben Johnson's early-game scripts and Jordan Love having to play from behind against Aiden Hutchinson and this crowd will just snowball everything in Detroit's favor.
Pick Made:
Nov 21, 5:32 pm UTC
Point Spread
Detroit -7.5 -110
70-51-4 in Last 125 NFL ATS Picks
64-25-2 in Last 91 GB ATS Picks
R.J.'s Analysis:
Jared Goff is coming off his worst game of the season, his first with multiple interceptions, and yet the Lions still pulled out a win at home. He should rebound here against a defense that's 26th in interception rate and poor against the run coming off allowing 6.4 yards per play to the Chargers at home. With Aaron Jones presumably out and A.J. Dillon ineffective, this game rests on Jordan Love's arm on the road against an 8-2 team, and I have some serious doubts he can keep up. Detroit was -2 in Week 4 in Green Bay and won by 14, fully backed up by stats, and with both these teams having great home-field advantages, this line should be Lions -10.
Pick Made:
Nov 20, 2:21 pm UTC
Point Spread
Detroit -7.5 -110
Jason's Analysis:
Lions hung 34 on them at Lambeau and won by 14 points. Lions will score at least 30 here, as usual at home (even when they turn it over four times). Home team always benefits from a short week. Green Bay won an ugly game at home on Sunday but The Pack is 1-4 on the road (won Week 1 at Chicago). They struggle to score 20 against bad defenses and Detroit's pressure will be damning for Jordan Love. Love barely completes 57% of his passes in last four road games (7 TDs, 6 INT, 74.9 rating). Lions can bully them again after holding the ball for 38 minutes in their first meeting. Detroit is too good on both sides of the line of scrimmage.
Pick Made:
Nov 20, 3:38 am UTC
39 Total Player Props Projection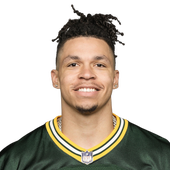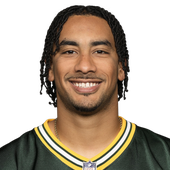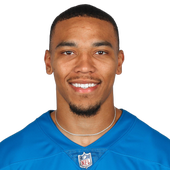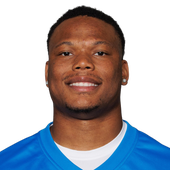 AI Picks for C. Watson, J. Love, A. St. Brown, D. Montgomery and 35 more players!
Join Now
Best prop picks are generated from a combination of Sportsline AI's projection, analysis of the opposing team, and the bets value based on the current odds.