Simulation Picks
Maximize Your Odds of Winning with SportsLine Model and Our Top-Rated Picks
Maximize Your Odds of Winning with SportsLine Model and Our Top-Rated Picks
Maximize Your Odds of Winning with SportsLine Model and Our Top-Rated Picks
Expert Picks
Prop
1st Half Denver -1 -110
2-1 in Last 3 NFL Game Props Picks
James's Analysis:
The Broncos have gotten off the fast starts during their turn around over the last month, and I expect that trend to continue against the Vikings at home.
Pick Made:
Nov 20, 1:24 am UTC
Prop
Javonte Williams OVER 16.5 Total Carries -135
4-2 in Last 6 NFL Player Props Picks
James's Analysis:
The new-look Broncos are a run-first team with Javonte Williams serving as their bell cow. Williams has 48 carries in Denver's last two games, and I expect him to go over 20 carries again on Sunday night.
Pick Made:
Nov 20, 1:18 am UTC
Point Spread
Minnesota +2.5 -105
60-33-6 in Last 99 NFL ATS Picks
4-0 in Last 4 DEN ATS Picks
Adam's Analysis:
The Vikings have been undervalued for weeks following the loss of Justin Jefferson, yet all they have done is cover five straight -- all outright wins. The Broncos have impressed with three straight victories and covers, including the true shocker over the Chiefs, but their success has largely come by forcing turnovers, which are never a sure thing. Denver continues to struggle offensively, while Minnesota's play action passing game takes advantage of the hosts' greatest defensive weakness. Brian Flores has done a solid job turning around an attacking Vikings defense, and Russell Wilson struggles against the rush. Wait as long as you can and try to get this at +3, but it's still worth a play at +2.5.
Pick Made:
Nov 20, 12:33 am UTC
Jason's Analysis:
Both of these teams are much improved since slow starts, but I believe Brian Flores and his barrage of blitzes will carry the day. And I think it will be a problem for the Broncos, even at home. Vikings allowing a QB rating of 70.8 (5th in NFL) over the last 5 games, allowing just 18 points a game. Vikings have become adept at winning close games, even away from home. They are 4-0-1 ATS in last 5 road games. Playing with a lot of confidence and some house money and I like them to be looser than the Broncos here as the road team.
Pick Made:
Nov 19, 10:30 pm UTC
Prop
T.J. Hockenson Anytime Touchdown Scorer +190
Jason's Analysis:
Again, 27 targets for Hockenson in the last two weeks since Dobbs took over. Hockenson has a TD catch int wo of the last three and connected with Dobbs for paydirt in their first full game together last week. Denver can't defend TEs. In a redone scramble drill, this is a huge, mobile target whom the QB trust fully. Only 9 RZ targets all season is odd, but 5 have come in the last 3 games and I like him against this defense.
Pick Made:
Nov 19, 10:22 pm UTC
Prop
T.J. Hockenson OVER 58.5 Total Receiving Yards -118
Jason's Analysis:
He's seen 8 or more targets in six straight games and formed an instant connection with Josh Dobbs. Hockenson has seen a crazy 27 targets in two games with him at QB, catching 18 balls. We saw the Broncos get carved up by a TE on MNF (Kincaid), and there will be more volume here. He's had 69 or more receiving yards in four in a row. Denver is allowing 9 yards per attempt to TEs (31st) with an 80% completion rate to them (30th) and 111.4 passer rating. Dobbs will seek him early and often..
Pick Made:
Nov 19, 10:12 pm UTC
Prop
Ty Chandler OVER 8.5 Total Carries -127
24-15 in Last 39 NFL Player Props Picks
Sia's Analysis:
This prop goes hand in hand with my Ty Chandler yardage over. Alexander Mattison is coming off of a concussion and is allegedly a full-go against the Broncos, but there are plenty of paths to him getting less carries, not the least of which is that Chandler is the far more explosive running back. I expect both teams to run the ball a lot and Ty Chandler will be one of the pieces utilized in that regard.
Pick Made:
Nov 19, 7:48 pm UTC
Prop
Ty Chandler OVER 35.5 Total Rushing Yards -114
24-15 in Last 39 NFL Player Props Picks
Sia's Analysis:
Even before Mattison was lost to a concussion last week, Ty Chandler found himself splitting carries with him. This week Mattison is back but I expect the carries to be split again or a slight edge to Chandler in that department. The Broncos defense has been much improved but they are still vulnerable to the running game. I expect Chandler to get a couple of chunk gains en route to his rushing yards over.
Pick Made:
Nov 19, 7:42 pm UTC
Point Spread
Denver -2.5 -112
5-3 in Last 8 NFL ATS Picks
Will's Analysis:
Denver has six "in-the-hunt" teams to crawl over before they even get to sniff a wild card spot. But their four wins are interesting -- they beat a bad Chicago team miraculously, they snuffed out a terrible Packers team ... and then they beat the Chiefs and Bills sandwiching their bye week over the last three weeks. Quite the paradox! The defense has turned things around in the last month and Sean Payton is suddenly getting the most out of Russell Wilson. I think Denver keeps it rolling against the Joshua Dobbs Cinderella story.
Pick Made:
Nov 19, 4:12 pm UTC
Point Spread
Denver -2.5 -120
29-18-3 in Last 50 NFL Picks
27-18-3 in Last 48 NFL ATS Picks
2-1-1 in Last 4 MIN ATS Picks
Bruce's Analysis:
While Joshua Dobbs has become the new darling of the media after wins in his first two starts for the Vikings, drill a bit deeper and can see that the Saints figured out the Dobbs offense in the second half last week, with Minnesota hanging on after building a big lead. Denver's revived defense has been putting the clamps on all foes, including Patrick Mahomes, in the current 3-game win streak, and Russell Wilson starting to look like his old self while making plays on the move. Play Broncos
Pick Made:
Nov 19, 5:23 am UTC
25-12 in Last 37 NFL ML Picks
10-3 in Last 13 MIN ML Picks
Matt's Analysis:
Was waiting on Justin Jefferson's status and he will not be activated. So we have to take Russell Wilson over Josh Dobbs and the better defense at home in the cold (although not nearly as cold as it might normally be this time of year in Denver). The Vikes lost their defensive leader and top tackler in linebacker Jordan Hicks to injured reserve this week.
Pick Made:
Nov 18, 8:58 pm UTC
18-10-2 in Last 30 NFL Picks
3-0 in Last 3 NFL ML Picks
Micah's Analysis:
The Vikings have won and covered five straight, the last two with Josh Dobbs as QB and he's been brilliant in both his starts. Amazingly, all the winning has come without WR Justin Jefferson. At the same time, the Broncos have come full circle from the depths of being dregs to a three-game win streak and covering their last four. They've stayed Under the total in their last four during their resurgence. The defense has come alive while Russell Wilson has quietly had an incredible season. I'm on the Broncos money-line.
Pick Made:
Nov 18, 8:51 pm UTC
Point Spread
Denver -2 -112
61-44-3 in Last 108 NFL Picks
42-31-2 in Last 75 NFL ATS Picks
19-13-2 in Last 34 MIN ATS Picks
Mike's Analysis:
Since the 70-20 nightmare against Miami, Denver is 4-2 outright, with three wins in a row -- the last two over K.C. and Buffalo. Credit the defense, which has allowed 16 ppg over the three most recent games. Vikings bullpen ace Joshua Dobbs has been storybook good in the Vikings' two latest wins, but the rescue specialist at QB bumps into this vastly improved D. Minnesota WR Justin Jefferson is listed as questionable, though it seems likely he is held out another week.
Pick Made:
Nov 18, 5:30 pm UTC
Prop
Javonte Williams OVER 16.5 Total Carries -104
Jason's Analysis:
We told you last week when we picked the Broncos over the Bills that Williams would lead the way to a ground-and-pound TOP-based offense and get 20 touches or more. It will be more of the same here. He's in top form and Sean Payton loves his physical style. MIN top6 vs rush, however during their 5-game win streak allowing mundane 4.0/carry. Payton won't let Russ try much against an elite passing D with a heavy blitz rate. WIlliams has 48 carries over two games and has 96 scrimmage yards or more in three in a row. Since Week 6 Broncos running the ball 52.5% of the time, far and away most in the NFL (NFL average is 42.2% in that span).
Pick Made:
Nov 18, 4:31 pm UTC
Prop
Joshua Dobbs OVER 5.5 Total Carries -132
Jason's Analysis:
We have been all over this. Denver is shaky against QB runs and he has bene taking off 7-8 times a game and I see no reason to anticipate anything to the contrary Sunday night. On the road, loud, in a system he has been in for just a few weeks, Dobbs will take off and go when the opportunity presents itseld.
Pick Made:
Nov 18, 4:19 pm UTC
Point Spread
Minnesota +2.5 -110
70-51-4 in Last 125 NFL ATS Picks
52-27-5 in Last 84 MIN ATS Picks
R.J.'s Analysis:
Both these teams were once left for dead, but the Vikings have won five straight, and the Broncos' three-game win streak includes victories over the Chiefs and Bills. The Vikings have been getting it done with a quarterback carousel and without star wideout Justin Jefferson, who could be back this week. I have them rated as an average team once he returns, and I'm still not fully bought in on the Broncos after they were outgained by nearly three yards per play in Buffalo. With Jerry Jeudy popping up on the injury report Thursday, the Denver offense may be a little less dynamic on Sunday. I'll back Minnesota once again as a 'dog now as it doesn't look like this will get to 3.
Pick Made:
Nov 17, 4:00 pm UTC
Prop
Joshua Dobbs OVER 26.5 Total Rushing Yards -115
Jason's Analysis:
Yeah I am playing this is in alt markets again up to 40. I am super tempted to play the rushing total number for plus money but will instead go the yards route, which I think is a little safer, against a Denver D that can't corral QB runs. Dobbs has 110 rushing yards in under 2 games with the Vikings and is over 28 rushing yards in five straight games and 8 of nine. I'm shocked Josh Allen didn't run against Denver on MNF but Broncos allow 8 yards/QB scramble on the season and Dobbs has tremendous instincts as to when to take off and when to get out of bounds.
Pick Made:
Nov 16, 9:06 pm UTC
Point Spread
Minnesota +2.5 -108
131-91-1 in Last 223 NFL Picks
59-40-1 in Last 100 NFL ATS Picks
38-17-2 in Last 57 MIN ATS Picks
Larry's Analysis:
The Broncos have won three straight with a run-first approach, but that might not work against a Vikings defense allowing 3.7 yards per carry (5th-lowest). Russell Wilson has struggled versus the blitz, and no one blitzes more than Minnesota coordinator Brian Flores. This is a short week for the Broncos following their somewhat fortunate (plus-3 in turnovers) 24-22 win over Buffalo. The Vikings have won and covered five straight, and they've been excellent on the road all season (4-0-1 ATS). Look for a low-scoring game that goes to the wire, and grab the points.
Pick Made:
Nov 16, 3:42 pm UTC
42 Total Player Props Projection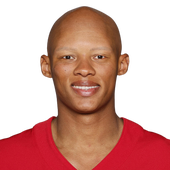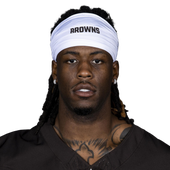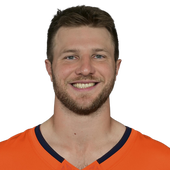 AI Picks for J. Dobbs, J. Jeudy, A. Trautman and 39 more players!
Join Now
Best prop picks are generated from a combination of Sportsline AI's projection, analysis of the opposing team, and the bets value based on the current odds.