Simulation Picks
Maximize Your Odds of Winning with SportsLine Model and Our Top-Rated Picks
Maximize Your Odds of Winning with SportsLine Model and Our Top-Rated Picks
Maximize Your Odds of Winning with SportsLine Model and Our Top-Rated Picks
Expert Picks
Prop
Tyler Conklin OVER 23.5 Total Receiving Yards -115
6-2 in Last 8 NFL Player Props Picks
Josh's Analysis:
Conklin is the Jets' second-leading receiver this season with 381 yards on 35 catches. He became a safety net for benched QB Zach Wilson and should serve the same role for new starter Tim Boyle. Conklin had just two catches for 18 yards last week, but in the prior two weeks combine he hauled in all 13 of his targets for 136 yards. With deep passing plays likely difficult to come by Friday, Conklin should get plenty of opportunities to clip this modest number.
Pick Made:
Nov 24, 7:22 pm UTC
Over / Under
UNDER 40.5 -110
16-6-1 in Last 23 NFL Picks
4-2 in Last 6 NFL O/U Picks
Micah's Analysis:
The Dolphins have been beaten by the Bills, Eagles, and Chiefs but they didn't cover the spread against the Raiders in a tough defensive effort last week. Can the Jets do the same? I don't see them winning and I don't see a lot of scoring. The Jets defense has been solid, It's the offense that has been awful, but it hasn't all been Zack Wilson's fault that resulted in Tim Boyle getting the starting nod today. All the Jets receivers and blockers get credit for not executing and Wilson losing his job but it was Wilson who didn't lead nor bark at his players. Under is the top play.
Pick Made:
Nov 24, 5:23 pm UTC
Prop
Tyreek Hill OVER 75.5 Total Receiving Yards -118
20-14 in Last 34 NFL Player Props Picks
Sia's Analysis:
It doesn't really matter what the matchup is from a secondary standpoint, as Tyreek Hill is constantly schemed in space. As for the matchup itself, it's doubtful that Sauce Gardner will shadow Tyreek. Either way, Tyreek will be the engine for this offense and I expect him to get plenty of YAC against this tough defense. It'll be relatively cold for a Miami team accustomed to warmer weather and the matchup isn't amazing, but that's why we are getting a lower number than normal. I'll take the discount.
Pick Made:
Nov 24, 2:06 pm UTC
Point Spread
Miami -9.5 -110
16-5-1 in Last 22 NFL Picks
25-16-1 in Last 42 NFL ATS Picks
13-7 in Last 20 NYJ ATS Picks
Emory's Analysis:
Tim Boyle hasn't had more touchdowns than interceptions in his entire football career, both college and pro. Nothing will change in a dramatic fashion for the Jets offense, which will make things very difficult for them trying to keep pace with the Dolphins over the course of four quarters.
Pick Made:
Nov 24, 1:44 pm UTC
Prop
Dalvin Cook OVER 10.5 Total Rushing Yards -109
16-10 in Last 26 NFL Player Props Picks
Eric's Analysis:
If the Jets are to keep the game close on Friday afternoon, they'll have to run it early and often and attempt to keep Miami's potent offense off the field. I think Breece Hall will get his share of work but Cook should be mixed in as well. The veteran RB has gone over this total in 6 of his last 8 games, with a 10 yard run in each of the last two contest. I think we can hit this bet on three carries, if not less.
Pick Made:
Nov 24, 4:22 am UTC
Prop
Tua Tagovailoa OVER 0.5 Total Passing Interceptions -109
52-33 in Last 85 NFL Player Props Picks
Jason's Analysis:
The Dolphins have played five road games; Tua has thrown a pick in all four domestic ones (he did not get picked by the Chiefs in Germany). Miami's slumping offense really struggles most on the road, and he has picks in three of his last four. Tua also has 3 picks in 3 career games against a Jets defense that plays him very tough. Jets have 10 INTs in 10 games this season and while the weather report looks docile it will be chilly by his standards. He has 5 TD to 7 INT in games played under 50 degrees. I think he'll be a little off and under pressure as this offense regresses. Tyreek Hill a little beat up, timing a little off.
Pick Made:
Nov 24, 3:09 am UTC
Prop
Quinnen Williams OVER 2.5 Total Tackles Plus Assists -175
71-45 in Last 116 NFL Player Props Picks
Larry's Analysis:
Jets defensive tackle Quinnen Williams was a first-team All Pro last year. While his sacks have fallen off, he's still playing at a high level and is on pace for a career high in tackles. He's racked up 10 tackles in the past two games. Opponents have been running the ball successfully against the Jets; they allow 137.6 yards per game, third-most. With Miami in the big-favorite role, the Dolphins could go run-heavy in the second half, helping us cash this prop.
Pick Made:
Nov 24, 1:41 am UTC
Point Spread
N.Y. Jets +10 -110
68-53-1 in Last 122 NFL Picks
6-2 in Last 8 MIA ATS Picks
Matt's Analysis:
The first Black Friday game is the season for the Jets. If they lose, there's really no point in rushing Aaron Rodgers back because they aren't going to the playoffs. Do I have a ton of faith in Tim Boyle? He honestly can't be worse than Zach Wilson. High temps of 48 degrees are expected and Miami's Tua Tagovailoa is 0-5 in his NFL career when the kickoff temp is less than 50 degrees (5 TD, 7 INT). If I thought this would get to +10.5, I'd wait, but if anything it's starting to dip.
Pick Made:
Nov 22, 7:01 pm UTC
Over / Under
UNDER 41.5 -110
3-2 in Last 5 NFL O/U Picks
Will's Analysis:
This number stinks for a total with one of the highest-scoring teams in the NFL. But think about it: the Jets can't score and even though the Dolphins beat up on bad teams, the Jets are a tough matchup in a weird spot. Sauce Gardner won't completely shut down Tyreek Hill, but he'll definitely want to limit him. And Hill might be limited with his hand injury anyway. It's a weird time for this game in general. And a weird total for this game. The Dolphins won't likely run a bunch of exotic plays with another Jets matchup on deck soon, they'll want to protect everyone on a short week and get out with a win
Pick Made:
Nov 22, 6:05 pm UTC
Over / Under
UNDER 41 -110
53-40-2 in Last 95 NFL Picks
13-10 in Last 23 NFL O/U Picks
13-4 in Last 17 NYJ O/U Picks
R.J.'s Analysis:
The Jets have made the switch at QB to Tim Boyle, but he didn't show any reason last week to expect this offense to be better moving forward. He's thrown nine picks in 120 career attempts but somehow didn't get sacked in his three starts with Detroit in 2021. He won't have that luxury behind this offensive line, and he's facing an improving defense that's allowed 300 yards to just one opponent in its last six games. A Jets game hasn't gotten into the 40s since Week 5, and with Miami averaging fewer than 19 points in their last four road games and now facing a defense that's fifth in points per drive allowed, I don't think we get to 40 here.
Pick Made:
Nov 22, 3:43 pm UTC
Prop
Raheem Mostert OVER 58.5 Total Rushing Yards -120
3-1 in Last 4 NFL Player Props Picks
R.J.'s Analysis:
The Dolphins come into this game as huge favorites, and could mean more running the ball than usual in the second half. Miami is first in the league in yards per rush thanks in part to electric rookie De'Von Achane, who may not be available for his game. Even if he is, Mostert topped 60 rushing yards in two of Achane's three monster games, and Mostert has been above 60 in 60% of his games this year while averaging 5.3 yards per carry. Even better, the Jets have faced the most rush attempts this year as teams avoid their excellent secondary, and they're one of eight teams to surrender 1,000 rushing yards just to RBs so far. Mostert is in a great spot here.
Pick Made:
Nov 22, 3:34 pm UTC
Over / Under
UNDER 40.5 -115
14-6 in Last 20 NFL O/U Picks
2-1 in Last 3 NYJ O/U Picks
Jason's Analysis:
Miami is an under team now, led by its defense. The offense has bogged down and a run game that averaged 6.5/carry the first 6 weeks is just 3.9/carry since (22nd!). Achane is ailing again, and the last two Miami games didn't crack 35 points. Miami has scored 20 or less in 3 of their last 4 game and is facing a tougher D on Friday (NYJ held MIA to 28 total points in 2 games in '22). Dolphins D is getting sharp and figuring out Vic Fangio's system. NYJ last in NFL with 9 offensive TDs, 4 fewer than any other team. Tim Boyle is going to generate points? Really? I just hope there aren't multiple pick sixes, or it could be 20-13.
Pick Made:
Nov 21, 2:14 am UTC
29 Total Player Props Projection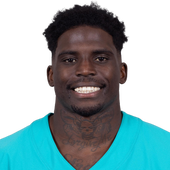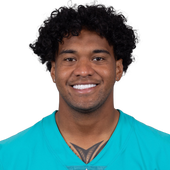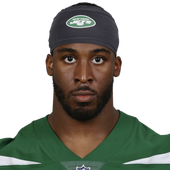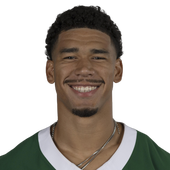 AI Picks for T. Hill, T. Tagovailoa, B. Hall, A. Lazard and 25 more players!
Join Now
Best prop picks are generated from a combination of Sportsline AI's projection, analysis of the opposing team, and the bets value based on the current odds.