Simulation Picks
Maximize Your Odds of Winning with SportsLine Model and Our Top-Rated Picks
Maximize Your Odds of Winning with SportsLine Model and Our Top-Rated Picks
Maximize Your Odds of Winning with SportsLine Model and Our Top-Rated Picks
Expert Picks
Point Spread
Minnesota +3 -110
60-33-6 in Last 99 NFL ATS Picks
35-25 in Last 60 NO ATS Picks
Adam's Analysis:
Perhaps one of the most overlooked notes this season has been the Vikings defense under coordinator Brian Flores. Minnesota has allowed just 17 points per game over the last four weeks (all wins) – three of which were played on the road. Opponent quality plays a role, sure, but the improvement is apparent. The Saints are immensely untrustworthy and seemingly make dumb mistakes each week, this while the Vikings continue to progress under Kevin O'Connell, creating a coaching edge for a game in which the hosts are getting points against an evenly matched opponent. Give me the field goal. New Orleans is 1-6-1 ATS as favorites this season, while Minnesota has four straight covers.
Pick Made:
Nov 12, 5:32 pm UTC
Over / Under
OVER 40.5 -110
83-63-5 in Last 151 NFL Picks
4-3 in Last 7 NFL O/U Picks
4-0 in Last 4 NO O/U Picks
Josh's Analysis:
The Saints have picked up their offensive production of late, averaging nearly 29 points per game over their past three outings. The Vikings have tallied 55 over their past two games and, despite major injury concerns on the offensive side, this game should have more offense than the relatively meager total suggests.
Pick Made:
Nov 12, 4:53 pm UTC
Prop
Brandon Powell OVER 30.5 Total Rushing + Receiving Yards +100
11-7 in Last 18 NFL Player Props Picks
Josh's Analysis:
With K.J. Osborn officially ruled out because of a concussion, Powell will be in the lineup as WR2, and Jordan Addison can't get every target. Powell has been productive when he sees extensive snaps, and QB Joshua Dobbs is better at short and intermediate throws than the deeper game that suits Addison.
Pick Made:
Nov 12, 4:47 pm UTC
Prop
Alexander Mattison OVER 12.5 Total Receiving Yards -118
11-7 in Last 18 NFL Player Props Picks
Josh's Analysis:
With the Vikings missing the injured Justin Jefferson and K.J. Osborn from their WR core and TE T/J. Hockenson expected to see fewer snaps because of an oblique injury, Mattison should be in line for heavy usage. With Cam Akers also out because of injury, Mattison should again dominate the backfield snaps. He has already clipped this number 4 times this season, including last week with 49 receiving yards against the Falcons.
Pick Made:
Nov 12, 4:20 pm UTC
Point Spread
New Orleans -2.5 -122
2-1 in Last 3 NFL ATS Picks
James's Analysis:
Joshua Dobbs has been one of my favorite stories of the 2023 NFL season, but he's facing one of the better pass defense in the league this week and he'll be doing so without All-Pro wide receiver Justin Jefferson. I like this line at -3, but love it at -2.5 if you can get it. Either way, I like the Saints to win by a touchdown or more in this one.
Pick Made:
Nov 12, 3:39 pm UTC
Prop
Alexander Mattison OVER 13.5 Total Carries -137
24-15 in Last 39 NFL Player Props Picks
Sia's Analysis:
I expect Alexander Mattison to get his full compliment of carries in what should be a close game between the Saints and the Vikings. Mattison hasn't been efficient all year, but with new QB Joshua Dobbs, they will need to lean on him especially with Cam Akers out for the season. Ty Chandler will work into the rotation for sure (and he's far more explosive) but Mattison is the starter for a reason and should get at least his normal workload.
Pick Made:
Nov 12, 4:28 am UTC
Prop
Joshua Dobbs OVER 28.5 Total Rushing Yards -118
77-57 in Last 134 NFL Player Props Picks
Jason's Analysis:
Dobbs just got to Minnesota but some things are universal regardless of playbook and Dobbs will take off and go. He went 7 for 66 last week with no practice and rushed into the game due to injury. He's topped this number in 5 of the last 6 games in which he ran more than 3 times and had 26 yards in the other. Vikings struggle in traditional run game and need his legs. Saints vs QBs who could move: Bagent 8-70; Lawrence (bad knee) 8 - 55; Mayfield 8 - 31; Love 9 - 39; Young 2 - 34. I am playing this at 40+ in alt markets alone and as part of parlays.
Pick Made:
Nov 11, 6:22 pm UTC
Point Spread
New Orleans -2.5 -110
50-31-5 in Last 86 NFL Picks
38-24-5 in Last 67 NFL ATS Picks
7-4-1 in Last 12 NO ATS Picks
Josh's Analysis:
This line has fluctuated a bit but we'll grab it while it has moved a notch below the key number of -3. Minus Kirk Cousins and Justin Jefferson, the Vikings shocked the Falcons in the final minute last week, while the Saints struggled to put away the stubborn Bears. Vikings QB Joshua Dobbs has been a good story, but he's unlikely to have a big passing game against the No.7-ranked passing defense of New Orleans (192 ypg). Look for the Saints to grind out a road victory as they look to stay on top of a weak NFC South.
Pick Made:
Nov 10, 10:40 pm UTC
Prop
Joshua Dobbs OVER 5.5 Total Carries -106
15-7 in Last 22 NFL Player Props Picks
Dave's Analysis:
Let's start with this: Dobbs was over this total last week when he played just three quarters. Sure, maybe that was a byproduct of him being new to the team, but he was over this number if 5 of his final 6 with the Cardinals, too. Rushing is part of his game. It figures stay that way because the Vikings cannot run the ball effectively with Alexander Mattison, so I expect more wrinkles in the Vikings offense moving forward. Already ranked inside the top-12 among QBs in scrambles thus year, the Saints rank dead-last in yards per carry to QBs at 5.7 yards, but that number explodes to 9.2 yards per run when it's an off-script scramble.
Pick Made:
Nov 10, 9:27 pm UTC
Point Spread
New Orleans -2.5 -120
61-44-3 in Last 108 NFL Picks
42-31-2 in Last 75 NFL ATS Picks
19-13-2 in Last 34 MIN ATS Picks
Mike's Analysis:
Well done, Joshua Dobbs, after you led your new team to victory without knowing all of their names. Now let's see if a repeat will happen against the league's No. 7 defense -- and without RB Cam Akers, WR Justin Jefferson and possibly WR K.J. Osborn. (Not to mention TE T.J. Hockenson and several teammates dealing with injuries.) The Saints are far healthier and their offense has awakened after stumbling out of the blocks in September. Their 24.4-ppg scoring average on the road is much better than at home. The cost in juice for the 2.5 is steep, with most other books listing the line at three, but worth it.
Pick Made:
Nov 09, 10:09 pm UTC
Point Spread
Minnesota +3 -110
70-51-4 in Last 125 NFL ATS Picks
52-27-5 in Last 84 MIN ATS Picks
R.J.'s Analysis:
Josh Dobbs is coming off a remarkable performance with no prep, and he's become a master of hitting the ground running. He'll get a Saints defense that allowed 5.8 yards per play to the Bears but benefited from five turnovers, and he should be able to put points on the board even if Justin Jefferson doesn't return. The Saints offense didn't impress in the win last week as they had just seven points in a fourth quarter played entirely in Chicago's half, and an underrated Vikings defense can help get this team a win. Now that the line is at 3, I love going Minnesota here.
Pick Made:
Nov 09, 5:44 pm UTC
Prop
Alvin Kamara OVER 35.5 Total Receiving Yards -109
77-57 in Last 134 NFL Player Props Picks
Jason's Analysis:
The only question here is why doesn't he see double-digit targets every game? Vikings allow 88% completions to RBs. And Saints average a pathetic 3.6/carry. So, why did Kamar only get 5 targets and 4 catches for 44 yards last week? Or 4/5 for 51 yards the week before? This should more like the 12 catches on 41 targets for 91 yards like the week before that against the Jags. He's over this in four straight and leads the NFL in catches by a RB despite being suspended. Derek Carr needs to look his way even more, and maybe a little Taysom Hill throwing to him as well in a game the Saints badly need to win against an ascending defense.
Pick Made:
Nov 09, 1:59 am UTC
Prop
Taysom Hill Anytime Touchdown Scorer +175
81-50 in Last 131 NFL Player Props Picks
Larry's Analysis:
Taysom Hill has gotten 34 touches the past three weeks while scoring in each game. In that span he's received 15 red-zone carries, rushed for three scores and caught a TD pass. Derek Carr's epic red-zone struggles finally convinced coordinator Pete Carmichael to use his unique weapon. Hill's opportunities should be there again Sunday, so I bet this nice plus-money price.
Pick Made:
Nov 08, 8:39 pm UTC
Point Spread
New Orleans -2.5 -110
131-91-1 in Last 223 NFL Picks
59-40-1 in Last 100 NFL ATS Picks
38-17-2 in Last 57 MIN ATS Picks
Larry's Analysis:
The Vikings can't run the ball so Josh Dobbs will have to pull off more unlikely feats for Minnesota to cover. The Saints and their stout defense (19.0 ppg allowed) will be ready for Dobbs' rushing. As a passer, Dobbs is averaging 5.8 yards per attempt and his receiving corps is down Justin Jefferson and K.J. Osborn. T.J. Hockenson is expected to play through a rib injury, while left tackle Christian Darrisaw is dealing with a groin injury. The Saints have many more weapons and rank 13th in total offense. They have begun to use Taysom Hill more to solve their red-zone woes. Lay the small number.
Pick Made:
Nov 08, 8:34 pm UTC
31 Total Player Props Projection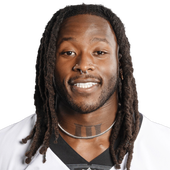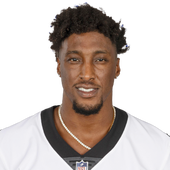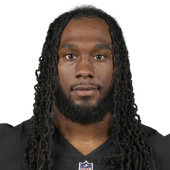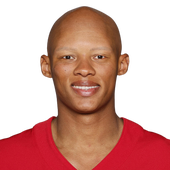 AI Picks for A. Kamara, M. Thomas, A. Mattison, J. Dobbs and 27 more players!
Join Now
Best prop picks are generated from a combination of Sportsline AI's projection, analysis of the opposing team, and the bets value based on the current odds.