Simulation Picks
Maximize Your Odds of Winning with SportsLine Model and Our Top-Rated Picks
Maximize Your Odds of Winning with SportsLine Model and Our Top-Rated Picks
Maximize Your Odds of Winning with SportsLine Model and Our Top-Rated Picks
Expert Picks
Point Spread
L.A. Rams -1 -105
53-28-6 in Last 87 NFL Picks
53-28-6 in Last 87 NFL ATS Picks
5-2-2 in Last 9 LAR Picks
5-2-2 in Last 9 LAR ATS Picks
Adam's Analysis:
The Colts enter with a banged up offensive line and Anthony Richardson presumably out of rhythm after missing a week due to concussion. The Rams appeared to be trending downward in the market coming off consecutive losses on a short week, and yet, the line moved two points to make them favorites. Unlike the 49ers and Bengals, the Colts line is unlikely to get to Matthew Stafford as consistently. If Stafford has time, historically, he will make enough plays to win. On the other side, you have that thin Indy OL going up against Aaron Donald. AR has escapability for sure, but will he be apprehensive to take hits like he occasionally was at Florida when banged up?
Pick Made:
Oct 01, 3:51 pm UTC
Point Spread
Indianapolis +1 -115
3-0 in Last 3 NFL ATS Picks
3-2 in Last 5 IND ATS Picks
Kenny's Analysis:
Anthony Richardson returns at QB for the Colts after sitting out last week with a concussion, however at this point in the rookie's career there is no drop off from Richardson to Gardner Minshew. Richardson had three touchdown runs in his first two games while completing 64% of his passes. The Rams overachieved in their first three games but are still 1-2 SU. I had the Rams defense tied for last in the NFL to begin the season but after their first three games they are up to #21. The defense has improved however they are still below average. My model has the Colts by 3.
Pick Made:
Oct 01, 6:11 am UTC
Point Spread
L.A. Rams +1 -115
6-2 in Last 8 LAR ATS Picks
Brett's Analysis:
Sean McVay has the baby Rams much feistier than expected. The QB matchup here is Matthew Stafford vs. a rookie with 1 TD pass in his NFL career. The coaching matchup here is Sean McVay vs. a rookie head coach whose two career wins came over the depleted Texans and depleted Ravens. Grab the point.
Pick Made:
Oct 01, 1:11 am UTC
Prop
Zack Moss OVER 16.5 Total Carries -132
21-14 in Last 35 NFL Picks
21-14 in Last 35 NFL Props Picks
Mike's Analysis:
The Colts want to run the ball. Zack Moss missed Week 1 with an injury, but he has taken over as their lead running back since making his return. After posting 18 carries against the Texans in Week 2, he rushed 30 times against the Ravens in Week 3. With little talent behind him at the position, expect Moss to receive a heavy workload again.
Pick Made:
Sep 30, 11:11 pm UTC
Over / Under
UNDER 46 -108
54-40-3 in Last 97 NFL Picks
12-5 in Last 17 NFL O/U Picks
9-7 in Last 16 LAR O/U Picks
Mike's Analysis:
The Rams have been under this total in two of three outings and must endure at least one more week without WR Cooper Kupp. The revolving door at RB continues to thwart consistency at the position. Rookie QB Anthony Richardson returns for Indy likely with orders to stay in the pocket more rather than scramble to prevent another concussion. He must adjust to the constraints -- and might be lined up behind backups. C Ryan Kelly has not escaped concussion protocol, and both tackles are iffy.
Pick Made:
Sep 29, 9:43 pm UTC
Prop
Kyren Williams Anytime Touchdown Scorer +117
25-18-1 in Last 44 NFL Picks
5-2 in Last 7 NFL Props Picks
Matt's Analysis:
We lost on Williams to score last week, but he did get a couple of shots relatively close to the goal line; the Rams were pretty inept overall offensively in Cincinnati. Indy is middle-of-the-pack against the run and has allowed four rushing TDs and I expect at least a couple of TDs for LA. Williams is a three-down back (has played more total snaps than any RB in the league) so he is also capable of a receiving score and has one among his four TDs.
Pick Made:
Sep 29, 12:46 pm UTC
Prop
Matt Gay OVER 1.5 Total Made Field Goals -111
14-8 in Last 22 NFL Picks
14-8 in Last 22 NFL Props Picks
Eric's Analysis:
I'm playing the multiple field goal angle against the Rams until further notice. They have surrendered NINE made field goals in three games this season, including four on Monday against the Bengals. Gay kicked five field goals, including a league record four 50+ yarders to beat Baltimore on Sunday. With the game total in the mid-to-upper 40s, I think Indianapolis' kicker will have multiple chances to hit this prop.
Pick Made:
Sep 29, 4:50 am UTC
Prop
Zack Moss OVER 87.5 Total Rushing + Receiving Yards -115
14-8 in Last 22 NFL Picks
14-8 in Last 22 NFL Props Picks
Eric's Analysis:
In two games this season, the Colts seem to have mistaken Zack Moss for Jonathan Taylor. Moss has played more than 3/4 of the team's snaps at running back and averaged 27 touches and 126 total yards in the team's two victories. The Rams are fourth worst against zone runs (5.32 yards per carry) and 85% of Moss' carries have been of that variety. I'm expecting another 100+ yard combined output on Sunday.
Pick Made:
Sep 29, 4:42 am UTC
Prop
Kyren Williams UNDER 88.5 Total Rushing + Receiving Yards -115
49-32 in Last 81 NFL Picks
40-27 in Last 67 NFL Props Picks
Alex's Analysis:
Will update analysis today.
Pick Made:
Sep 28, 8:25 pm UTC
Point Spread
Indianapolis +1 -110
3-0-1 in Last 4 NFL ATS Picks
6-3-1 in Last 10 NFL Picks
Jeff's Analysis:
The Rams will be playing their third road game in four weeks, with short rest and their body clocks at 10 a.m. PT. Anthony Richardson can use his running skills effectively against the Rams' linebackers, who are last in PFF's rankings. The Colts rank fifth in sack rate, while the Rams are 24th. The Colts rank significantly higher than the Rams in special teams and total defense (DVOA). Center Ryan Kelly, who has a PFF grade of 82.8, returns to boost the Colts' offensive line. Indianapolis has lost eight consecutive home games and should be motivated to win for the fans.
Pick Made:
Sep 28, 5:59 pm UTC
Money Line
Indianapolis -105
91-70-3 in Last 164 NFL Picks
2-1 in Last 3 NFL ML Picks
R.J.'s Analysis:
The Colts offense was not impressive despite getting the win in Baltimore, averaging just 3.9 yards per play, but four FGs of 53+ yards, including two after the 59-minute mark of regulation, saved them. They should be better in this matchup, especially with Anthony Richardson expected to return and make the offense tougher to defend. The Rams finally regressed against Cincy, particularly on the offensive line, and Indy has an underrated defensive front that's averaging four sacks per game. While the potential is there for Matthew Stafford to go nuclear, I like the Indy side. You can get +1 at DraftKings, but I'm OK taking the extra 5 cents on the money line here as well.
Pick Made:
Sep 28, 1:59 pm UTC
Point Spread
Indianapolis -1 -110
113-77-1 in Last 191 NFL Picks
50-35-1 in Last 86 NFL ATS Picks
Larry's Analysis:
This is a brutal travel spot for the Rams, who lost Monday night in Cincinnati and must return to the Midwest for an early Sunday start. More significant, the Rams lost starting left tackle Alaric Jackson and starting right guard Joe Noteboom to injuries in their 19-16 loss, and their replacements were exposed. It's unclear if either will play in Week 4. The Colts rank eighth in pressure rate and should harass Matthew Stafford, as the Rams rank 30th in pass-block win rate. Even if Anthony Richardson (concussion) doesn't return Sunday, Gardner Minshew has proven he is not much of a downgrade.
Pick Made:
Sep 26, 7:02 pm UTC
Over / Under
OVER 44.5 -110
91-70-3 in Last 164 NFL Picks
13-9 in Last 22 NFL O/U Picks
56-41-2 in Last 99 LAR Picks
11-4 in Last 15 LAR O/U Picks
R.J.'s Analysis:
Regression finally hit the Rams on Monday night with the offensive line allowing six sacks and the team just 1 of 11 on third downs. But the big plays were still there, with the Rams averaging 5.6 yards per play, and I expect their scoring to bounce back this week against a solid Indy defense. The key here is the expected return of Anthony Richardson, who missed last week with a concussion, as the Colts offense only had 3.9 yards per play despite the win and had to settle for several long field goals. An indoor game between these two teams should sail past the 44.5 number.
Pick Made:
Sep 26, 3:15 pm UTC
19 Total Player Props Projection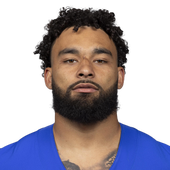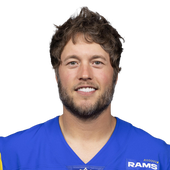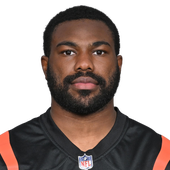 AI Picks for K. Williams, M. Stafford, Z. Moss and 16 more players!
Join Now
Best prop picks are generated from a combination of Sportsline AI's projection, analysis of the opposing team, and the bets value based on the current odds.
Team Injuries

SAF