Simulation Picks
Maximize Your Odds of Winning with SportsLine Model and Our Top-Rated Picks
Maximize Your Odds of Winning with SportsLine Model and Our Top-Rated Picks
Maximize Your Odds of Winning with SportsLine Model and Our Top-Rated Picks
Expert Picks
Point Spread
Kansas City -7.5 -110
53-28-6 in Last 87 NFL Picks
53-28-6 in Last 87 NFL ATS Picks
7-4 in Last 11 KC ATS Picks
Adam's Analysis:
Not much can be taken from last week's beating of the Bears, but the Chiefs for the last couple weeks have found a groove with their offense finally healthy and on the field together. Even if the Jets' strong defense stymies KC for a half, Andy Reid & Co. will shake it off and figure out how to pull away in the second half. Let's not discount the Kansas City defense, either, which should be able to concentrate on stopping the run given Zach Wilson is hardly a threat. It looked like this was about to hit -7, but I'd play this through -8.
Pick Made:
Oct 01, 11:50 pm UTC
Point Spread
Kansas City -7.5 -110
32-17-1 in Last 50 NFL Picks
7-4-1 in Last 12 NFL ATS Picks
2-1 in Last 3 KC ATS Picks
Sia's Analysis:
There's clearly some sharp money coming in on the Jets which is driving this line to a place where I need to take it. I have no faith in a Jets offense that is led by Zach Wilson and it wouldn't shock me if the Chiefs defense finds a way to put points on the board. The Jets defense is legit but I think Patrick Mahomes finds enough in the middle of the field to put some touchdowns on the board and cover this number.
Pick Made:
Oct 01, 10:27 pm UTC
Point Spread
Kansas City -8.5 -110
22-15-2 in Last 39 NFL ATS Picks
19-13-1 in Last 33 NFL Picks
Bruce's Analysis:
Aaron Rodgers supposedly to make an appearance at met Life on Sunday night. Unfortunately for the Jets he won't be uniform as he continues to nurse his Achilles tear that keeps him out until 2024. We agree with Joe Namath that Zach Wilson isn't the answer at QB for the J-Men, who are already making moves to change with Trevor Siemian brought in as a backup this week and maybe a week or two away from starting. After scoring just 10 points each of the past two weeks, this hardly looks a recipe to outscore Patrick Mahomes and the Chiefs.
Pick Made:
Sep 30, 5:50 pm UTC
Prop
Patrick Mahomes UNDER 2.5 Total Passing Touchdowns -179
25-18-1 in Last 44 NFL Picks
5-2 in Last 7 NFL Props Picks
Matt's Analysis:
Will not mention Taylor Swift will be in attendance ... will not mention Taylor Swift will be in attendance. Dead serious in that if I was at Wal-Mart and Taylor Swift was there shopping for non-stick, dishwasher safe pans (that would be an upset) I would have no idea who she was if by herself. Can't say I've ever heard a song. Sure I have but don't realize it. Can't say I know a Beyonce song, either, or would recognize her. Now Jim McMahon? Hell yes and I'm partying with the Punky QB. I might be a nerd. Mahomes has topped two TD passes once in three games and faces the best defense he has seen. Josh Allen had one TD against that unit.
Pick Made:
Sep 28, 10:38 pm UTC
Prop
Rashee Rice OVER 25.5 Total Receiving Yards -114
49-32 in Last 81 NFL Picks
40-27 in Last 67 NFL Props Picks
Alex's Analysis:
Will update analysis today.
Pick Made:
Sep 28, 7:51 pm UTC
Point Spread
Kansas City -9.5 -110
113-77-1 in Last 191 NFL Picks
50-35-1 in Last 86 NFL ATS Picks
29-19 in Last 48 KC ATS Picks
30-22 in Last 52 KC Picks
Larry's Analysis:
The Chiefs give up 4.6 yards per play, fifth-lowest in the NFL, and now get to face a Zach Wilson-led offense that's put up 10 points each of the past two weeks. K.C. averages 5.8 yards per play, fifth-most, while the Jets rank 31st at 4.2 yards per play. The Chiefs' offense has begun to jell with young receivers Skyy Moore and Rashee Rice developing into dangerous options to complement Travis Kelce.
Pick Made:
Sep 28, 3:21 pm UTC
Over / Under
UNDER 42.5 -110
3-2 in Last 5 NFL O/U Picks
Will's Analysis:
The Chiefs will limit Mahomes exposure here and a lead will turn into zero points on Sunday night. Best bet of the week on this ACL ripping field.
Pick Made:
Sep 28, 5:40 am UTC
Point Spread
Kansas City -9.5 -110
Will's Analysis:
Acting like there are "layers" to this is pretty crazy but sometimes you do get a "Taylor Swift has to show up in New York" game with Travis Kelce and Patrick Mahomes looking to show off a touch plus Andy Reid determined to keep the score low. Everyone focused on Swiftie stuff but the real masterminds remembered Mahomes getting hurt and dealing with an ankle injury. The under is a slammer here because of Reid's turf knowledge. The Chiefs defense has been great and they won't give up more than 10 points. If you think Kansas City can't score 21 go ahead and fade them.
Pick Made:
Sep 28, 5:38 am UTC
Point Spread
Kansas City -9.5 -110
63-43-3 in Last 109 NFL ATS Picks
91-70-3 in Last 164 NFL Picks
R.J.'s Analysis:
The Chiefs offense looked back in form against Chicago, building a 41-0 lead through three quarters and scoring on seven straight possessions after punting on their first drive. The Jets had a claim for best defense in the league entering the season but that unit hasn't looked in top form the last two weeks, so we should expect 20-plus points from Kansas City. And that'll be enough to cover with the Chiefs defense playing incredible (just two non-garbage time TDs allowed in three games) and Zach Wilson, someone who you're not worried about backdooring a cover, on the other side.
Pick Made:
Sep 26, 3:58 pm UTC
Point Spread
Kansas City -9.5 -110
13-4-1 in Last 18 NFL Picks
26-18-1 in Last 45 NFL ATS Picks
27-19-1 in Last 47 KC Picks
27-19-1 in Last 47 KC ATS Picks
Emory's Analysis:
It's tough to watch the Jets play offense because it's a clear sign of what is holding them back. Defenses don't respect the passing game and it's causing them to sell out vs the run game, making them look and play ineffective. This game will feel a lot like the Bears game for the Chiefs.
Pick Made:
Sep 26, 2:50 pm UTC
33 Total Player Props Projection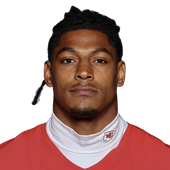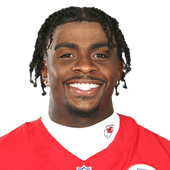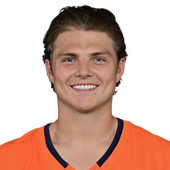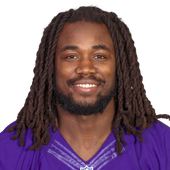 AI Picks for I. Pacheco, J. McKinnon, Z. Wilson, D. Cook and 29 more players!
Join Now
Best prop picks are generated from a combination of Sportsline AI's projection, analysis of the opposing team, and the bets value based on the current odds.
Team Injuries

RB

WR