Simulation Picks
Maximize Your Odds of Winning with SportsLine Model and Our Top-Rated Picks
Maximize Your Odds of Winning with SportsLine Model and Our Top-Rated Picks
Maximize Your Odds of Winning with SportsLine Model and Our Top-Rated Picks
Expert Picks
Prop
Tutu Atwell OVER 29.5 Total Receiving Yards -109
Zack's Analysis:
Tutu Atwell has been quiet over the last several games for the Rams. In fact he is only averaging 21 yards over his last five games. Still he can be an impact player today for the Rams. In week one he had 119 yards, and had a knack of getting open against the Seahawks secondary coverages. Take his over prop today.
Pick Made:
Nov 19, 8:28 pm UTC
Prop
Puka Nacua OVER 68.5 Total Receiving Yards -118
Zack's Analysis:
In week one Seattle had a very tough time defending Puka Nacua and Tutu Atwell. It was a game that Cooper Kupp missed and the Seahawks still struggled defensively. With a lack of a true ground game the Rams will throw it frequently. Expect Nacua to eclipse or duplicate another big game versus Seattle.
Pick Made:
Nov 19, 8:27 pm UTC
Point Spread
L.A. Rams -1.5 -110
60-33-6 in Last 99 NFL ATS Picks
6-3-2 in Last 11 LAR ATS Picks
Adam's Analysis:
The Seahawks, behind Geno Smith, have been a pleasant surprise this season, but Sean McVay has had the number of Pete Carroll since he took over the Rams. Los Angeles not only has the apparent coaching edge in this matchup, it is coming off a bye with Matthew Stafford finally returning behind center. Seattle's defense is not good enough to contain all of the Rams' weapons, and while this line has shifted as the week progressed, I like Aaron Donald to create enough havoc in the backfield. for La to take a must-win game as it hangs onto the last shred of hope to make the playoffs.
Pick Made:
Nov 19, 8:11 pm UTC
2-1 in Last 3 NFL ML Picks
Will's Analysis:
The formula for Los Angeles is as simple as this: when Matthew Stafford plays, this team is good. When he doesn't, this team is bad. Stafford is back now and the Rams are a one-point dog at home to a very good Seahawks team, but a Seahawks team that the Rams have been good against since Sean McVay took over. Aaron Donald is still Aaron Donald and he'll create problems for Geno Smith. Stafford and McVay know this game is critical to keeping any playoff hopes alive. The Seahawks, at 6-3, look locked into a playoff spot. The Rams, at 3-6, are being counted out. But if they can win at home in Week 11, the postseason is very much back on the table.
Pick Made:
Nov 19, 4:10 pm UTC
Prop
Tyler Lockett UNDER 52.5 Total Receiving Yards -119
44-25 in Last 69 NFL Player Props Picks
Erik's Analysis:
We have see this before. A banged up Lockett is used as a decoy. Rather than try to chase if JSN or DK is going over, cut out the middle man and play the under.
Pick Made:
Nov 19, 4:01 pm UTC
Point Spread
Seattle +2 -110
6-2 in Last 8 NFL ATS Picks
4-2 in Last 6 LAR ATS Picks
Kenny's Analysis:
Seattle rebounded last week with a win over Washington after their worst game of the year, a 37-3 loss at Baltimore. The Hawks are 6-3, tied for first place in the NFC West with the 49ers. Seattle has same season home revenge from their week one loss to the Rams. Matthew Stafford returns for the Rams but that has obviously been calculated into the line with the Rams now the favorite. My model has Seattle by five and a half points.
Pick Made:
Nov 19, 5:31 am UTC
Over / Under
UNDER 46.5 -105
56-36-1 in Last 93 NFL Picks
4-2 in Last 6 NFL O/U Picks
Erik's Analysis:
A divisional game where both teams are struggling on offense. Great. Seattle is not scoring points on the road, the Rams are a bad run game/o-line and Seattle can rush the passer. Plus, the first matchup saw the Rams score points but also run over 70 plays! A more normal game script shows me the under.
Pick Made:
Nov 18, 6:05 pm UTC
72-53-4 in Last 129 NFL Picks
2-1 in Last 3 NFL ML Picks
R.J.'s Analysis:
Matthew Stafford is tracking toward a return this week, and that gives the Rams a great chance to win the game. Sean McVay is 9-1 ATS in his last 10 against Pete Carroll, and the quality of this Seattle team is looking more average by the week. The Seahawks settled for five FGs against a bad Washington defense, and their own defense is down to 15th in yards per play after a high ranking earlier in the year. They also rank bottom four in third down rate and red zone rate, so Stafford should be able to pick up first downs and get TDs here. I think the line is right, but I'm backing McVay's success here.
Pick Made:
Nov 16, 4:59 pm UTC
Point Spread
L.A. Rams +1 -110
131-91-1 in Last 223 NFL Picks
59-40-1 in Last 100 NFL ATS Picks
30-17-2 in Last 49 SEA ATS Picks
Larry's Analysis:
Sean McVay has covered the last six matchups versus Pete Carroll, and in Week 1 Raheem Morris' defense held the Seahawks to 180 total yards in a 30-13 upset. Seattle will be more productive Sunday, but I still like taking the rested and healthy home dog. Matthew Stafford is back from his thumb injury; not a single LA player missed practice Wednesday. The Seahawks' defense has feasted on bad QBs but has been shredded by Stafford, Jared Goff, Lamar Jackson and Sam Howell. Not only is Stafford returning, the Rams also welcome back key contributors Rob Havenstein, Ernest Jones and Bobby Brown III.
Pick Made:
Nov 16, 4:01 pm UTC
Point Spread
L.A. Rams +1 -110
5-0-1 in Last 6 NFL ATS Picks
Jeff's Analysis:
The Seattle Seahawks are tied for the NFC West's top spot. In their next four games, they will play against San Francisco twice, as well as Dallas and Philadelphia. Seattle has a negative point differential while playing the 29th most demanding schedule. On the other hand, the Rams are coming off their Bye week and are highly motivated after losing three consecutive games straight up and against the spread while playing the eighth-hardest schedule. The team will be the healthiest it's been since week one. The Rams rank 10th in third-down conversion percentage, while Seattle ranks 30th in third-down defense. Sean McVay owns Pete Carroll, having won four of the past six meetings. More of the same!
Pick Made:
Nov 15, 11:55 pm UTC
Over / Under
UNDER 46 -110
18-13 in Last 31 NFL O/U Picks
3-1 in Last 4 SEA O/U Picks
Jason's Analysis:
Looks to me like Stafford playing is already baked into this number, and if he doesn't and it falls, then so be it. He was playing poorly before he got hurt and terrible when pressured and Seattle can ramp up the pass rush with Boye Mafe. Teams combined for 43 points in Week 1 and the Rams haven't sniffed 30 since. The Rams average 20 PPG at home and Seattle scores 19 on road. Three of the last four Rams home games are under 41 and three of the last four Seattle road games under 40. Geno Smith's decision making probably kills a drive or two. Rams averaging 13 PPG in their last three. Seven of the last eight games between them have gone under.
Pick Made:
Nov 15, 4:51 pm UTC
38 Total Player Props Projection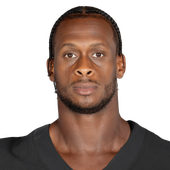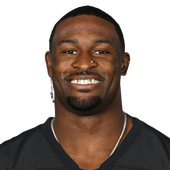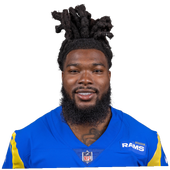 AI Picks for G. Smith, D. Metcalf, D. Henderson Jr. and 35 more players!
Join Now
Best prop picks are generated from a combination of Sportsline AI's projection, analysis of the opposing team, and the bets value based on the current odds.