Simulation Picks
Maximize Your Odds of Winning with SportsLine Model and Our Top-Rated Picks
Maximize Your Odds of Winning with SportsLine Model and Our Top-Rated Picks
Maximize Your Odds of Winning with SportsLine Model and Our Top-Rated Picks
Expert Picks
Point Spread
San Francisco -7 -110
6-3-2 in Last 11 NFL Picks
6-3-2 in Last 11 NFL ATS Picks
2-1-1 in Last 4 SF ATS Picks
Adam's Analysis:
With the hook now gone, making a play on this 49ers team is worthwhile. The Rams largely got what they wanted against the Seahawks last week, but this San Francisco defense is another type of beast entirely. Nick Bosa will be a full participant this week, and Christian McCaffrey adds another element that Los Angeles will struggle to defend. With this line coming down to a reasonable number and the Rams holding no significant homefield advantage, I like the Niners in this spot.
Pick Made:
Sun 7:55 pm UTC
Point Spread
San Francisco -7.5 -105
Bruce's Analysis:
LA hasn't been lately against the Niners, who have won and covered 8 of the last 9 meetings since 2019 including a dominant sweep last season. Seattle last week was simply not capable of doing what Kyle Shanahan's offense has done lately to the Rams, which is to push it around and run the ball, and all the more worrying for LA as it has only had to face Christian McCaffrey in a 49ers uniform on one previous occasions. The Niners looked in midseason form in the opener at Pittsburgh and seem to take great joy of dominating their downstate rival.
Pick Made:
Sep 15, 8:13 pm UTC
Prop
Christian McCaffrey OVER 64.5 Total Rushing Yards -114
Eric's Analysis:
McCaffrey was unstoppable on the ground in Week 1 against the Steelers, rushing for 152 yards including a gamebreaking 65 yard touchdown run in the third quarter. Last year he ran for 94 yards on 18 carries against this Los Angeles defense and it wouldn't surprise me if San Francisco's RB once again averaged more than five yards per carry. I'm mildly concerned about a lesser workload considering the 49ers play on Thursday next week, but 12 carries might be all we need to surpass this total.
Pick Made:
Sep 14, 10:42 pm UTC
Point Spread
San Francisco -8 -110
10-4 in Last 14 NFL ATS Picks
10-8 in Last 18 SF ATS Picks
Larry's Analysis:
Since joining the Rams, Matthew Stafford is 0-4 against the 49ers in the regular season, throwing five TDs against five INTs while getting sacked 16 times. The 49ers have won and covered eight of the past nine meetings. There was nothing fluky about San Fran's performance in Pittsburgh, where the Steelers didn't gain a first down until just before halftime. Nick Bosa played 35 snaps coming back from his holdout and will get a full complement Sunday.
Pick Made:
Sep 12, 3:06 pm UTC
14-5 in Last 19 NFL Picks
3-0 in Last 3 NFL O/U Picks
51-38-1 in Last 90 LAR Picks
10-3 in Last 13 LAR O/U Picks
R.J.'s Analysis:
The 49ers absolutely bludgeoned the Steelers in Week 1, and maybe their defense shuts down the Rams again. But Matthew Stafford is no Kenny Pickett, turning Puka Nacua into Cooper Kupp lite and getting big plays from Tutu Atwell. With their bad defense (despite what they showed in second half vs. beat-up Seattle team), the Rams are going to be a good Over team, and this might be the lowest total in any of their non-Cardinals games this year.
Pick Made:
Sep 11, 11:10 pm UTC
37 Total Player Props Projection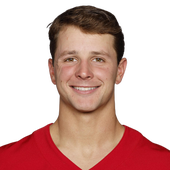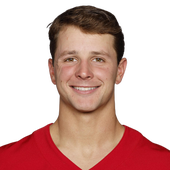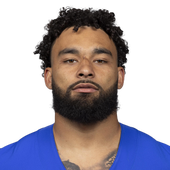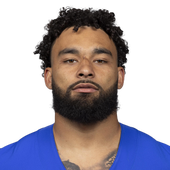 AI Picks for B. Purdy, B. Purdy, K. Williams, K. Williams and 33 more players!
Join Now
Best prop picks are generated from a combination of Sportsline AI's projection, analysis of the opposing team, and the bets value based on the current odds.
vs Teams That Win <40% of Games
vs Teams That Win >55% of Games
vs Teams Allowing 21 to 25 PPG
vs Teams Allowing <21 PPG