Simulation Picks
Maximize Your Odds of Winning with SportsLine Model and Our Top-Rated Picks
Maximize Your Odds of Winning with SportsLine Model and Our Top-Rated Picks
Maximize Your Odds of Winning with SportsLine Model and Our Top-Rated Picks
Expert Picks
Point Spread
Houston +1.5 -110
59-30-6 in Last 95 NFL ATS Picks
16-8-2 in Last 26 HOU ATS Picks
Adam's Analysis:
The line is right here given the Texans and Jaguars enter as somewhat evenly matched teams. Houston has largely dominated this rivalry with a 10-1 edge straight up since 2018; it is also 4-1 ATS in the last five and 8-3 ATS in those last 11 meetings. The Texans are at home catching a point looking to continue their winning streak. We have seen the Jaguars take advantage of poor offensive teams, but when the competition steps up, the secondary fails. Look for a big day from C.J. Stroud and a Texans cover, though it may be a nail-biter through the finish.
Pick Made:
Nov 26, 5:41 pm UTC
Point Spread
Jacksonville -1.5 -110
47-28-4 in Last 79 NFL Picks
35-22-4 in Last 61 NFL ATS Picks
7-0 in Last 7 HOU ATS Picks
Josh's Analysis:
The Texans are fun team and a good story. But they have gotten a bunch of breaks during their three-game win streak by 10 combined points, winning two of them at the horn and fending off Arizona last week. The Jags are undefeated on the road, have the better team and can take control of the AFC South win a win Sunday.
Pick Made:
Nov 26, 5:11 pm UTC
Over / Under
OVER 47.5 -112
2-1 in Last 3 NFL O/U Picks
Allan's Analysis:
This may not be a huge game in the grand scheme of NFL Week 12 but it is for taking ownership of the AFC South. Houston puts themselves nicely to take it with a win and Jacksonville would darn near solidify their standing with the dub. So really there's only one way to wager this matchup and that is with points, because their defenses aren't taking it.
Pick Made:
Nov 26, 4:01 pm UTC
Point Spread
Houston +1 +100
18-8-1 in Last 27 NFL Picks
30-20-1 in Last 51 NFL ATS Picks
3-1 in Last 4 JAC ATS Picks
Emory's Analysis:
Earlier in the season the Texans blasted the Jags 37-17, which many viewed as a one-off type fluke by Houston. Well, as the season has gone on we've now come to realize that they are a legit contender in the AFC South. Jags will be out for blood, but expect the fast starting Texans to keep up the scoring pace and seize the top of the division from Jacksonville.
Pick Made:
Nov 26, 12:55 pm UTC
Prop
C.J. Stroud OVER 272.5 Total Passing Yards -118
8-3 in Last 11 NFL Player Props Picks
Mike's Analysis:
C.J. Stroud has thrived during his rookie season. He has thrown for at least 336 yards in each of the last three games. The Texans have played five games at home and Stroud had at least 306 passing yards in four of them. This is a great matchup for him to have another great stat line, given that the Jaguars have allowed the fourth-most passing yards per game in the league. When Stroud faced them in Week 3 in Jacksonville, he threw for 280 yards on only 30 pass attempts in what was a lopsided win for the Texans.
Pick Made:
Nov 26, 1:13 am UTC
Prop
Devin Singletary OVER 47.5 Total Rushing Yards -115
63-44 in Last 107 NFL Player Props Picks
Jason's Analysis:
The Texans couldn't run the ball back in Week 3 when they rolled the Jags and Singletary put up 41 yards on just 9 carries. In the last two weeks they have upped their fullback usage and used a bruising rush attack to buttress their play action game. He has 52 carries the last two weeks for 262 yards and will cause major problems for the Jags front here. Watch the under center runs with the fullback on the field.
Pick Made:
Nov 25, 8:01 pm UTC
Prop
Tank Dell OVER 62.5 Total Receiving Yards -119
22-14 in Last 36 NFL Player Props Picks
Sia's Analysis:
Tank Dell has 35 targets over his last three games and gets a projected game script that is going to require him to get plenty of targets on Sunday. Stroud is projected to throw for over 275 yards against a susceptible Jaguar defense and Dell and Nico Collins should get a lot of that work. I give the edge to Dell to be the leading receiver for Stroud and the Texans, but the entire offense should have sucess through the air.
Pick Made:
Nov 25, 7:25 pm UTC
Point Spread
Jacksonville -1.5 -110
18-7-1 in Last 26 NFL Picks
12-5-1 in Last 18 NFL ATS Picks
17-9-1 in Last 27 HOU ATS Picks
Micah's Analysis:
The Texans got their sweet vibes going this season by surprising everyone with a 37-17 Week 3 blowout at Jacksonville and now sit in second place in the AFC South with a chance to take over first place with a win here. The Texans have won six of their last eight while the Jaguars have won six of their last seven. It's time for the Jaguars to focus on the division. They can't get swept here, they're undefeated on the road (4-0). Jaguars to win, cover.
Pick Made:
Nov 25, 7:11 pm UTC
Prop
Calvin Ridley OVER 55.5 Total Receiving Yards -135
45-30 in Last 75 NFL Player Props Picks
Alex's Analysis:
It's been an up down and season for Calvin Ridley who is playing in his first year for the Jaguars after spending two full seasons on the shelf due to a suspension. Ridley has flashed elite upside back when he was the focal point of Atlanta's passing attack but has also been a distant second in target share to Christian Kirk resulting in some duds. This looks like a fantastic spot to back Ridley against a depleted Texans pass defense in a game that projects to be a shootout with a 48 point total.
Pick Made:
Nov 24, 8:52 pm UTC
Prop
Trevor Lawrence OVER 0.5 Total Passing Interceptions +100
63-44 in Last 107 NFL Player Props Picks
Jason's Analysis:
Turnovers are a problem for Trevor Lawrence and especially against this Texans passing defense, he struggles with them. He has four in his last three games against them, at one in all three. Lawrence has thrown at least one pick in three of the four division games he's played this season, with last week's blowout of the Titans the only exception. Lawrence struggles vs HOU and they tend to frustrate him and this is a big shot and I see the Texans scoring points and forcing the Jags to keep pace. Also may need to chuck some jump balls late in the game.
Pick Made:
Nov 24, 8:50 pm UTC
Prop
C.J. Stroud OVER 271.5 Total Passing Yards -118
18-10 in Last 28 NFL Player Props Picks
Eric's Analysis:
Stroud is almost a lock for NFL Offensive Rookie of the Year but can he get in the thick of the NFL MVP race? Shockingly, Houston has beaten Jacksonville 10 of the last 11 times the two teams have met including earlier this season. Six QBs have surpassed this total vs. the Jaguars in ten games, including Stroud in Week 3. In his last three games, Stroud is averaging 387 yards per game. I'll predict another 300+ yard game for the rookie phenom in what should be a fun game on Sunday afternoon.
Pick Made:
Nov 24, 4:34 am UTC
Point Spread
Houston +1.5 -110
66-45-3 in Last 114 NFL ATS Picks
27-18-1 in Last 46 JAC ATS Picks
R.J.'s Analysis:
The Jaguars bounced back as expected against Tennessee, but they gave up too many big plays in that game defensively and now have to face an offense that's becoming known for explosive plays. The Jaguars defense is 26th in yards per pass and 29th in sack rate, so I expect fireworks from Houston here. Maybe the Jaguars offense keeps up, but they've largely struggled when facing good teams, and the Texans have proven to be a good team with impressive wins in Jacksonville and Cincinnati. Only two last-second field goals in road games have prevented Houston from being on an eight-game winning streak, and they shouldn't be catching points at home against teams that aren't top tier.
Pick Made:
Nov 23, 2:01 pm UTC
Prop
Houston OVER 23.5 Total Pts -120
6-1 in Last 7 NFL Team Props Picks
Jason's Analysis:
The Texans put up 37 at JAX in Week 3 when CJ Stroud was just adjusting to this Texans offense with heavy use of a fullback and play action. Singletary averaged 4.6/ carry that game and Stroud dominated on the road. Texans coaching staff came from SF and remain close (share ideas). 49ers eviscerated JAX two weeks ago (34-3) relying on FB and under center play action. Houston doing it a ton the last two weeks. Jags D is 31st in NFL with a FB on field (7.4/play, 5 TDs) and 29th vs opponents under center. Texans run game in best form of the season. Texans average 24/G, with 90 in last 3 games (despite 3 Stroud INT last week). That won't happen again.
Pick Made:
Nov 22, 4:06 am UTC
Jason's Analysis:
The Texans are rolling running plays under center the last two weeks (45 plays/236 yards, 2nd in NFL), taking play action to the next level and putting their rookie QB in position to succeed. Jags are 26th vs rush and 29th in yards/play on D when opponent is under center. Singletary has gone 110+ in two straight and averaged 4.6 carry in their first meeting with Jags. Stroud's first win came that day in Jacksonville with a stellar 118.8 rating. He has a better compliment of pass catchers now and a healthier OL.HOU does not allow passing TDs and Trevor Lawrence last 3 games vs HOU - 1 TD, 4 INT, 70.6 rating. Texans thrive as a dog. Jags D just 26th in yds/play.
Pick Made:
Nov 21, 10:06 pm UTC
Over / Under
OVER 46.5 -115
55-35 in Last 90 NFL Picks
4-2 in Last 6 NFL O/U Picks
Alex's Analysis:
This game has the makings of a potential shootout between two of the higher volume passing offenses in the league. Both Jacksonville and Houston run D's rank in the top 10 in Run Stop Win Rate and as a result are pass funnels. I expect both teams to be aggressive and successful attacking down the field.
Pick Made:
Nov 20, 8:05 pm UTC
Over / Under
OVER 46.5 -110
98-76-3 in Last 177 NFL Picks
15-11 in Last 26 NFL O/U Picks
R.J.'s Analysis:
The Jaguars bounced back as expected against the Titans, but their defense gave up some big plays, which isn't a good precursor to facing an explosive Houston offense. The Jaguars defense is good on third down and in red zone, but Houston doesn't need either to score TDs. Houston's defense is much better against the run than pass, and Zay Jones' return has opened things up for Calvin Ridley and make the Jaguars' passing attack tougher to stop. This should be a bit of a track meet, and this total should only go up.
Pick Made:
Nov 20, 4:20 pm UTC
32 Total Player Props Projection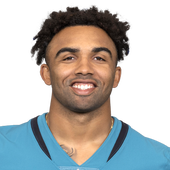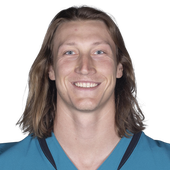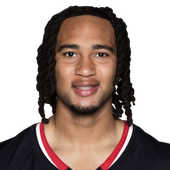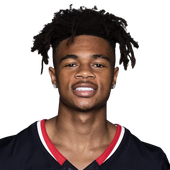 AI Picks for C. Kirk, T. Lawrence, C. Stroud, T. Dell and 28 more players!
Join Now
Best prop picks are generated from a combination of Sportsline AI's projection, analysis of the opposing team, and the bets value based on the current odds.