Patrick Kane next NHL team odds: Sabres favored to sign future Hall of Famer over Maple Leafs, Panthers, Red Wings, Lightning, Stars
Future Hockey Hall of Famer Patrick Kane is expected to sign with a team in free agency.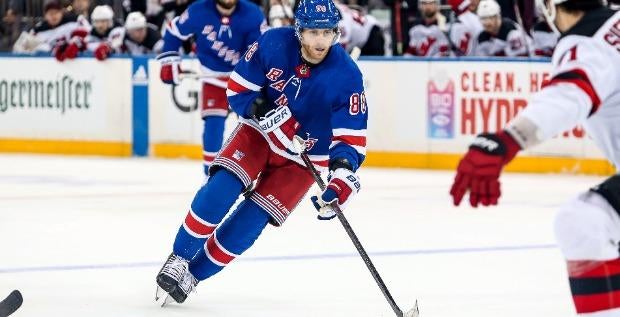 The 2023-24 NHL Trade Deadline is still a long ways away on March 8, but one team is going to get a big-time addition likely by next week as former Hart Trophy winner and Chicago Blackhawks legend Patrick Kane is expected to pick his new destination in free agency, and SportsLine offers odds on where that will be. Reports say that the 35-year-old future Hockey Hall of Famer will decide by Thanksgiving if all goes according to plan.
Chicago traded Kane last February to the New York Rangers for a conditional 2023 second-round pick and a 2025 fourth-rounder. That was a very low price for a player of Kane's status, but the Blackhawks wanted to do right by the franchise icon and send him to a Stanley Cup contender. Kane isn't what he used to be but is still a fine top-six forward and would make a difference on a playoff-caliber team.
In 73 combined games with the two Original Six franchises last season, he had 21 goals and 36 assists. Kane seemed a bit energized on the Rangers, but New York lost in the first round of the playoffs to New Jersey. It wasn't Kane's fault as he had a goal and six assists in that seven-game series. According to the New York Post, the Rangers were never interested in re-signing him at his age as they try to skew younger.
Kane, on the short list of greatest American NHL players in history, is coming off hip resurfacing surgery on June 1. He has been skating on his own for six weeks or so in Toronto. There appears to be an industry consensus that Kane would like to stay near the East Coast as he's from Buffalo. And everyone agrees that Kane wants to play for a legit Cup contender. He won three in Chicago along with one Conn Smythe Trophy.
The Sabres are the favorites to bring Kane home, but the question is whether Kane will trust the franchise enough considering it has the longest playoff drought not just in the NHL but in the four major American sports leagues (along with the NFL's New York Jets) and have just 15 points through 16 games this season, the third-fewest points in the East. Buffalo suddenly has a need at forward because young star Tage Thompson will be out at least a month after taking a shot off his left wrist Tuesday. Thompson entered the game tied for second on the team in both goals (six) and points (12). He has topped 37 goals in each of the past two seasons.
Sportsnet's Elliotte Friedman reported that Florida's Bill Zito has been among the most aggressive GMs regarding Kane. The Panthers reached the 2023 Stanley Cup Final and are third in the East currently. Florida also has no state income tax, so Kane could save several hundred thousands dollars just this year alone. Tampa Bay is in the same boat.
It's unclear if Detroit is a legit contender but one of Kane's friends is Red Wings leading scorer Alex DeBrincat, his former teammate with the Blackhawks. DeBrincat had two seasons with more than 75 points during his time with Chicago and Kane averaged better than 85 points per season during the years DeBrincat donned a Blackhawks sweater. The Red Wings haven't made the playoffs since the 2015-16 season. That the Red Wings and Blackhawks are rvals doesn't really matter – see Chris Chelios, Bob Probert, etc.
Toronto has the longest Stanley Cup drought in the NHL and if Kane were to lead the Leafs to a title, he would be a god in that city. Money is certainly no object for the deep-pocketed franchise. He's already training in the area and reportedly met with team this week.
The lone Western Conference team rumored to be in the running has been the Dallas Stars, who are definitely Cup contenders and have maybe the best goaltender in the NHL in Jake Oettinger.
Via SportsLine oddsmakers: Which team will sign Patrick Kane?
Sabres +200
Maple Leafs +250
Panthers +400
Red Wings +700
Lightning +1000
Stars +1500
Get more out of your SportsLine subscription! 
Qualifying SportsLine members receive a 30-day free trial of Paramount+ premium. Sync your account right here.