Zach Ertz trade odds: Bills create salary-cap space to potentially add Eagles tight end; Colts, Chargers, Seahawks, Cardinals also among favorites
Get ready for another wave of NFL free agency on Wednesday, and a potential trade of Eagles Pro Bowl tight end Zach Ertz.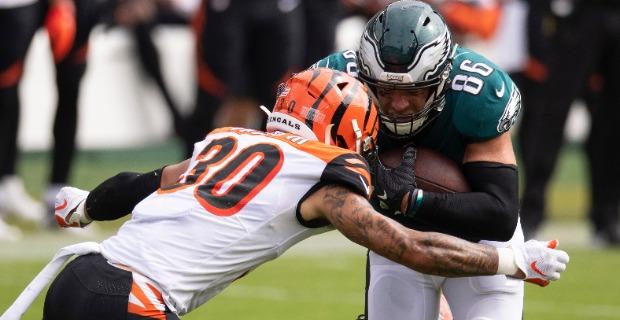 For reasons I won't bore you with, another heavy round of NFL free agency – as well as potential trades – is going to be rekindled Wednesday. To potentially get ahead of that, the Buffalo Bills have converted $11,718,333 of star wideout Stefon Diggs' base salary into a signing bonus, creating $7,812,222 in 2021 cap space. Buffalo now has more than $11 million in cap space, leading Bills fans to speculate that the Diggs restructuring was made in part to trade for Philadelphia Eagles Pro Bowl tight end Zach Ertz. SportsLine has NFL odds on Ertz's next team.
If the Eagles trade Ertz after Tuesday, they will save $8.5 million (his base salary this year) against the cap as opposed to just under $5 million before Tuesday. The Eagles are tight against the salary cap with about $4 million in space.
It has been no secret that Ertz is a goner as the Eagles need to use his salary to fill needs at other positions, Ertz is perhaps trending downward at age 30 (31 in November). and the team has another very good tight end in Dallas Goedert. Ertz has stayed away from the Eagles' organized team activities waiting for a deal. In an effort to facilitate a trade, Ertz is reportedly fine with playing out the final year of his current contract in 2021 and betting on himself to have a bounce-back season instead of demanding an extension from his new team.
Last year, Ertz played in a career-low 11 games due to a high-ankle sprain and caught just 36 passes for 335 yards and one TD – although, Carson Wentz's struggles didn't help matters. Ertz is a three-time Pro Bowler, as recently as 2019. The year before that, he had one of the best seasons by a tight end in history with 116 catches (record for the position), 1,163 yards and eight scores.
Buffalo is all-in to win Super Bowl 56 (+1300 third-favorite at William Hill Sportsbook) after reaching last season's AFC title game and Ertz would be an upgrade at tight end over the likes of Dawson Knox or free-agent addition Jacob Hollister and make Diggs that much more dangerous with Josh Allen. Knox led Bills tight ends last year with 24 catches for 288 yards and three scores.
Other teams who could deal for Ertz – it probably would only take a Day 3 pick in the 2022 draft – include the Indianapolis Colts, Arizona Cardinals, Carolina Panthers, Los Angeles Chargers and Rams, Seattle Seahawks, Jacksonville Jaguars and Washington Football Team.
Ertz would be reunited with Wentz and former Eagles offensive coordinator Frank Reich in Indy, although the Colts did use a fourth-round pick on SMU tight end Kylen Granson. The team also has Jack Doyle and Mo Alie-Cox at the position.
The Chargers lost top tight end Hunter Henry in free agency to the Patriots; their current No. 1 is free-agent addition Jared Cook, who is a good player but also 34. L.A. has the cap space to add Ertz, a California native, with no problem. The Rams previously were reported to have called the Eagles about Ertz and could use a good No. 2 with Tyler Higbee. The Rams might be more interested in Julio Jones, however.
In Arizona, Ertz could team with receivers DeAndre Hopkins, Christian Kirk and A.J. Green to give Kyler Murray a scary group of pass-catching weapons.
Carolina's top tight end is Dan Arnold and the franchise hasn't had anyone make a meaningful impact from that spot since Greg Olsen left.
If Seattle doesn't go get Julio Jones, Ertz would make plenty of sense as the Seahawks lost Greg Olsen to retirement and Hollister to free agency from the tight end position.
Jacksonville has a ton of cap space remaining and wants to surround rookie QB Trevor Lawrence with as much talent as possible.
Washington's top tight end is Logan Thomas, who did have a breakout 2020 season, but had done little in his career prior to that. Would the Eagles really deal Ertz inside the division?
Via SportsLine oddsmakers: Favorites as Zach Ertz's next team
Bills +200
Colts +300
Chargers +400
Seahawks +400
Cardinals +500
Panthers +700
Jaguars +700
Rams +900
Washington +1000
Where does every player appear in our 2021 Fantasy football rankings? And which rookie quarterback will provide shocking value? Join SportsLine right now to get 2021 Fantasy football rankings, all from the model that simulated the entire season 10,000 times.