Denver Broncos Week 1 starting quarterback odds: Potential hint as Drew Lock will start preseason opener vs. Vikings over Teddy Bridgewater
Drew Lock gets the call as the starting QB for Denver's preseason opener.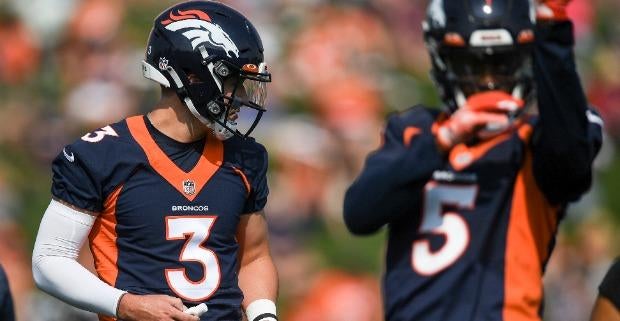 Now that the dream of trading for Aaron Rodgers has been killed for at least one more season, the Denver Broncos have a legitimate quarterback battle between incumbent Drew Lock and trade acquisition Teddy Bridgewater. Read into this what you want, but Coach Vic Fangio has announced that Lock will start the Broncos' preseason opener Saturday at Minnesota. Denver is a 2-point favorite on the NFL odds at Caesars Sportsbook.
By all accounts, Lock and Bridgewater have been nearly dead even in camp, but it probably says a little something that Fangio announced Lock as his preseason-opening starter after this morning's practice – the Broncos and Vikings will hold joint practices Wednesday and Thursday in Minnesota ahead of the game.
The 24-year-old Lock clearly has the higher ceiling but can be wildly inconsistent. Just for a point of example from last year: On Dec. 6 vs. the Chiefs, Lock struggled mightily in a 22-16 loss, completing just 53.6 percent of his passes for two scores and two picks. The next week in a win over Carolina, he was spectacular in completing 77.8 percent of his passes for four TDs and no picks.
Overall, the 2019 second-round pick out of Missouri finished completing 57.3 percent of his throws for 2,933 yards, 16 TDs and 15 picks, which tied for the most in the NFL, in 13 games.
Bridgewater was acquired for a sixth-round pick on the eve of the 2021 draft. The 28-year-old started 15 games last year for the Panthers and completed 69.1 percent of his passes for 3,733 yards, 15 touchdowns and 11 interceptions. He also rushed for 279 yards and five touchdowns. Bridgewater's ceiling isn't near Lock's, but Bridgewater's floor is probably higher. 
Fangio needs to win this year or is probably fired. Denver has an Over/Under win total of 8.5 at Caesars.
Against Minnesota, Fangio said there won't be a set number of drives for Lock before giving way to Bridgewater and also added that Bridgewater will start the second preseason game Aug. 21 in Seattle. After that, Fangio is likely to make his call for Week 1 when the Broncos visit the New York Giants. 
Brett Rypien is the third QB on the roster but not considered a realistic starting option barring both Lock and Bridgewater getting hurt.
Via SportsLine oddsmakers: Who will be Denver's regular-season Week 1 starting QB?
Drew Lock -120
Teddy Bridgewater Even
Which Fantasy Football sleepers, breakouts and busts should you target and fade? And which QB shocks the NFL with a top-five performance? Join SportsLine now to get 2021 Fantasy Football cheat sheets for every single position, all from the model that called Josh Allen's huge season.