Simulation Picks
Maximize Your Odds of Winning with SportsLine Model and Our Top-Rated Picks
Maximize Your Odds of Winning with SportsLine Model and Our Top-Rated Picks
Maximize Your Odds of Winning with SportsLine Model and Our Top-Rated Picks
Expert Picks
83-63-5 in Last 151 NFL Picks
4-3 in Last 7 NFL O/U Picks
Josh's Analysis:
The Texans have become a funnel to the Over, behind a combination of their breakout offense and a defense that has allowed 64 points combined in their past two games. The Cardinals put up 25 points and compiled 352 yards of total offense in QB Kyler Murray's return from injury last week.
Pick Made:
Nov 19, 4:44 pm UTC
Point Spread
Arizona +5.5 -110
50-31-5 in Last 86 NFL Picks
38-24-5 in Last 67 NFL ATS Picks
8-0 in Last 8 HOU ATS Picks
Josh's Analysis:
The Texans are candidates for a letdown spot following their biggest win in recent memory. Moreover, this ATS result favors their pattern of covering and/or winning as an underdog, but failing to cover as a favorite. Arizona has been rejuvenated by the return of Kyler Murray and James Conner.
Pick Made:
Nov 19, 2:48 pm UTC
18-13 in Last 31 NFL O/U Picks
Kenny's Analysis:
Kyler Murray looked very good in his first game and I'm expecting him to be even better this week. C.J. Stroud was 53 for 81, 1 int and 6 touchdowns the past two weeks. Both games went over the total. Both teams have slightly below average defenses.
Pick Made:
Nov 19, 5:00 am UTC
Point Spread
Houston -5.5 -110
Jaime's Analysis:
Arizona just isn't the same team on the road as they are at home. They are 4-1 ATS at home, but 1-4 on the road this season. The Texans are hitting their stride, and CJ Stroud is playing at a MVP level. I am not going to overthink this one, give me Houston laying the points.
Pick Made:
Nov 19, 1:54 am UTC
Prop
Trey McBride OVER 56.5 Total Receiving Yards -133
Katie's Analysis:
McBride has surpassed 40 receiving yards only one time in his other eight games. However, with Kyler under Center, McBride caught 8 of 9 targets for 131 yards in the Cards victory over the Falcons. With Ertz still sidelined, Murray will continue to feed the 2nd year Tight End.
Pick Made:
Nov 19, 1:51 am UTC
Point Spread
Arizona +6 -110
11-0 in Last 11 NFL ATS Picks
Katie's Analysis:
Texans have been on a roll but this week looks to be a classic let down spot for them against the Cardinals. Kyler Murray was fantastic last week, as was James Conner. Look for AZ to get back to the frisky play we saw earlier in the season that led them to be covering machines. I'll take the points but wouldn't be surprised if Arizona wins outright.
Pick Made:
Nov 19, 1:47 am UTC
Point Spread
Arizona +6 -110
70-51-4 in Last 125 NFL ATS Picks
22-15-4 in Last 41 HOU ATS Picks
R.J.'s Analysis:
This could be one of the most fun matchups of the weekend, with Kyler Murray back for the Cardinals while C.J. Stroud is pushing to enter the MVP race. The Texans are the talk of the town with how the offense is performing, but they typically aren't winning by margin, and when they do the stats don't completely back it up (Steelers game notwithstanding). Arizona pass defense has improved over the last several weeks, so I'm not counting on Houston to roll out of bed and score 35 here. And on the other side, the Cardinals should be capable of a backdoor cover if needed with Murray looking fully healthy. I initially leaned Houston in this game, but this spread has gone too far.
Pick Made:
Nov 17, 8:26 pm UTC
Over / Under
UNDER 48.5 -110
56-36-1 in Last 93 NFL Picks
4-2 in Last 6 NFL O/U Picks
3-0 in Last 3 HOU O/U Picks
Erik's Analysis:
Truth is Houston is getting healthy on D and they are well coached and fairly talented. Underrated. And Stroud is getting his flowers but he is a bit inconsistent. Go under this huge total
Pick Made:
Nov 17, 3:22 pm UTC
Prop
Trey McBride OVER 54.5 Total Receiving Yards -119
81-50 in Last 131 NFL Player Props Picks
Larry's Analysis:
Cardinals second-year tight end Trey McBride has emerged the past three weeks, catching 21 passes for 248 yards. This is a great matchup for him versus a Texans defense that allows the most catches per game (7.1) and fifth-most receiving yards (63.9) to opposing tight ends. With Kyler Murray back, look for McBride to stay heavily involved following his monster performance in the win over Atlanta.
Pick Made:
Nov 16, 5:36 pm UTC
Point Spread
Arizona +5 -110
131-91-1 in Last 223 NFL Picks
59-40-1 in Last 100 NFL ATS Picks
37-25-4 in Last 66 HOU ATS Picks
Larry's Analysis:
The Texans are the talk of the NFL but the Cardinals have a healthy Kyler Murray and James Conner back on the field. Arizona dominated the stats versus Atlanta and won despite being penalized 11 times for 112 yards. Against a Texans defense allowing 5.3 yards per play (21st), Arizona should be able to keep pace with C.J. Stroud. Houston has not been favored by this much all season; the Texans are 0-3 ATS (1-2 SU) as favorites. Look for a field-goal game either way and grab the points.
Pick Made:
Nov 16, 3:29 am UTC
Point Spread
Arizona +5 -110
5-0-1 in Last 6 NFL ATS Picks
Jeff's Analysis:
The Houston Texans have an impressive 5-0 record when taking points, but they have yet to cover a spread in any of their three games where they were favored. Last Sunday, Kyler Murray returned to the field and significantly impacted the Cardinals' performance. His ability to read defenses and extend drives with his legs is off the charts. The Texans' listed 18 players on Wednesday's injury report including several key starters. The Texans have allowed the 31st most fantasy points against opposing tight ends which could lead to a big game for emerging tight end Trey McBride. Houston has a massive division game against Jacksonville on deck. Also, I like fading teams & players after record setting performances.
Pick Made:
Nov 15, 11:22 pm UTC
Point Spread
Houston -4 -110
Jason's Analysis:
I'm not too worried about a letdown from the Texans here. Cardinals offense is still really limited even with Kyler Murray back, and TDs remain hard for them to come by. Texans pass D is elite and CJ Stroud showed last week he can thrive even on the road, even against a solid defense that doesn't try to blitz him to death (he kills the blitz). Cardinals tied with NYG for most offensive TDs allowed and their road scoring differential (-77) is 31st. Texans will look to pour it on here I figure.
Pick Made:
Nov 13, 5:07 pm UTC
38 Total Player Props Projection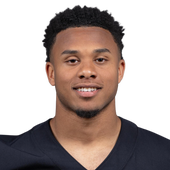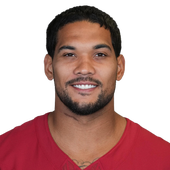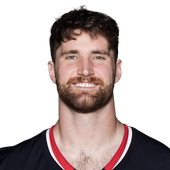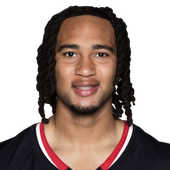 AI Picks for R. Moore, J. Conner, D. Schultz, C. Stroud and 34 more players!
Join Now
Best prop picks are generated from a combination of Sportsline AI's projection, analysis of the opposing team, and the bets value based on the current odds.