Simulation Picks
Maximize Your Odds of Winning with SportsLine Model and Our Top-Rated Picks
Maximize Your Odds of Winning with SportsLine Model and Our Top-Rated Picks
Maximize Your Odds of Winning with SportsLine Model and Our Top-Rated Picks
Expert Picks
Point Spread
Dallas -5.5 -115
53-28-6 in Last 87 NFL Picks
53-28-6 in Last 87 NFL ATS Picks
26-12 in Last 38 DAL Picks
26-12 in Last 38 DAL ATS Picks
Adam's Analysis:
Anyone who follows these picks knows there's nothing better than fading the Patriots and Mac Jones, and we get a great chance to do just that here with the Cowboys. This line is more than a point below opening with Dallas entering off a disastrous loss and New England entering off a dominant win. This is a revenge game for Ezekiel Elliott, but it's not like he's been a lights-out rusher this year. Dallas is healthy up front and should cover this margin in the second half. Take this at -6 as well as both lines are available right now.
Pick Made:
Oct 01, 7:59 pm UTC
Prop
Tony Pollard Anytime Touchdown Scorer -130
25-18-1 in Last 44 NFL Picks
5-2 in Last 7 NFL Props Picks
Matt's Analysis:
Pollard hasn't scored the past two games despite a huge workload so he's overdue. And I'm sure Dallas will want to get him a TD with Zeke Elliott on the other side of the field. Pollard's offensive line is healthier this week as well.
Pick Made:
Oct 01, 7:24 pm UTC
Prop
Rhamondre Stevenson UNDER 54.5 Total Rushing Yards -118
113-77-1 in Last 191 NFL Picks
70-41 in Last 111 NFL Props Picks
Larry's Analysis:
Rhamondre Stevenson is averaging 2.9 yards per carry and last week Ezekiel Elliott got nearly as many carries (16) as Stevenson (19). The Cowboys' run defense was embarrassed last week and should bounce back at home, bottling up Stevenson.
Pick Made:
Sep 29, 9:56 pm UTC
Point Spread
Dallas -6 -112
63-43-3 in Last 109 NFL ATS Picks
91-70-3 in Last 164 NFL Picks
6-3 in Last 9 DAL ATS Picks
R.J.'s Analysis:
A convincing win over the Jets by the Patriots has caused this line to drop from the lookahead of Cowboys -7.5. But the Pats offense relied on a 58-yard TD to the third-string tight end for its only trip to the end zone, and I don't believe it can have success moving the ball against an elite defense. The Cowboys should bounce back after losing Trevon Diggs midweek and then not taking the Cardinals seriously until it was too late. The Cowboys offense is trending toward having Zack Martin and Tyler Biadasz, strengthening its outlook against a quality defense. I'd put this line on the other side of seven and see if the Patriots offense has any answers.
Pick Made:
Sep 29, 6:52 pm UTC
Prop
Rico Dowdle OVER 13.5 Total Rushing Yards -115
49-32 in Last 81 NFL Picks
40-27 in Last 67 NFL Props Picks
Alex's Analysis:
Will update analysis today.
Pick Made:
Sep 29, 5:59 pm UTC
Point Spread
New England +7 -120
32-17-1 in Last 50 NFL Picks
7-4-1 in Last 12 NFL ATS Picks
Sia's Analysis:
The Cowboys have had a comfy start to the season from a schedule standpoint with the Giants, Jets and Cardinals. They still managed to drop one of those games to the Cardinals by double digits. In that game, James Conner ran for 7 YPC and Joshua Dobbs was very efficient completing 17 of his 21 passes. That seems to be a pretty good formula for the Patriots, who by the way, have had a much tougher start to the season with The Eagles, Dolphins and Jets. This is way too many points.
Pick Made:
Sep 27, 6:07 pm UTC
Point Spread
Dallas -7 +100
13-4-1 in Last 18 NFL Picks
26-18-1 in Last 45 NFL ATS Picks
36-24-1 in Last 61 DAL Picks
36-24-1 in Last 61 DAL ATS Picks
Emory's Analysis:
Pride cometh before the fall. Dallas rode into Arizona last weekend a bit high on their horse and forgot to take care of the little things, which ended up costing them the game. Fortunately for them the Patriots offense is still one that lacks explosiveness, which should allow the Cowboys defense to rebound and get back to being a dominant force.
Pick Made:
Sep 26, 2:48 pm UTC
37 Total Player Props Projection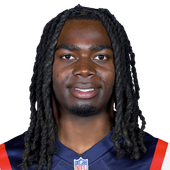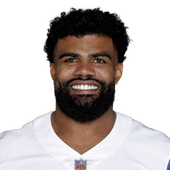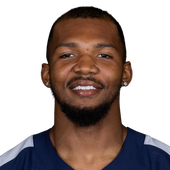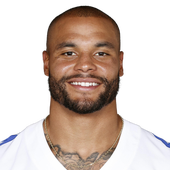 AI Picks for R. Stevenson, E. Elliott, T. Pollard, D. Prescott and 33 more players!
Join Now
Best prop picks are generated from a combination of Sportsline AI's projection, analysis of the opposing team, and the bets value based on the current odds.
Team Injuries

WR