Thunder vs. Kings Friday NBA injury report, odds: Domantas Sabonis questionable for new Pacific Division betting favorite Sacramento
The Sacramento Kings are now Pacific Division favorites.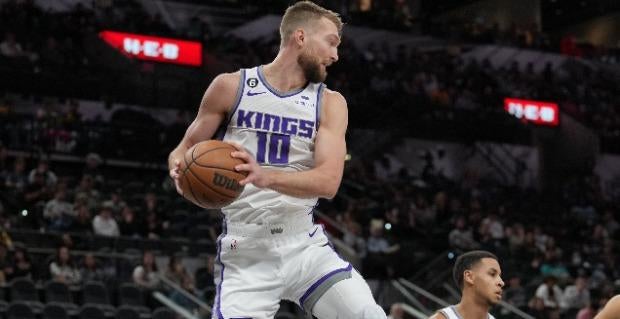 The Sacramento Kings have been the worst-run franchise in the NBA since 2006, which happens to be the last time the Kings made the playoffs. That's the longest drought in the league by far. It appears ownership finally got it right in hiring Mike Brown as the head coach in the offseason, however, as not only is Sacramento on track to return to the playoffs but is now the betting favorite at DraftKings to win the Pacific Division. The Kings are -3.5 at home Friday night against Oklahoma City but may be without All-Star big man Domantas Sabonis. If he plays, that spread will rise a bit
Sacramento's turnaround from laughingstock status might have started last February when it acquired Sabonis from Indiana in a trade involving guards Tyrese Haliburton and Buddy Hield, among others. Most around the NBA thought the Pacers won that deal originally, but now it looks like a win-win for both.
The 7-foot Sabonis is averaging 18.9 points per game on 61% shooting, 12.6 rebounds (first in league) and 7.1 assists – almost Nikola Jokic numbers. Sabonis is given a win shares number of 7.0 by Basketball Reference, behind only Jokic (9.2) and Luka Doncic (7.4). They are the two MVP favorites, yet Sabonis is way down at +50000. He deserves to be an All-Star at least. Sabonis, the son of Basketball Hall-of-Famer Arvydas Sabonis, missed Wednesday's 116-111 victory at the Lakers with a non-COVID illness and didn't practice Thursday. He's questionable for Friday's game against the also very improved Thunder.
The Kings, on a five-game winning streak, were +4000 at DraftKings to win the Pacific Division when the season opened. That seemed an impossible ask with the Warriors, Lakers, Clippers and Suns in the same division. Sacramento has a four-game lead atop the Pacific and is now the +160 favorite with Golden State (+200) next. Yes, the Kings have been fortunate that those four other teams have all had injury issues, a championship hangover, etc., but it's still a shocking turn of events. The Kings last won the division in 2002-03.
Oklahoma City enters on a four-game winning streak and, at 22-23, is trying to reach .500 for the first time since early in the season. So much for tanking. Shai Gilgeous-Alexander is having his best season, averaging 30.5 PPG (fifth in the NBA) and is a +120 second favorite to Utah's Lauri Markkanen to win Most Improved Player.
This is the first meeting of the season between the teams. 
Qualifying SportsLine members receive a 30-day free trial of Paramount+ premium. Sync your account right here.