Dallas Cowboys Schedule 2020 -- NFL Betting Analysis
The Cowboys finished 8-8 last year, prompting Jerry Jones to replace Jason Garrett with Mike McCarthy. Here's a betting analysis of their 2020 schedule.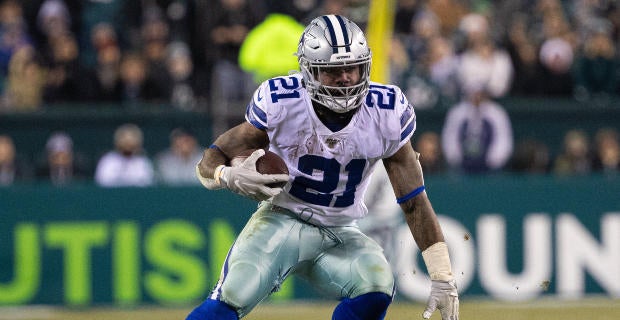 The Dallas Cowboys made a late strike in free agency just a month before the regular season was to kick off by surprising many around the NFL in landing former Minnesota Vikings Pro Bowl defensive end Everson Griffen on a one-year, $6 million deal. Griffen will pair with DeMarcus Lawrence to form one of the best defensive end tandems in the league and helps make up for the loss of 2019 sack leader Robert Quinn in free agency. The SportsLine Projection Model upgraded Dallas across the board with the Griffen addition.
The Cowboys are called America's Team for a reason -- although it started as a marketing campaign by the club itself -- as no U.S. sports franchise is more popular (or more valuable), draws better TV ratings or more betting action.
Every year, Cowboys games are littered across the Top 5 in ratings and betting handle. The New England Patriots had been a close second, but they will fall off the map with Tom Brady gone. NFL teams are allowed to be scheduled in a maximum of five prime-time games per season, with the possibility of being flexed into the Sunday night window later in the year.
To no one's surprise, the Cowboys have five again this year (three Sunday, one Thursday, one Monday) on the 2020 NFL schedule, plus the annual marquee slot on Thanksgiving afternoon.
The schedule appears set up for new head coach Mike McCarthy -- Jason Garrett was fired following an 8-8 mark in 2019 -- to get off to a good start because only two of the first nine opponents made the playoffs last year (Eagles and Seahawks).
In addition, Dallas has a fairly rare three-game homestand in October and should be at least 3.5-point favorites in each. The last time the Cowboys had three straight home games, they swept them on the way to the NFC East title in 2018.
The Cowboys' toughest three-game stretch is likely Week 8 at Philadelphia, Week 9 vs. Pittsburgh and then Week 11 in Minnesota. Getting a bye in Week 10 generally is considered too late in the season, but it works out well in the midst of that three-game stretch.
Consider betting Dallas at Minny in Week 11: Coach Mike McCarthy's Packers teams were 11-4-1 ATS coming off a bye.   
By re-signing top wideout Amari Cooper, keeping Dak Prescott via the franchise tag (or long-term extension eventually), adding terrific insurance for Prescott in Andy Dalton, and absolutely killing it in the draft with steals in Oklahoma receiver CeeDee Lamb, Alabama cornerback Trevon Diggs (more on him below) and Oklahoma defensive tackle Neville Gallimore, this could be Jerry Jones' most talented roster in years as he looks to reach the Super Bowl for the first time since the Cowboys' last title in 1995.
DALLAS COWBOYS BETTING PROFILE  
2019 record: 8-8 (second, NFC East)
2019 against the spread: 9-7 ATS
2019 ATS margin: +1.7
2019 Over-Under: 10-6 O-U
2020 strength of schedule: Third-easiest; Cowboys' opponents combined for a .459 winning percentage last year (117-138-1).
WHO COVERS EVERY NFL GAME? JOIN SPORTSLINE NOW TO GET PICKS FROM AN ADVANCED COMPUTER MODEL THAT'S UP MORE THAN $7,000 ON ITS TOP-RATED PICKS AND HAS NEVER HAD A LOSING SEASON!
WILLIAM HILL 2020 DALLAS COWBOYS FUTURES ODDS
Win total: 9.5 (Over -145)
To make playoffs: Yes -220, no +180
Division: -120 favorites to win NFC East
Conference: +650 to win NFC
Super Bowl: +1500 to win SB 55
MVP: QB Dak Prescott +2000, RB Ezekiel Elliott +5000, WR Amari Cooper +25,000
Defensive POY: DE DeMarcus Lawrence +3300, LB Leighton Vander Esch +4000, LB Jaylon Smith +6600
Offensive ROY: WR CeeDee Lamb +1400
Defensive ROY: CB Trevon Diggs +5000, DT Neville Gallimore +5000
Coach of the Year: Mike McCarthy +1400
SportsLine Model's projection: 9.5 wins (Push)
DALLAS COWBOYS GAME-BY-GAME BETTING TRENDS
Week 1 at LA Rams, 8:20 PM ET: The Cowboys opened as 2.5-point favorites after destroying the Rams in Arlington, Tex., last December, 44-21. Dallas is just 3-5 ATS as a road favorite the past two seasons.
Week 2 vs. Atlanta, 1 PM ET: Dallas has been favored in every home meeting since 1985, going 6-4 SU but 4-6 ATS. The Over is 6-1 in the past seven.  
Week 3 at Seattle, 4:25 PM ET: Russell Wilson is 4-2 SU and ATS against Dallas; the last meeting came in a January 2019 Wild Card game in which the Cowboys (-2.5) won 24-22. 
Week 4 vs. Cleveland, 1 PM ET: The teams have met four times since 1994, with Dallas going 4-0 SU (3-1 ATS) and the Under is 4-0. 
Week 5 vs. NY Giants, 4:25 PM ET: Dallas is 6-1 in the past seven home meetings (5-1-1 ATS).  
Week 6 vs. Arizona, 8:15 PM ET (Monday): Dallas lost the last home meeting in 2014 (with Brandon Weeden at QB), but Dallas was 7-0 SU and ATS in the seven at home before that. 
Week 7 at Washington, 1 PM ET: Dallas is 5-1 ATS in its past six at the Redskins (and there are usually more Cowboys fans there these days).  
Week 8 at Philadelphia, 8:20 PM ET: Before a 17-9 loss that cost it the NFC East last year, Dallas was 5-1 ATS in its previous six in Philadelphia.  
Week 9 vs. Pittsburgh, 4:30 PM ET: The Cowboys have won two in a row and are 5-2 ATS in the past seven meetings, dating to 1991. These teams also are scheduled to play in the Aug. 6 Hall of Fame Game.
Week 10 BYE: Coach Mike McCarthy's Packers teams were 11-4-1 ATS coming off a bye.   
Week 11 at Minnesota, 4:25 PM ET: The Vikings are 6-1 ATS in the past seven meetings in Dallas and 11-2 ATS in the last 13 overall (dating to 1987).  
Week 12 vs. Washington, 4:30 PM ET (Thanksgiving): The Cowboys are 4-0 SU and 3-1 ATS in the past four home matchups, and the Over has hit in five in a row. 
Week 13 at Baltimore, 8:20 PM ET (Thursday): Dallas (-7) won the last meeting 27-17 in 2016 but is 1-4 SU and 2-3 ATS since the Ravens moved to Baltimore. 
Week 14 at Cincinnati, 1 PM ET: The Bengals were 2-6 ATS at home last season, and Dallas is 4-1 in the past five in the series (3-2 ATS).  
Week 15 vs. San Francisco, 8:20 PM ET: The Over is 7-2 in the past nine meetings, with the teams combining for at least 41 points in all nine, and Dallas is 6-2 SU in the past eight.  
Week 16 vs. Philadelphia, 4:25 PM ET: Dallas has scored at least 29 in three of the last four home meetings (3-1 ATS).     
Week 17 at NY Giants, 1 PM ET: Dallas is 6-0 SU and ATS in this series since being swept in 2016, Prescott's rookie season.
EXPERT PICK FROM SUPERCONTEST GURU R.J. WHITE: Win NFC East +110
I would lean to their Over at 9.5 were it not juiced to -145. I think they can get to 10 wins as long as the new coaching staff isn't a disaster. Their points scored and against totals suggested they should be more like an 11-win team last year, and after having a great draft, I think they'll be able to overcome their offseason losses. The schedule is relatively easy, especially if they don't stumble while getting up to speed early on. Since the coaching is the greatest unknown, I'd be more willing to take them at Over 10 with plus odds in the event Mike McCarthy is a plus, which would make this a title contender. The best value is on their division odds, as the Giants and Redskins don't look like they'll compete and the Eagles are dealing with a much tougher schedule.
SO WHAT 2020 FANTASY FOOTBALL SLEEPER SHOULD YOU SNATCH IN YOUR DRAFT? AND WHICH WR1 CANDIDATE CAN YOU WAIT ON UNTIL LATE? JOIN SPORTSLINE NOW TO GET 2020 FANTASY FOOTBALL CHEAT SHEETS FROM THE MODEL THAT WAS ALL OVER DERRICK HENRY'S HUGE SEASON, AND FIND OUT.    
DALLAS COWBOYS SCHEDULE NOTES
Dallas has six games against 2019 playoff teams: vs. San Francisco, vs. Philadelphia, at Baltimore, at Philadelphia, at Minnesota, at Seattle. The Cowboys beat only two teams that finished .500 or better last season: the Eagles and Rams. Their six other wins came against the Lions and Dolphins and sweeps of the Redskins and Giants. Those four teams combined to win 15 games.
SportsLine hinted in early April that the Cowboys and Rams would open that new $5 billion-plus SoFi Stadium in Los Angeles in prime time Week 1 and that is the case on Sunday night. In Dallas' last trip to the City of Angels, it lost in the Divisional Round of the 2018 playoffs to the Rams (at LA Memorial Coliseum). However, of the four new stadiums around the league that have opened since 2010, the Cowboys have won their first game in that venue three times. The Raiders open a stadium in Las Vegas this year too, but Dallas will have to wait for a trip to Sin City. 
Dallas was 5-1 ATS in division games last season and is 17-7 ATS against the NFC East since Prescott arrived in 2016. In addition, the Over-Under is 7-0 in Cowboys' home games when they are facing a division opponent for the second time.   
On the negative side, the Cowboys are looking at likely three outdoor cold-weather road games: Week 13 in Baltimore, Week 14 in Cincinnati and Week 17 at the Giants. Historically, Dallas struggles in the cold. 
The Week 11 trip to Minnesota will be tough, but the Cowboys will be coming off their bye and are 11-4 SU with the rest advantage in the four-year Prescott era.