Dak Prescott 2021 NFL MVP odds: Quarterback agrees to long-term contract extension with Dallas Cowboys
The Dallas Cowboys have avoided star QB Dak Prescott playing on the franchise tag for a second straight season -- and risk losing him in free agency after it -- as he and the team have agreed to a long-term deal.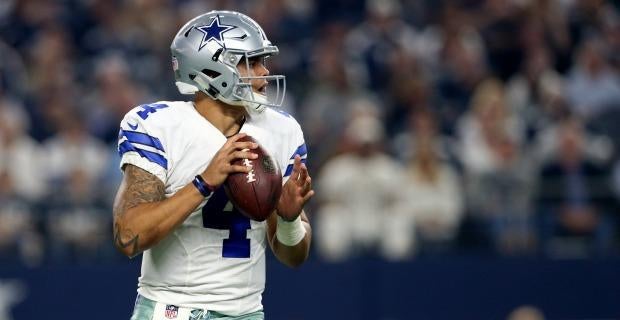 The deadline for NFL teams to slap the franchise tag on players is Tuesday afternoon – although it could be pushed back because the 2021 salary cap hasn't been finalized yet – but the Dallas Cowboys and quarterback Dak Prescott will not carry negotiations right up to the deadline as Prescott agreed to a four-year, $160 million extension on Monday night. Currently, William Hill Sportsbook lists Prescott at +1800 to win the 2021 NFL MVP Award.
According to Adam Schefter, the deal includes $66 million to sign and $75 million in year one, the most in NFL history. The total guarantee is $126 million (in 14 years with the Cowboys, Tony Romo earned $125M)  and Prescott will average $42 million per year in the first three seasons. The contract includes a no-trade clause. Had Prescott played on the franchise tag in 2021, it would have resulted in a $37.7 million cap hit for the Cowboys.
Now, Prescott reportedly will count $22.5 million against the 2021 cap, and the Cowboys will not have to restructure as many contracts to get under said cap.  
As an aside, this takes one potential trade destination for Seahawks quarterback Russell Wilson off the table as he had listed the Cowboys, Saints, Raiders and Bears as the four teams he would waive his no-trade clause to be dealt. It also means the Cowboys will not think about drafting a QB with their No. 10 overall pick -- they might have had to consider that if Prescott played this year on the tag because he could have walked next offseason. 
Dallas is a -105 favorite to win the NFC East and +2800 to win Super Bowl 56. SportsLine oddsmakers believe the Cowboys open the 2021 season in Tampa against Tom Brady and the Super Bowl champion Bucs. 
Here are the Cowboys' 2021 opponents with a 17th game TBA (reportedly Dallas would visit New England).
Home: New York Giants, Philadelphia Eagles, Washington Football Team, Atlanta Falcons, Carolina Panthers, Las Vegas Raiders, Denver Broncos, Arizona Cardinals
Road: New York Giants, Philadelphia Eagles, Washington Football Team, New Orleans Saints, Tampa Bay Buccaneers, Kansas City Chiefs, Los Angeles Chargers, Minnesota Vikings
More on this Tuesday ….
SportsLine's proven model simulates every college basketball game 10,000 times. It absolutely crushed its March Madness picks in the last tournament, beating nearly 90 percent of all CBS Sports brackets one year after finishing in the top five percent. Join SportsLine now to get winning college basketball picks.