Simulation Picks
Maximize Your Odds of Winning with SportsLine Model and Our Top-Rated Picks
Maximize Your Odds of Winning with SportsLine Model and Our Top-Rated Picks
Maximize Your Odds of Winning with SportsLine Model and Our Top-Rated Picks
Expert Picks
Over / Under
OVER 42.5 -110
67-47-4 in Last 118 NFL Picks
3-0 in Last 3 NFL O/U Picks
2-1 in Last 3 KC O/U Picks
Josh's Analysis:
With Patrick Mahomes in a bounce-back spot against a divisional rival, the Chiefs should give an improved performance on offense. The Raiders should do enough to hold up their send and send this Over the modest total.
Pick Made:
Nov 26, 5:19 pm UTC
Over / Under
UNDER 43.5 -110
19-13-1 in Last 33 NFL Picks
Bruce's Analysis:
Difficult to envision any Raiders game becoming high-scoring these days. Vegas has been playing it very carefully with Purdue rookie Aidan O'Connell at QB, leaning a lot on Josh Jacobs to carry the infantry, all coinciding with Antonio Pierce's elevation to the HC position. The Chiefs are also playing at a slower pace this season, with scorelines reduced, and unders 5-0-1 the last six games. Play Chiefs-Raiders Under
Pick Made:
Nov 26, 6:47 am UTC
Prop
Patrick Mahomes OVER 4.5 Total Carries -135
11-8 in Last 19 NFL Props Picks
Allan's Analysis:
The Chiefs enter Sunday looking to bounce back from a tough loss to Philadelphia and has to do it against a division rival on the road. Notice the end for KC last week? When the job needs to get done, Patrick Mahomes trusts...well Patrick Mahomes. He'll not only run when designed to, but also when he needs it AND when flushed by Maxx Crosby. Kneel downs count as attempts too, play it.
Pick Made:
Nov 25, 8:23 pm UTC
Over / Under
UNDER 43.5 -110
15-5-1 in Last 21 NFL Picks
3-2 in Last 5 NFL O/U Picks
12-7 in Last 19 KC O/U Picks
Micah's Analysis:
The Raiders have covered all three games behind coach Antonio Pierce and they've gone 4-1 at home. The Raiders have the energy to beat the Chiefs, now they just have to execute. Feed Josh Jacobs, run the clock, and stay Under the total as they have in nine of their 11 games. The Chiefs have stayed Under in their last six and haven't scored in their last three second halves. Is the KC offense missing Eric Bienemy? I'm on the Under.
Pick Made:
Nov 25, 7:39 pm UTC
Prop
Josh Jacobs OVER 16.5 Total Carries -114
64-41 in Last 105 NFL Picks
6-1 in Last 7 NFL Props Picks
53-31 in Last 84 NFL Props Picks
Jason's Analysis:
Jacobs last two home games have featured 27 touches and 26 touches. Interim coach Antonio Pierce has made it clear he wants to play old-school football and control games with a physical style feeding his best players. Jacobs didn't hit this mark in a close game at Miami last week but it won't happen two weeks in a row. Swift got it going on the ground vs the Chiefs last week even with the Eagles trailing and I look for a similar script by the Raiders against KC on Sunday. AFC West team rushing attempts vs KC: 23, 26, 40. Eagles ran 27 times Monday night. Pierce will be eyeing 30+ and Jacobs will get almost all of them.
Pick Made:
Nov 24, 8:43 pm UTC
Point Spread
Las Vegas +9 -110
113-77-1 in Last 191 NFL Picks
50-35-1 in Last 86 NFL ATS Picks
Larry's Analysis:
Kansas City went to Vegas in Week 18 last season and dominated 31-9. But this is a different Raiders team under interim coach Antonio Pierce. They've covered three straight while playing better defense. The Chiefs are traveling on a short week, facing a rejuvenated Vegas team that still has playoff aspirations. With the Raiders' bye coming up, they'll be extremely focused for this division matchup.
Pick Made:
Nov 23, 8:18 pm UTC
Point Spread
Las Vegas +9.5 -110
63-43-3 in Last 109 NFL ATS Picks
91-70-3 in Last 164 NFL Picks
29-22 in Last 51 LV ATS Picks
R.J.'s Analysis:
The Raiders hung around in a tough spot in Miami last week, averaging five yards per play and getting within scoring range multiple times late, but interceptions sealed their fate. The Raiders defense was also bend-but-don't-break against the elite Dolphins defense, holding them to two second-half FGs. That bodes well for a tight game here against a Chiefs offense that is struggling to find consistency in the passing game with so many unreliable options at receiver. These two teams trend to Under games, and lower scoring here favors the home 'dog on a massive number.
Pick Made:
Nov 22, 5:29 pm UTC
Over / Under
UNDER 43.5 -115
64-41 in Last 105 NFL Picks
12-6 in Last 18 NFL O/U Picks
Jason's Analysis:
The under is 17-4 for the Chiefs/Raiders this season. KC has been stuck on 17 points for three weeks and only averages 22/G. Six straight Raiders have gone under at home. Only one Raiders game has gone over this number all season (Wk 2 vs BUF) with an average score of 37. Chiefs game totals are under 43 in 7 of 10 games. Chiefs RZ issues are real. Maxx Crosby will wreck a drive or two and draw a bunch of holding calls and false starts.
Pick Made:
Nov 22, 6:04 am UTC
Point Spread
Las Vegas +9.5 -110
64-41 in Last 105 NFL Picks
7-3 in Last 10 NFL ATS Picks
Jason's Analysis:
KC scoring way down and couldn't figure it out even off a bye. Now travel on short week. KC only 3-7 ATS last 10 in the division and they only have 3 wins by this margin all season. Raiders will grind it out on the ground (AFC West teams have road graded KC) and keep O'Connell from too many attempts. Raiders 4-1 at home (4-0 ATS in last 4 at home) and D has rallied around Antonio Pierce. Chiefs lack explosive plays and probably start running the ball more themselves. LV held Tua and big Dolphins attack under wraps in Miami, where they score in droves. KC just 14th in Offensive TDs and 9 of them came in 2 games. Their struggle is real.
Pick Made:
Nov 22, 5:59 am UTC
36 Total Player Props Projection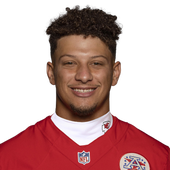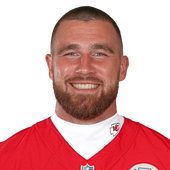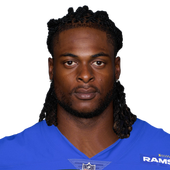 AI Picks for P. Mahomes, T. Kelce, A. O'Connell, D. Adams and 32 more players!
Join Now
Best prop picks are generated from a combination of Sportsline AI's projection, analysis of the opposing team, and the bets value based on the current odds.