Simulation Picks
Maximize Your Odds of Winning with SportsLine Model and Our Top-Rated Picks
Maximize Your Odds of Winning with SportsLine Model and Our Top-Rated Picks
Maximize Your Odds of Winning with SportsLine Model and Our Top-Rated Picks
Expert Picks
Point Spread
Philadelphia -2.5 -118
53-28-6 in Last 87 NFL Picks
53-28-6 in Last 87 NFL ATS Picks
34-21-3 in Last 58 PHI Picks
34-21-3 in Last 58 PHI ATS Picks
Adam's Analysis:
The Eagles have obviously been tremendous this season, while the Bills looked last week to have found their form again after an ugly stretch. Buffalo is getting too much credit for running through a terrible Jets team at home. On the road, the Bills are 1-3 this season with the lone win at Washington. The Eagles can keep up with high-powered offenses and overcome hard-nosed defenses. Philadelphia will lose again before the season is out, but it won't be this week. Not against Buffalo's weak D and turnover-prone Josh Allen. The line dropping under a field goal provides extra value.
Pick Made:
Nov 26, 8:44 pm UTC
Point Spread
Philadelphia -2.5 -118
25-18-1 in Last 44 NFL Picks
19-6-1 in Last 26 PHI Picks
9-5 in Last 14 PHI ATS Picks
Matt's Analysis:
FanDuel is currently the only book of ours to have 2.5 with the rest at 3. Buffalo obviously can beat anyone, but the Bills have largely been bad away from home this season. They are also banged up in the secondary.
Pick Made:
Nov 26, 7:37 pm UTC
Point Spread
Buffalo +3 -115
33-18-4 in Last 55 NFL ATS Picks
67-47-4 in Last 118 NFL Picks
4-1-1 in Last 6 BUF ATS Picks
5-2-1 in Last 8 BUF Picks
Josh's Analysis:
The Bills played with a needed sense of urgency last week to keep their playoff hopes alive and they need another strong performance against a brutal stretch that includes dates with the Chiefs and Cowboys. The Eagles have faced potential Super Bowl contenders in three of their past four games and could see a letdown following their much-anticipated revenge win over Kansas City on Monday night.
Pick Made:
Nov 26, 5:35 pm UTC
Over / Under
OVER 48.5 -110
17-10 in Last 27 NFL O/U Picks
4-1 in Last 5 BUF O/U Picks
Kenny's Analysis:
The Eagles have scored 28 or more in three of their last four games and in five of their last nine games. The Eagles 27.3 points per game ranks 5th in the league. Buffalo ranks 6th in points per game and 4th in yards per play. With Ken Dorsey out and Joe Brady the offense did put up 32 versus the NY Jets last week.
Pick Made:
Nov 26, 9:25 am UTC
Point Spread
Philadelphia -3 -105
22-15-2 in Last 39 NFL ATS Picks
19-13-1 in Last 33 NFL Picks
2-0-1 in Last 3 PHI Picks
Bruce's Analysis:
Buffalo had gone six straight games without a spread cover before running into the lowly Jets last Sunday night, cruising to a 32-6 win. But the Jets are a long way from the Eagles, who are flying pretty high after the win in KC, when the defense also came up big. Tough to beat at home, Jalen Hurts continues to have great rapport with his weapons, and the Eagles are motivated to keep winning and keep Dallas (already a winner onThanksgiving) at bay in the NFC East. Play Eagles
Pick Made:
Nov 26, 6:45 am UTC
Point Spread
Philadelphia -3 -115
13-4-1 in Last 18 NFL Picks
26-18-1 in Last 45 NFL ATS Picks
40-25-2 in Last 67 PHI Picks
40-25-2 in Last 67 PHI ATS Picks
Emory's Analysis:
What the Eagles do well is not beat themselves. They are well-coached and play a highly disciplined brand of football. That's the antithesis of the Buffalo Bills. They are well-coached, but the potential turnovers from the offense and the banged up defense will leave them in a very vulnerable state against Philadelphia.
Pick Made:
Nov 24, 1:49 pm UTC
Prop
James Cook OVER 67.5 Total Rushing + Receiving Yards -119
64-41 in Last 105 NFL Picks
6-1 in Last 7 NFL Props Picks
53-31 in Last 84 NFL Props Picks
Jason's Analysis:
Buffalo can't live with all the Josh Allen picks anymore with playoffs on the line. They need to play a ball possession offense with the RBs and TEs showing up in the passing game. Cook is again among NFL leaders in yards/rush and he's basically hit this number rushing alone in 4 of the last 6 games. He will get some shovel passes and screens, too. I could see him having a game similar to what Pacheco did against Eagles on MNF. Murray will get shots on short yardage and int he redzone but I see Cook showing up big between the 20s. I also envision another 15+ carries.
Pick Made:
Nov 23, 3:28 pm UTC
Prop
Jalen Hurts Anytime Touchdown Scorer -120
64-41 in Last 105 NFL Picks
6-1 in Last 7 NFL Props Picks
53-31 in Last 84 NFL Props Picks
Jason's Analysis:
At a time when we see -250 for like a CMC TD, how do you not keep grabbing this one? It's hit in five of the last six games and he has 6 total rushing TDs in that span. The Bills RZ defense is truly elite, so why not just take scheme out of it and overpower them with a package no one can stop? Keep it simple, stupid.
Pick Made:
Nov 23, 3:20 pm UTC
Prop
Dalton Kincaid OVER 5.5 Total Receptions +120
64-41 in Last 105 NFL Picks
6-1 in Last 7 NFL Props Picks
53-31 in Last 84 NFL Props Picks
Jason's Analysis:
Kincaid catches almost everything thrown to him, and even with the Bills leaning more into the run now, he could see 8-10 targets. And you generally cant run on the Eagles, anyway. Kincaid has 5 catches or more in 5 in a row and cleared this last week despite a blowout of Jets with limited passing in 2nd half. Eagles allow 127.9 rating throwing to TEs, worst in NFL. Over 77% completions. Not uncommon for him to have 3 catches in an early-game script. Allen leans into the main things on the road here I figure and this is a great match-up for them vs these LBs. I think they need Byard over Diggs. It may be close but for this return I like it
Pick Made:
Nov 23, 3:06 pm UTC
Point Spread
Philadelphia -3 -120
63-43-3 in Last 109 NFL ATS Picks
91-70-3 in Last 164 NFL Picks
25-15-2 in Last 42 PHI Picks
22-13-2 in Last 37 PHI ATS Picks
R.J.'s Analysis:
The Bills managed to turn things around after firing their OC, but they got to dominate a hopeless Jets offense at home and now they'll take the road to face one of the league's best teams here. The Bills offense managed just 4.5 yards per play outside of the long Khalil Shakir touchdown, so it's not like the offense had sustained success despite the score. It managed just 16 first-half points despite starting two drives in FG range. Philly's offense did nothing for a large chunk of Monday's game but gets a much easier matchup here with the Bills 18th in yards per play. These teams aren't that close in rating, and this line should be Eagles -5 in Philly.
Pick Made:
Nov 21, 7:33 pm UTC
37 Total Player Props Projection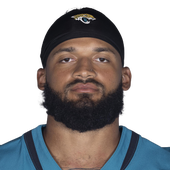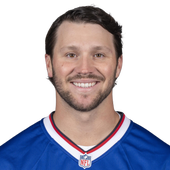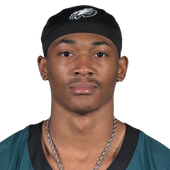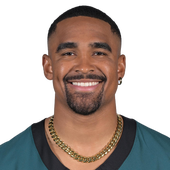 AI Picks for G. Davis, J. Allen, D. Smith, J. Hurts and 33 more players!
Join Now
Best prop picks are generated from a combination of Sportsline AI's projection, analysis of the opposing team, and the bets value based on the current odds.
Team Injuries

CB

SAF