Simulation Picks
Maximize Your Odds of Winning with SportsLine Model and Our Top-Rated Picks
Maximize Your Odds of Winning with SportsLine Model and Our Top-Rated Picks
Maximize Your Odds of Winning with SportsLine Model and Our Top-Rated Picks
Expert Picks
Prop
James Cook OVER 13.5 Total Carries +102
77-57 in Last 134 NFL Player Props Picks
Jason's Analysis:
Bills should pound the rock here like they did on MNF
Pick Made:
Nov 19, 9:26 pm UTC
Point Spread
N.Y. Jets +8.5 -110
70-51-4 in Last 125 NFL ATS Picks
13-9 in Last 22 NYJ ATS Picks
R.J.'s Analysis:
The Bills are desperate to right the ship after firing their OC, but he wasn't the issue in Buffalo. I expect the new OC to run more to make Sean McDermott happy, which doesn't play into the strength of the team. The Jets have a quality secondary capable of limiting the Bills' one good passing game threat and keeping their team in the game, and the Buffalo rush defense hasn't played well this year, so it's possible Zach Wilson isn't put in a position to carry the offense. I expect a low-scoring game here, so even though this line is about right according to my power ratings, I like getting the points on this new inflated spread.
Pick Made:
Nov 19, 5:46 pm UTC
Point Spread
N.Y. Jets +7.5 -110
11-7 in Last 18 NYJ ATS Picks
Brett's Analysis:
The Bills fired their OC but the real problem is that Buffalo's defense ranks 31st in DVOA the past six weeks. How much difference will Joe Brady make, especially against a strong Jets defense that knows how to play Buffalo? The Jets have won two of the past three meetings, and now they're getting more that a TD against Josh Allen, who'll be very aware of his recent turnover troubles and likely more conservative. Grab the points.
Pick Made:
Nov 19, 2:31 pm UTC
Prop
Garrett Wilson OVER 67.5 Total Receiving Yards -119
47-33 in Last 80 NFL Player Props Picks
Alex's Analysis:
Garrett Wilson has an elite target profile, he ranks first amongst all WRs in target share and despite subpar QB play he is still having a great season. Despite subpar QB play Wilson is still providing excellent production. He will face a Bills defense that has completely cratered after sustaining numerous key injuries. With the Jets likely to be trailing in this game and forced to air the ball out, look for Wilson to get double digit targets.
Pick Made:
Nov 19, 1:36 pm UTC
Prop
Dalton Kincaid UNDER 18.5 Longest Reception -114
81-50 in Last 131 NFL Player Props Picks
Larry's Analysis:
Bills rookie tight end Dalton Kincaid is averaging eight targets over the past four games, but he has a very low average depth of target (ADOT). For the entire season, Kincaid has only made two catches that gained 19-plus yards. Against an elite Jets' pass defense, go Under on Kincaid's longest catch.
Pick Made:
Nov 19, 4:03 am UTC
Prop
Jordan Whitehead OVER 5.5 Total Tackles Plus Assists +112
81-50 in Last 131 NFL Player Props Picks
Larry's Analysis:
Jets safety Jordan Whitehead has played far more snaps in the box lately. Over the past three weeks, he's played near the line of scrimmage nearly 40 percent of the time. He's made 21 tackles in that span. Expect Whitehead to be very active Sunday in Buffalo and take this plus-money prop.
Pick Made:
Nov 19, 2:50 am UTC
Point Spread
N.Y. Jets +7.5 -120
18-10-2 in Last 30 NFL Picks
12-7-2 in Last 21 NFL ATS Picks
3-1 in Last 4 BUF ATS Picks
Micah's Analysis:
The Bills have lost three of their last four with the win coming against the Buccaneers at home where they are 4-1. The Bills have not covered in their last six games since traveling to London and losing to the Jaguars. The Bills are going to explode on the scoreboard soon, but the Jets aren't it. The Jets beat the Bills in Wek 1, 22-16. The Jets defense is the play here with Zack Wilson throwing the ball with much more confidence. I took the Jets and the points.
Pick Made:
Nov 18, 8:24 pm UTC
Point Spread
Buffalo -7 -110
61-44-3 in Last 108 NFL Picks
42-31-2 in Last 75 NFL ATS Picks
18-11-3 in Last 32 BUF ATS Picks
Mike's Analysis:
No playoff hopeful is more desperate than Buffalo, which has fallen to 5-5 with three losses in the last four outings and sees a nasty closing schedule on the horizon. The firing of offensive coordinator Ken Dorsey seems hasty, but the game plan against the Jets should be obvious: Pound the rock. New York has yielded more rush yards than all but one team. QB Josh Allen would be less prone to a pick if the ground game gets going. The Jets have gone 36 possessions in a row without a TD. How can they keep up with the potent, if underperforming, Bills?
Pick Made:
Nov 18, 5:00 pm UTC
Prop
James Cook OVER 51.5 Total Rushing Yards -115
77-57 in Last 134 NFL Player Props Picks
Jason's Analysis:
Josh Allen's turnovers are wrecking Buffalo's season but if he hands it off or keeps it himself, well, you can't get picked. You saw it in the second half on Monday night and Cook is among the league leaders in yards/carry and the Jets defense is suspect against the run and if you stick with it like the Raiders did with Jacobs, you can wear them down. I see Cook with the ball in his hands quite a bit. Cook is over this total in 4 of the last 5 and that was before the picks hit critical mass. Bills are 5th in yards/rush and Jets are 22nd in yards allowed/run. Can't have another INT debacle like in their first meeting this season
Pick Made:
Nov 17, 1:45 am UTC
Prop
Josh Allen UNDER 241.5 Total Passing Yards -135
21-11 in Last 32 NFL Player Props Picks
Eric's Analysis:
The weather might be a factor in Buffalo on Sunday but the bigger knock against Allen is the Jets' ability to keep quarterbacks in check. Only four times in 2022 and twice thus far in 2023 have signal callers exceeded this yardage total against New York and Allen is 0-3 to the under in his last three meetings. Expect a more run-heavy gameplan than usual as Buffalo tries to get back to their winning ways at home.
Pick Made:
Nov 17, 12:15 am UTC
Prop
James Cook OVER 52.5 Total Rushing Yards -115
47-33 in Last 80 NFL Player Props Picks
Alex's Analysis:
The Bills just fired their offensive coordinator Ken Dorsey and he will be replaced by Joe Brady. I believe the Bills will focus more on their ground game and will simplify the offense a bit. James Cook has been extremely productive outside of two starts where he was game scripted out of. There is a stark contrast between Cook's rushing stats in Buffalo victories compared to Buffalo losses. Considering the Bills are big favorites coupled with all the other factors above, I believe Cook is in line for 12-15 rushing attempts which should be enough volume for Cook to clear this number.
Pick Made:
Nov 16, 6:43 pm UTC
Over / Under
UNDER 40 -110
63-49-3 in Last 115 NFL Picks
16-11 in Last 27 NFL O/U Picks
13-4 in Last 17 NYJ O/U Picks
R.J.'s Analysis:
The Bills figured out who to blame for their issues, and it was the offensive coordinator, who was fired this week. But the offense actually has great numbers across the board, including ranking third in yards per play. The dismissal will likely mean more running the ball from the new OC at the behest of the head coach, which isn't what the offense does well. The Jets could capitalize if they could score points, but the offense has just eight TDs all season and none in nearly three games. This should be an ugly offensive game where 20 points should be the max expected on each side.
Pick Made:
Nov 16, 4:50 pm UTC
Over / Under
UNDER 40 -110
18-13 in Last 31 NFL O/U Picks
3-0 in Last 3 BUF O/U Picks
Jason's Analysis:
Bills firing their OC won't change much and the legend of Joe Brady was always a media creation. This ain't good news for the Bills offense and Sean McDermott will keep taking the ball out of Josh Allen's hands like in the second half vs Denver. Jump these run props when they populate; I see Bills attacking the Jets weakness on the ground. Their 1st meeting went under this total and 4 straight NYJ/BUF games are under. Four straight Jets games are under this total. Jets have 3 offensive TDs in last 4 road games.36 drives without a TD currently overall. Both teams have top 9 RZ defenses. Jets have allowed just 14 offensive TDs,2nd best. Bills will run the ball and take their FGs.
Pick Made:
Nov 16, 5:16 am UTC
31 Total Player Props Projection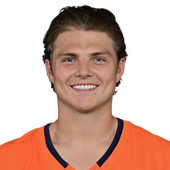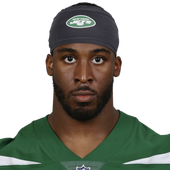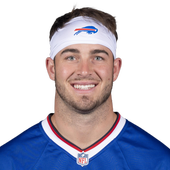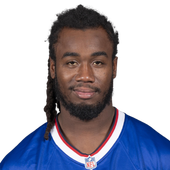 AI Picks for Z. Wilson, B. Hall, D. Kincaid, J. Cook and 27 more players!
Join Now
Best prop picks are generated from a combination of Sportsline AI's projection, analysis of the opposing team, and the bets value based on the current odds.