Simulation Picks
Maximize Your Odds of Winning with SportsLine Model and Our Top-Rated Picks
Maximize Your Odds of Winning with SportsLine Model and Our Top-Rated Picks
Maximize Your Odds of Winning with SportsLine Model and Our Top-Rated Picks
Expert Picks
83-63-5 in Last 151 NFL Picks
4-3 in Last 7 NFL O/U Picks
Josh's Analysis:
The spread has become unplayable at -14, but there's a window of value on a total that has drooped 3 from the opener. The Dolphins have scored no fewer than 31 points in all of their home dates this season, which leaves the Raiders with just a nominal end to hold up.
Pick Made:
Nov 19, 4:16 pm UTC
Point Spread
Miami -14 -110
5-3 in Last 8 NFL ATS Picks
Will's Analysis:
This is a massive spread and a bit aggressive fading a Las Vegas team that's been quite feisty the last two weeks under Antonio Pierce. The Raiders will have to pass a ton to keep up which means Aidan O'Connell under a ton of pressure for the whole second half against a Vic Fangio defense. Tyreek Hill destroys former division opponents, combining for 20 catches, 372 yards and three touchdowns in earth-scorching performances against the Chargers and Broncos already this year. He's going to dismantle this Raiders defense and Miami will be up multiple scores at the half.
Pick Made:
Nov 19, 4:09 pm UTC
Prop
Michael Mayer OVER 2.5 Total Receptions +102
81-50 in Last 131 NFL Player Props Picks
Larry's Analysis:
Michael Mayer has four or more targets in three of the past five games, and I like going for the plus-money play of Mayer making three catches at Miami. The Dolphins are strong on the perimeter with Jalen Ramsey back, so the Raiders should look to attack the middle of the field. Las Vegas likely will be trailing, increasing the passing volume.
Pick Made:
Nov 19, 4:04 pm UTC
Point Spread
Miami -14 -115
17-11-1 in Last 29 NFL Picks
29-22-1 in Last 52 NFL ATS Picks
12-9 in Last 21 MIA ATS Picks
Emory's Analysis:
While 14 points is a lot of points with regards to an NFL point spread, the matchup here dictates that it may not be enough. Las Vegas is starting a rookie QB vs an improving defense in Miami that is coming off of bye with two weeks to prepare. The Raiders won't be able to keep up with the eventual pace of the game.
Pick Made:
Nov 19, 3:37 pm UTC
Over / Under
OVER 45.5 -115
James's Analysis:
It's no secret that the Dolphins have one of the NFL's most explosive offenses. Miami has been outstanding at home this season as well, averaging 43.5 points per game at Hard Rock Stadium (it's just under 35 if you throw out the 70-point game against Denver). I expect the Dolphins to score in the mid-30's in this game, meaning the Raiders will only need to score around 14 points for this over to hit.
Pick Made:
Nov 19, 5:55 am UTC
Point Spread
Las Vegas +13.5 -108
29-18-3 in Last 50 NFL Picks
27-18-3 in Last 48 NFL ATS Picks
5-0-1 in Last 6 LV ATS Picks
Bruce's Analysis:
This number has inflated during the week, perhaps because the Raiders don't have the benefit of playing one of the New York teams as in the past two weeks. But Miami has shown this chilling knockout power only on occasion this season and has more often than not been involved in some real scrambled this season. Vegas players seem happy that Josh McDaniels is gone and enthused to play for Antonio Pierce, who wisely has the offense feeding the ball to Josh Jacobs, which can effectively slow the games. Play Raiders
Pick Made:
Nov 19, 5:26 am UTC
Point Spread
Las Vegas +14 -110
61-44-3 in Last 108 NFL Picks
42-31-2 in Last 75 NFL ATS Picks
3-1 in Last 4 LV ATS Picks
Mike's Analysis:
Yeah, yeah, Miami has put up some monster numbers at home. Still, the rejuvenated Raiders are 2-0 under interim coach Antonio Pearce, and his slower-placed, rush-minded offense is conducive to creating a relatively low score. The Dolphins are subpar at halting the run, so their potent offense might be stuck for stretches on the sideline. The Under is 8-2 this season for Las Vegas, but the massive two-touchdown spot is a better option.
Pick Made:
Nov 18, 4:19 pm UTC
Point Spread
Miami -12.5 -115
131-91-1 in Last 223 NFL Picks
59-40-1 in Last 100 NFL ATS Picks
23-15 in Last 38 MIA ATS Picks
Larry's Analysis:
The Raiders pulled off wins over the Giants and Jets, but this is a major step up in class against the Dolphins, who are coming off a bye. Miami has won each of its home games by at least 14 points. Las Vegas ranks 28th against the run (4.6 yards per carry allowed) and is going to get gashed by Raheem Mostert and explosive rookie De'Von Achane, who has been activated from IR.
Pick Made:
Nov 17, 7:29 pm UTC
Prop
Jaylen Waddle OVER 63.5 Total Receiving Yards -119
21-11 in Last 32 NFL Player Props Picks
Eric's Analysis:
Las Vegas has been pretty good against wide receivers in terms of ceiling games, only allowing Amon-Ra St. Brown to top the 100 yard receiving mark. But there's a prime opportunity for Jaylen Waddle to succeed as a zone buster this week. The Raiders play zone coverage more than 80% of the time and Waddle draws a 23% target share and 34% air yards share against zone. Look for a solid performance from Miami's #2 receiver, who very well could cross the 75 yard receiving mark for the fourth time this season.
Pick Made:
Nov 17, 12:23 am UTC
Point Spread
Miami -11.5 -114
70-51-4 in Last 125 NFL ATS Picks
20-12 in Last 32 MIA ATS Picks
R.J.'s Analysis:
The Raiders have won two straight after firing Josh McDaniels, but this is where reality sets in. The offense ranks 29th in yards per play and Aidan O'Connell hasn't shown anything to make us believe he's an upgrade on Jimmy Garoppolo. Instead, the Raiders defense carried both wins against extremely limited offenses, but their matchup swings to the other extreme here. The Dolphins should pick up big chunks in the passing game, and with the Raiders defense ranked 28th in yards per rush, Miami can do the same in the second half with the run game to extend the lead. Vic Fangio's defense should shut down this Raiders attack, and this has all the makings of an easy win.
Pick Made:
Nov 15, 12:43 pm UTC
29 Total Player Props Projection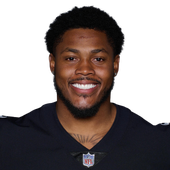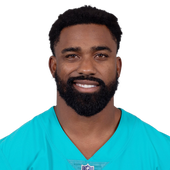 AI Picks for A. O'Connell, J. Jacobs, R. Mostert and 26 more players!
Join Now
Best prop picks are generated from a combination of Sportsline AI's projection, analysis of the opposing team, and the bets value based on the current odds.