Simulation Picks
Maximize Your Odds of Winning with SportsLine Model and Our Top-Rated Picks
Maximize Your Odds of Winning with SportsLine Model and Our Top-Rated Picks
Maximize Your Odds of Winning with SportsLine Model and Our Top-Rated Picks
Expert Picks
Point Spread
Dallas -10.5 -115
60-33-6 in Last 99 NFL ATS Picks
27-13 in Last 40 DAL ATS Picks
Adam's Analysis:
The Cowboys giving more than 10 points on the road is a tough line to lay, and we saw Dallas fall in an almost identical spot to Arizona earlier this season -- not just failing to cover by losing straight up. However, the Cowboys are 4-1 ATS as favorites of a TD or more, while the Panthers have failed to cover both games in which they were an underdog of that amount. Carolina was supposed to get defensive reinforcements only for CJ Henderson and Jaycee Horn to get ruled out. And the offensive play calling is an absolute mess. Bryce Young is not Joshua Dobbs, and the Panthers lost to the Colts by two touchdowns just a couple weeks ago.
Pick Made:
Nov 19, 5:25 pm UTC
Prop
Bryce Young OVER 188.5 Total Passing Yards -115
11-7 in Last 18 NFL Player Props Picks
Josh's Analysis:
The prized rookie QB and the entire Carolina offense has struggled mightily for any consistency in the passing game. Even so, Young has clipped this number in four of the past six games and will likely have to do so again Sunday in a game script that will likely call for the Panthers to throw it a bunch, in an effort to either keep pace with Dallas or perhaps in playing catch up late.
Pick Made:
Nov 19, 5:15 pm UTC
Point Spread
Carolina +11 -110
50-31-5 in Last 86 NFL Picks
38-24-5 in Last 67 NFL ATS Picks
7-3 in Last 10 DAL ATS Picks
Josh's Analysis:
The move to this key number provides additional value on the undermanned but stubborn Panthers, who should see top defender Brian Burns return from injury. The Cowboys were clobbered by the Cardinals in a similar Week 3 spot. With a Thanksgiving date against Washington looming, it shouldn't be a surprise to see Dallas struggle a bit in this one.
Pick Made:
Nov 19, 5:06 pm UTC
Prop
CeeDee Lamb OVER 82.5 Total Receiving Yards -132
Jaime's Analysis:
Lamb has 4 straight 100yd games, and the previous 3 have all been over 150 yards. I know the Panthers have a decent defense but I am riding this wagon until the wheels fall off, give me CeeDee Lamb over 82.5 receiving yards.
Pick Made:
Nov 19, 4:20 pm UTC
Point Spread
Dallas -10.5 -110
17-11-1 in Last 29 NFL Picks
29-22-1 in Last 52 NFL ATS Picks
36-24-1 in Last 61 DAL ATS Picks
Emory's Analysis:
One of the more consistent things in this NFL season has been how the Cowboys tend to dominate opponents who they are better than. That's the case here vs a young Carolina team with a rookie QB. Look for Dallas to take control early and make it a track meet in which the Panthers won't be able to keep up.
Pick Made:
Nov 19, 3:11 pm UTC
Prop
Tony Pollard OVER 65.5 Total Rushing Yards -119
24-15 in Last 39 NFL Player Props Picks
Sia's Analysis:
Let's be very clear that Tony Pollard is trending very poorly and hasn't come close to hitting this rushing total for most of this season. With that said, the question should always be when and why will the trend be broken. The "when" is Sunday against the Panthers and the "why" is because he's projected to get 16 carries in a neutral or positive game script against a team that is terrible against the run. This is the first Tony Pollard over I've taken all season as I think we are on the precipice of the 'when' and 'why'.
Pick Made:
Nov 19, 3:16 am UTC
Point Spread
Carolina +10.5 -110
61-44-3 in Last 108 NFL Picks
42-31-2 in Last 75 NFL ATS Picks
30-18 in Last 48 DAL ATS Picks
Mike's Analysis:
This is short and sweet: Road favorites by a minimum of seven points are 0-8-1 ATS this season. The biggest fave was these Cowboys at Arizona, which upset the visitors 28-16. The only plausible thread is a case of overconfidence that breaks out when good teams board a plane to play not-so-good teams.
Pick Made:
Nov 18, 4:11 pm UTC
Prop
Tony Pollard UNDER 69.5 Total Rushing Yards -115
R.J.'s Analysis:
The Cowboys have two blowout wins in their last three games, but that hasn't been enough to boost Pollard's rushing production. His 55 rushing yards against the Giants were his most since Week 3, while Rico Dowdle shined with his first opportunity with more than five carries since that same game. It's possible the Cowboys employ more of a timeshare moving forward, and even if they don't, Mike McCarthy has been unwilling to give Pollard more than 15 carries in a game, perhaps hoping to keep him fresh for January. There shouldn't be any reason to depart from precedent and lean heavily on Pollard here.
Pick Made:
Nov 16, 4:10 pm UTC
Prop
Rico Dowdle Anytime Touchdown Scorer +225
77-57 in Last 134 NFL Player Props Picks
Jason's Analysis:
Pollard can't get it going, no matter how much they try to rev him up, and against the NFL's 24th ranked run D I see work for Dowdle and Pollard ... and especially Dowdle if Dallas does build another big lead. He shows more burst and decisiveness and Pollard just isn't right. Panthers have allowed a staggering 15 rushing TDs, 2nd most in the NFL and nearly twice the league average. Have a feeling he gets more than the 12 carries from last week. Cowboys need to get some semblance of a run game going for the playoffs and this is a great spot to experiment.
Pick Made:
Nov 16, 4:31 am UTC
Prop
Dallas OVER 26.5 Total Pts -115
7-3 in Last 10 NFL Team Props Picks
Jason's Analysis:
The Cowboys are rolling and love to punch down on lesser opponents, especially offensively. Yes, they do their best work at home, but the forecast looks perfect to play pitch and catch. Cowboys would get to 33 easy against Carolina at home and I think docking them a TD on the road is still good value. Dak Prescott and Cee Dee Lamb are the best QB/WR duo in football right now and Miami scored 42 points on CAR with three passing TDs and Detroit did the same thing. Panthers are 32nd ranked RZ defense, and have allowed 4th most offensive TDs in the NFL. Dallas will abuse Bryce Young, who throws pick sixes. Defensive points and field position will help get us over.
Pick Made:
Nov 15, 4:17 pm UTC
Point Spread
Carolina +10.5 -110
70-51-4 in Last 125 NFL ATS Picks
22-14 in Last 36 CAR ATS Picks
R.J.'s Analysis:
The Cowboys are coming off a blowout win over an awful Giants team, one that sustained several injuries on defense during the game to go with the already beat-up offense. That's inflated this line after Dallas was -9 on the lookahead. The Panthers defense is improving and may be getting healthier in this game, and their offense isn't nearly as bad as the one Dallas just faced. Double-digit home 'dogs are 20-9-1 in their last 30 games, and that includes a current 10-1 streak with five outright winners, with the most recent being the Cardinals beating this same Dallas team in a similar spot earlier this year. Take the value in the market here.
Pick Made:
Nov 15, 12:49 pm UTC
38 Total Player Props Projection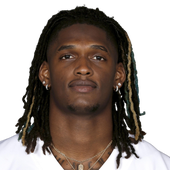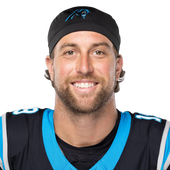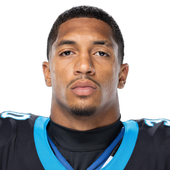 AI Picks for C. Lamb, A. Thielen, C. Hubbard and 35 more players!
Join Now
Best prop picks are generated from a combination of Sportsline AI's projection, analysis of the opposing team, and the bets value based on the current odds.