Predators vs. Maple Leafs Wednesday NHL injury report, odds, pick: Auston Matthews, reigning Hart Trophy winner, will miss first game of season
The Leafs will be without one of the NHL's best players tonight vs. Nashville.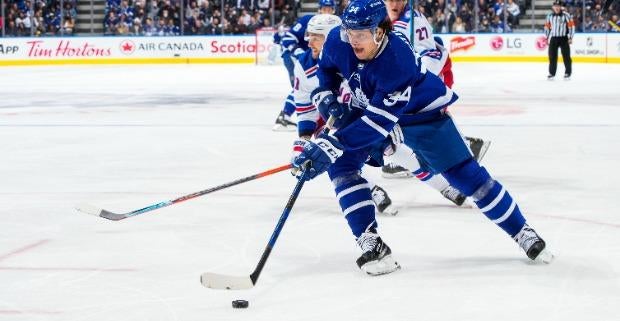 Not many non-goaltenders in the NHL will move a spread or total by missing a game, but one who definitely does is Toronto Maple Leafs forward Auston Matthews, the reigning league MVP. He will miss his first game of the season tonight against the visiting Nashville Predators. The Leafs had been -205 favorites at Caesars Sportsbook with a total of 6.5 goals, but those numbers are now -190 and 6, respectively.
Matthews won the Hart Trophy for the first time last season after he joined the exclusive 60-goal club and set a franchise record with exactly 60 scores despite playing missing nine of Toronto's 82 regular-season games. He had a career-best 106 points as well as a plus-20 rating. He hasn't been quite as spectacular this season -- in 41 games he has 20 goals, 27 assists and a plus-17 rating. Nine of his goals and eight of his assists are on the power play.
NHL teams never say what type of injury players have, but Matthews' is apparently not series: "I'd say he's just day-to-day, obviously he's out there putting in lots of work and all that so he's clearly not too far away. He's improving daily so we'll see where he's at for tomorrow," Leafs coach Sheldon Keefe said, adding the injury is something that's been "lingering for a while."
Without Matthews, John Tavares' line will become the first unit, while William Nylander will move to center on the No. 2 line. Nylander leads the team with 22 goals. Forward Bobby McMann, recalled Tuesday from the AHL's Toronto Marlies, will take Matthews' spot in the lineup and make his NHL debut.
Matt Murray (10-4-1, 2.57 GAA, .916 SV) is expected in net tonight. Murray stopped 34 of 36 shots in a 6-2 win against Philadelphia on Sunday. At home, he's 3-1-1 with a 3.00 GAA and .891 SV.
Nashville is on a season-high four-game winning streak following a 3-0 win at Ottawa on Monday. Juuse Saros made 38 saves for his first shutout of the season and the 18th of his NHL career. Saros has now stopped 102 of the 105 shots he has faced over his past two games, following a team-record 64-save performance in a 5-3 win over Carolina last Thursday. It was tied for the third-most saves in a regular-season game in NHL history. Saros should start tonight.
This is the first of two matchups between Nashville and Toronto in 2022-23. They split last season, each winning at home by three goals. The Predators have earned at least a point in nine of their last 14 games (7-5-2) against the Maple Leafs.
NHL free pick: Predators +1.5
Qualifying SportsLine members receive a 30-day free trial of Paramount+ premium. Sync your account right here.