Golden Knights vs. Stars NHL Western Conference Game 3 odds, trends: Mixed action on money line, bettors on Roope Hintz to score first goal
The NHL's Western Conference Finals shift to Dallas.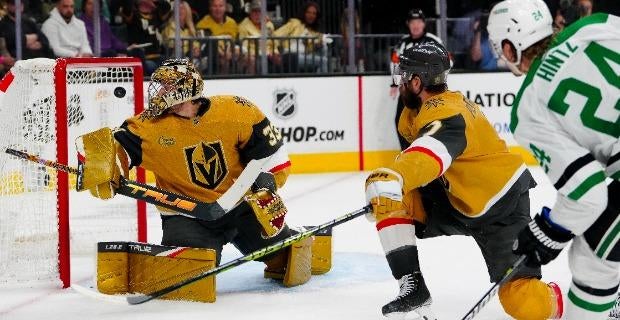 Are we going to get nothing but sweeps in the NBA and NHL conference finals? It's possible with Game 3 of the NHL's Western Conference Finals shifting to Dallas Tuesday with the Stars down 2-0 to the Las Vegas Golden Knights. The Stars are -145 favorites for Game 3 at BetMGM and taking mixed action. Bettors like Dallas forward Roope Hintz to score the game's first goal.
Vegas won each of the first two games in overtime at home, 4-3 and 3-2. The Stars led 1-0 and 2-1 in Game 2 but allowed the tying goal with 2:22 left in regulation before Chandler Stephenson jumped on a rebound 1:12 into overtime. The Knights are now 7-3 in these playoffs when the opponent scores first and have eight comeback wins.
Should Vegas have another comeback win Tuesday, it would become just the eighth team in NHL history with nine-plus comeback wins in a single playoff year, following the 2022 Avalanche (10), 2009 Penguins (10), 2020 Stars (9), 2006 Hurricanes (9), 1999 Stars (9), 1980 Islanders (9) and 1971 Canadiens (9) – six of those seven teams won the Stanley Cup that same postseason, with the exception of Dallas.
As of this writing, 63% of the bets are on the Golden Knights at +120 to win tonight and 53% of the money is on the Stars at -145. On the total of 5.5 goals, 53% of the bets and 51% of the money are on the Over.
The Stars' Hintz tied a career high with 37 regular-season goals and has 10 in these playoffs, including one in Game 1 against Vegas. Hintz at +1050 to score the game's first goal is the most-wagered player prop, along with teammate Jason Robertson (+900) and the Knights' Jack Eichel (+1150) to also score first.
Robertson had the first goal in Game 1 and also scored (not the first goal) in Game 2. Marchessault Over 0.5 points (-130) is also taking solid action. He had two points in Game 2 but none in the opener.
Vegas is 2-0 all-time in a series when leading and is -400 to win the Western Conference Finals at Caesars Sportsbook. The Stars aim to win a best-of-seven Stanley Cup playoffs round after dropping each of the first two games for the second time in franchise history. The first instance was in the 1968 quarterfinals. Dallas is +310 on the series line. The Stars have won three straight at home by a combined score of 11-5.
Get more out of your SportsLine subscription! 

Qualifying SportsLine members receive a 30-day free trial of Paramount+ premium. Sync your account right here.