Jaguars' Trevor Lawrence first regular-season touchdown pass odds: Tim Tebow (released) will not be catching it now; Laviska Shenault betting favorite
The Jacksonville Jaguars have released tight end Tim Tebow, which affects one betting prop for QB Trevor Lawrence.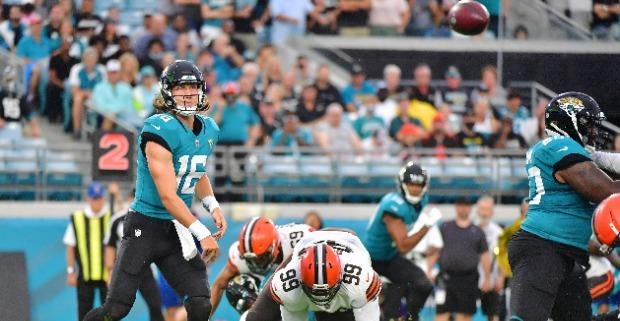 Caesars Sportsbook has an interesting prop for the NFL regular season on which Jacksonville Jaguars player catches the first touchdown pass of the year from No. 1 overall pick and Offensive Rookie of the Year favorite Trevor Lawrence. Tight end Tim Tebow had been a +10000 long shot, but he's no longer an option after the Jaguars ended that experiment on Tuesday by releasing the former Heisman Trophy winner. Second-year wideout Laviska Shenault Jr. is the +250 favorite to catch the first Lawrence scoring pass.
It was always an extreme long shot for the 34-year-old Tebow to make the Jaguars roster at his age, not having played in the NFL in years and never having played tight end. Frankly, the only reason he was even given a chance was because the Jags are coached by Tebow's former Florida coach, Urban Meyer.
"We knew that was an uphill battle for Tim," Meyer said. "Players loved him, locker room loved him, but it was the right thing."
Tebow appeared in Jacksonville's preseason opener, a 23-13 loss to the Browns, and it frankly didn't go well when one of his attempted blocks went viral – and not in a good way. He played a total of 16 snaps and was the only tight end on the roster who did not play a special teams snap, and Meyer said that was a big reason Tebow was cut.
"Two of the special teams phases are tackling and if you've never tackled [it's not easy to do]," Meyer said. "Every off day we'll have a 2-3 hour meeting about roster management. We expect to be very good in special teams. Tight end position is one of those, and tailback -- if he can't contribute on special teams that's a tough go."
There's essentially no chance another NFL team takes a chance on Tebow, which Meyer acknowledged when asked if he thought this was the end for one of the great college players ever.
"I would guess it is," Meyer said. "We didn't get that deep with it. Obviously, he's his own man … elite warriors, elite competitor, but he's also 34 years old."
As for this prop, Shenault Jr. tied for the team lead last year with five TD catches along with DJ Chark Jr., who is +275 on this prop, and Keelan Cole, who is now with the New York Jets. Lawrence didn't throw a TD pass in the Jags' preseason loss to the Browns, completing 6-for-9 for 71 yards. Shenault caught two passes for 14 yards.
Rookie first-round running back Travis Etienne, who may be used more as a third-down back, is +500 on this prop along with free-agent receiver Marvin Jones. Last year's primary tailback, James Robinson, is +850. No other player option is below +1600 to catch Lawrence's first TD pass.
Jacksonville opens Sept. 12 in Houston and is an early 3-point favorite. 
Which Fantasy Football sleepers, breakouts and busts should you target and fade? And which QB shocks the NFL with a top-five performance? Join SportsLine now to get 2021 Fantasy Football cheat sheets for every single position, all from the model that called Josh Allen's huge season.