Dalvin Cook next team NFL odds: Dolphins, Bills, Jets, Cowboys favorites to land Vikings Pro Bowl running back after pending release
The Minnesota Vikings will release Pro Bowl running back Dalvin Cook by Friday if they can't find a trade.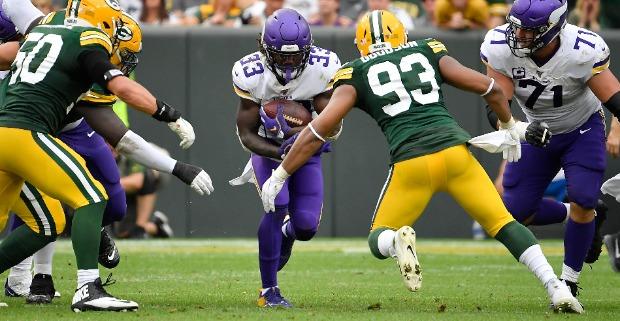 June 1 is always one of the most important dates of the NFL offseason. If a team was to cut a player after that date, it can spread out the salary-cap hit over multiple seasons instead of taking it just in the current season. The writing has been on the wall for weeks that the Minnesota Vikings were ready to move on from four-time Pro Bowl running back Dalvin Cook for salary-cap reasons. The Vikings were holding out hope they could get something in trade, but they reportedly have told Cook they will cut him no later than Friday if no last-minute trade pops up. SportsLine offers NFL odds on his next team. 
Even with the financials included, why would a supposed Super Bowl contender like Minnesota just dump Cook? He's fairly young at 27 (28 in August) and was very good again last year. He rushed for 1,173 yards and eight touchdowns, and added 39 catches for 295 yards and two mores scores. The injury-prone Cook had never played more than 14 games in a season but saw action in all 17 last year. As recently as 2020, he was an MVP candidate. But four seasons is forever in the NFL.
Cook will make any contender better, but the Vikings obviously don't believe he's worth a base salary of $10.4 million in 2023 because they have a very good, younger and cheaper backup in Alexander Mattison, who got a two-year extension in March. On five occasions, Mattison has received more than 20 carries in a game when Cook was unable to play. In those games, Mattison rushed for 522 yards, an average of 104.4 yards per game. That extrapolates to a 1,774-yard season. Minnesota also has to pony up at some point and pay Justin Jefferson the biggest contract a wideout has ever received.
This situation was similar to the one the Cardinals had their hands with DeAndre Hopkins, who also wound up being released and is still out there. Minnesota can now split Cook's $6.2 million cap acceleration over two years.
The Philadelphia Eagles are clearly all-in for Super Bowl 58 after coming up just short in Super Bowl 57 vs. Kansas City, and they did lose leading rusher Miles Sanders. Philly replaced him with former Seahawks tailback Rashaad Penny, but he's really injury-prone. The team also has trade acquisition D'Andre Swift (also injury-prone and more of a pass-catcher), Kenneth Gainwell and Boston Scott. Thus, tailback isn't really a need -- but when your title window is open, you go for it. Philly is a +750 second favorite at Caesars to win Super Bowl 58.
Another all-in team for 2023 is the Buffalo Bills, who were upset in the Divisional Round by Cincinnati and are actually regressing in terms of getting closer to winning their first Super Bowl (and who might also have interest in Hopkins). Buffalo added former Patriots running back Damien Harris this offseason, and has a promising second-year back in James Cook -- who happens to be Dalvin's younger brother. Maybe they want to play together, and there are certainly enough carries to go around, especially if the Bills want Josh Allen running less to save wear and tear on his body. Dalvin had an 81-yard rushing touchdown against the Bills in a wild 33-30 overtime win for the Vikings on Nov. 13 in Buffalo.
The Dolphins don't seem to need a running back with veterans Jeff Wilson and Raheem Mostert in the fold. They also drafted Texas A&M's Devon Achane in the third round this year. Wilson and Mostert are both well past their primes and injury prone and Achane is on the smaller side. Cook is from south Florida, so if it's simply a matter of him being able to choose a team instead of being traded, the former Florida State star might go that route.
Former Miami Herald Dolphins beat writer Armando Salguero, now of Fox News, wrote that Cook has narrowed down his preferred destinations to the Bills and Dolphins if he gets cut. Obviously, it may not be up to Cook.
Denver added Samaje Perine this offseason to the backfield, but he's mainly a third-down option. No. 1 back Javonte Williams may or may not be ready for Week 1. He's currently recovering from a torn ACL.
It's not out of the question that New England looks into Cook after losing Harris to the Bills, although the Pats love Rhamondre Stevenson and are prepared to use him as their workhorse.
Cincinnati would have been on this list, but it now appears as if the Bengals will not release Joe Mixon so there's not much need for Cook. Dallas doesn't have a quality No. 2 behind Tony Pollard. Cook could be an option if Jerry Jones opts not to bring back Ezekiel Elliott, who still hasn't found a team after Dallas released him.
There are some lesser teams that could perhaps use Cook with plenty of salary-cap space, led by Chicago, but he's likely to choose a contender if released. The Bears are nowhere near contention and are almost surely not trading for him.
It wouldn't seem as if the Jets really need Cook with Breece Hall reportedly on track to be ready for Week 1 off his torn ACL, but when you trade for Aaron Rodgers you add as much talent as possible to win now. Dallas still hasn't replaced Ezekiel Elliott as an understudy to Tony Pollard, who himself is coming off a serious injury. 
Via SportsLine oddsmakers: Which team will Dalvin Cook be playing for Week 1?
Bills +300
Dolphins +300
Jets +500
Cowboys +600
Broncos +700
Eagles +800

Patriots +900
Rams +1000
Cardinals +1100
Ravens +1500

Chargers +1800
Bears +2000
Get more out of your SportsLine subscription! 
Qualifying SportsLine members receive a 30-day free trial of Paramount+ premium. Sync your account right here.