2022 NFL MVP odds update: 49ers QB Trey Lance taking most betting action of any player in August, will start Friday vs. Packers
Bettors continue to hammer Trey Lance to win NFL MVP.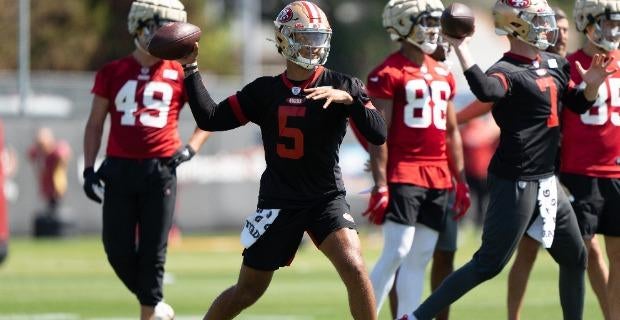 Back in late May, we wrote about NFL MVP odds at Caesars Sportsbook and reported the surprising fact that San Francisco 49ers second-year quarterback Trey Lance, he of the two career starts, was taking more action on that prop than both Patrick Mahomes and Aaron Rodgers combined and had dropped from +20000 to +6000. So far this month, the action has only increased to the point that Lance is now down to +4000.
In August alone, Lance has taken a league-high 19.1 percent of the tickets on this prop – easily the most of any player. That dropped him from +5000 (he moved there in July) to +4000 at Caesars. If we go back to July 26, he has taken 21.1 percent of the handle. Coming in second is Raiders quarterback Derek Carr at 13.9 percent.
Lance, who hasn't played a full season since 2019 at North Dakota State, has been handed the starting job. The 49ers already have told Jimmy Garoppolo that he is not in their plans – he'll either be traded or released by the end of this month. If/when Deshaun Watson's suspension via NFL appeal is extended past six games, the Browns reportedly will "consider" acquiring Garoppolo, via the Cleveland Plain Dealer. The team is awaiting the ruling of Peter C. Harvey, the designee of NFL commissioner Roger Goodell. There are reports that ruling will come Friday.
Niners coach Kyle Shanahan said this week that keeping Jimmy G simply wasn't feasible because he has the highest 2022 salary on the roster.
"You've got to make tough decisions in this business," Shanahan explained this week on the I Am Athlete podcast. "And the more you learn about salary cap, the more you learn about how to keep a hold of your players. Going forward, we kind of saw how hard it would be to keep guys like Deebo (Samuel), sign guys like Fred (Warner), like (George) Kittle. We know we're going to end up paying [Nick] Bosa a lot of money. So you look at all that stuff, and getting a guy on a rookie quarterback [contract] was a big part of that. … And I love that we're giving a good team to Trey to where he doesn't have to do it on his own, just like I didn't believe Jimmy had to."
The 49ers open the preseason at home Friday vs. Green Bay, and Lance and the other healthy starters will start, according to Shanahan, but it's not clear how long they will play. In 2021, Garoppolo was on the field for one offensive series during the first preseason game.
Another interesting betting note on Lance: His season rushing total at Caesars in recent weeks has risen more than any other player's -- running backs included -- from 475.5 yards to 575.5.
Which Fantasy Football sleepers, breakouts and busts should you target and fade? And which QB shocks the NFL with a top-five performance? Join SportsLine now to get Fantasy Football cheat sheets for every single position, all from the model that called Jonathan Taylor's huge season, and find out.