2021 NFL Draft odds: Ja'Marr Chase or Penei Sewell for Bengals at No. 5 overall pick? Oddsmakers favor Chase
Despite not playing college football last year, former LSU star wideout Ja'Marr Chase is favored by William Hill Sportsbook oddsmakers to be a Top 5 pick in Thursday's draft.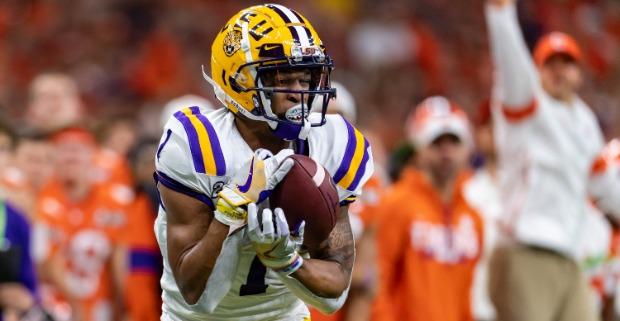 The first round of the 2021 NFL Draft is Thursday, and all we know for sure is that quarterbacks will go 1-2-3. The consensus top-rated receiver in this class is former LSU star Ja'Marr Chase even though he opted not to play for the Tigers in 2020 season. While the Falcons are not expected to take a receiver at No. 4 overall, it's very possible Chase is reunited with Joe Burrow on the Cincinnati Bengals at No. 5. Chase is given an Over/Under draft position of 5.5 at William Hill Sportsbook, with the Under a -135 favorite.
The CBS Sports Big Board ranks Chase as the No. 5 overall prospect in the draft. Receiver is a position of need for Cincinnati after AJ Green left in free agency this offseason, but is it really a HUGE position of need? One might argue not considering the team has two good wideouts in Tyler Boyd and Tee Higgins, who had a nice 2020 rookie campaign.
During Burrow's record-setting 2019 season at LSU when he won the Heisman, Chase was a unanimous All-American and the Biletnikoff Award winner by putting up 84 catches for 1,780 yards and 20 receiving scores. Those latter two numbers were both SEC records until they were broken last year by Alabama's DeVonta Smith.
Chase is considered a better prospect than Smith because Chase is a bit over 6-feet tall and about 200 pounds. Smith is 5-11 and only 166 pounds. NFL.com gives Chase a grade of 7.12, which equates to Pro Bowl talent. He is given a comp of Torry Holt.
Multiple mock drafts at CBS Sports have the Bengals taking Chase, but several others have them landing protection for Burrow in Oregon offensive tackle Penei Sewell. He is also given an Over/Under of 5.5 draft position, but the Over is a -170 favorite.
On the Bengals' first player drafted exact position prop, a receiver is the -130 favorite with offensive lineman at +150. Chase is a heavy -900 favorite to be the first receiver drafted.
Cincinnati coach Zac Taylor has said the connection between Chase and Burrow won't be a major factor in whether or not Cincinnati targets the wide receiver. The last time the Bengals took a wideout in the first round (Higgins was the first pick of Round 2 last year) was John Ross in 2017, and he was a bust.
"It's one of the things that you weigh and certainly we take in a lot of factors — the production on the field, their character, their football IQ, just what they bring to our locker room and to our team as a whole," Taylor said. "Relationship with the quarterback, that certainly doesn't hurt. But that's one of the many things that we weigh."
The highest-drafted receiver out of LSU in the modern era was Odell Beckham Jr. at No. 12 overall in 2014 by the New York Giants. Justin Jefferson, Chase's former teammate at LSU, was the No. 22 pick last year and set numerous rookie receiving records for the Minnesota Vikings. 
Who wins the 2021 Kentucky Derby? And which massive long shot is a must-back? Join SportsLine right now to get Jody Demling's Kentucky Derby winner, see which huge long shot contends, and get the finish positions for every single horse, all from the expert who's nailed nine Derby-Oaks doubles!