Falcons 2021 NFL Draft odds: Atlanta favored to select quarterback (Trey Lance?) with its first pick over tight end (Kyle Pitts)
Will the Atlanta Falcons look quarterback with their first draft pick? William Hill Sportsbook oddsmakers believe so.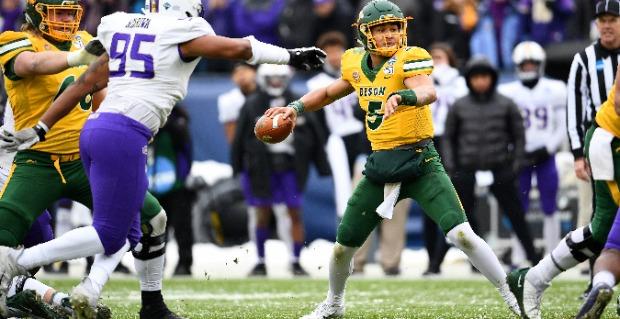 The last major Pro Day for quarterback prospects in the 2021 NFL Draft was completed Monday by Trey Lance at North Dakota State. Could Lance be an option for the Atlanta Falcons at No. 4 overall? William Hill Sportsbook oddsmakers favor the Falcons taking a quarterback with their first selection of the 2021 draft at +135 on the moneyline, just ahead of tight end – i.e., Florida's Kyle Pitts – at +160. That prop is regardless of where the Falcons have their first pick.
It's quite possible the Falcons trade back from No. 4 if they can get close to what Miami got for the No. 3 pick from San Francisco. Quarterbacks are a lock to go in the first three spots, with Clemson's Trevor Lawrence the -10000 favorite to be No. 1 overall to Jacksonville, BYU's Zach Wilson -3000 to go second to the New York Jets, and Ohio State's Justin Fields now the -125 favorite to be picked third by the 49ers.
That would leave either Lance or Alabama's Mac Jones at No. 4 for the Falcons if they want to look quarterback. Lance is given an Over/Under draft position of 6.5, with the Under a -130 favorite. Jones doesn't have that prop at the moment. The CBS Sports Big Board ranks Lance as the fourth-best quarterback in the class and No. 10 overall prospect. Jones ranks as the No. 21 overall prospect.
Atlanta is tied to former league MVP and future Hall of Famer Matt Ryan for this season because of his massive contract but in theory could get out from under that following the 2021 campaign. Back in March, the team restructured Ryan's deal to help create salary cap space for the upcoming year. Ryan, who will be 36 in May, is currently the only QB on the Atlanta roster.
Lance is pretty raw so it might be wise for the Falcons to sit him for a year to learn behind Ryan like Patrick Mahomes did in Kansas City. Or if Atlanta wants to try and win now, it could go with Pitts, considered the best tight end prospect in many years. He is the +130 favorite to be the first non-QB drafted.
The Denver Broncos reportedly have been one team that has called the Falcons for the No. 4 pick, and the Broncos certainly would be looking quarterback. Dallas also has been speculated to move up, but for Pitts.   
The Falcons were in attendance Monday at Lance's second Pro Day: Quarterbacks coach Charles London, passing game specialist T.J. Yates and assistant college director Dwaune Jones. General manager Terry Fontenot, head coach Arthur Smith and offensive coordinator Dave Ragone attended Lance's first Pro Day in March.  
The various CBS Sports mock drafts are pretty split on what the Falcons may do at No. 4, with one projecting a Broncos trade and a selection of Lance. That Atlanta takes an offensive player with its first pick is -650 and defensive +450. The first round of the draft is next Thursday in Cleveland. 
Who wins the 2021 Kentucky Derby? And which massive long shot is a must-back? Join SportsLine right now to get Jody Demling's Kentucky Derby winner, see which huge long shot contends, and get the finish positions for every single horse, all from the expert who's nailed nine Derby-Oaks doubles!