Simulation Picks
Maximize Your Odds of Winning with SportsLine Model and Our Top-Rated Picks
Maximize Your Odds of Winning with SportsLine Model and Our Top-Rated Picks
Maximize Your Odds of Winning with SportsLine Model and Our Top-Rated Picks
Expert Picks
Point Spread
L.A. Rams -2.5 -120
53-28-6 in Last 87 NFL Picks
53-28-6 in Last 87 NFL ATS Picks
5-2-2 in Last 9 LAR Picks
5-2-2 in Last 9 LAR ATS Picks
Adam's Analysis:
Neither the Rams nor the Cardinals enter particularly healthy, though signs are pointing to Los Angeles having both Cooper Kupp and Kyren Williams active. The latter is actually more important for the Rams given the Cards' atrocious run defense. We hae consistently seen Arizona struggle against competent offenses this season, and with Matthew Stafford back having most of his pieces, that is how LA should be categorized. The Rams have dominated this divisional rivalry and should cover the field goal. This is less enticing should it to go -3 before kickoff.
Pick Made:
Nov 26, 7:56 pm UTC
Prop
Kyren Williams OVER 59.5 Total Rushing Yards -111
113-77-1 in Last 191 NFL Picks
70-41 in Last 111 NFL Props Picks
Larry's Analysis:
Rams running back Kyren Williams shredded the Cardinals for 158 yards on 20 carries in Week 6, after which Williams went on IR with a sprained ankle. He's back for this game and Sean McVay plans to use him heavily. It's a great matchup against a Cards defense that's given up 138.7 rushing yards per game over its last six and just lost leading tackler and defensive signal caller Kyzir White to a torn bicep.
Pick Made:
Nov 26, 2:12 am UTC
Prop
Lucas Havrisik OVER 1.5 Total Made Field Goals +100
64-41 in Last 105 NFL Picks
6-1 in Last 7 NFL Props Picks
53-31 in Last 84 NFL Props Picks
Jason's Analysis:
Brett Maher is gone, but it's worth looking at how Sean McVay has managed games. Maher has 4 FGs in the first game against AZ. He attempted at least 3 FG in all 3 games against the NFC West. He led the NFL with 17 FGA on the road (17 in 5 games) despite being an erratic journeyman. In a road division game with the Rams offense still limited and them fighting to stay alive in the playoff chase, I'll take these odds for Havrisik to get the same kind of opportunities his predecessor enjoyed.
Pick Made:
Nov 25, 12:26 am UTC
Point Spread
L.A. Rams -2.5 -110
54-40-3 in Last 97 NFL Picks
36-28-2 in Last 66 NFL ATS Picks
6-1-1 in Last 8 LAR ATS Picks
Mike's Analysis:
The Rams roll out the red carpet for the return of healed WR Cooper Kupp and RB Kyren Williams, a likely one-two boost for a sputtering offense averaging below 20 ppg. Furthering the Rams' cause is two 'Zona defenders, lineman Leki Fotu and LB Kyzir White, landing on injured reserve this week. A slump of four consecutive ATS losses this season collides with an opposing trend; coach Sean McKay has covered in 12 of 14 meetings with the Cardinals. As much as QB Kyler Murray's grand re-entrance from a long rehab is a positive, they are still the Cards.
Pick Made:
Nov 24, 10:42 pm UTC
Prop
Matt Prater OVER 1.5 Total Made Field Goals -104
14-8 in Last 22 NFL Picks
14-8 in Last 22 NFL Props Picks
Eric's Analysis:
Prater kicked four field goals in Kyler Murray's only home start this season (against Atlanta two weeks ago) and had three field goals at Los Angeles in Week 6. The Rams have allowed multiple field goals in eight of ten games this season and I see the trend continuing on Sunday.
Pick Made:
Nov 24, 4:43 am UTC
Point Spread
L.A. Rams +1.5 -120
113-77-1 in Last 191 NFL Picks
50-35-1 in Last 86 NFL ATS Picks
36-23 in Last 59 LAR ATS Picks
44-29 in Last 73 LAR Picks
Larry's Analysis:
The Rams have won eight of the past 10 meetings, including a 26-9 home win in Week 6 when the Cardinals didn't have Kyler Murray. Matthew Stafford posted a 107.3 passer rating in that matchup while averaging 9.4 yards per attempt -- both season highs. Even if Cooper Kupp (ankle) doesn't play, I like the Rams to pull off the sweep with Stafford healthy and running back Kyren Williams returning from a four-game absence. Williams exploded for 158 yards and a touchdown on 20 carries in the first meeting. He'll face an Arizona defense that just lost leading tackler Kyzir White (90 tackles, two sacks, INT) to a torn bicep.
Pick Made:
Nov 21, 3:28 pm UTC
36 Total Player Props Projection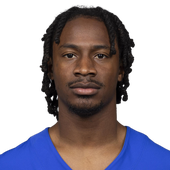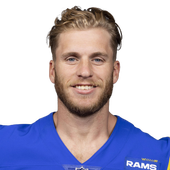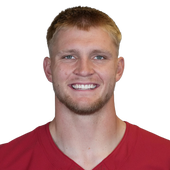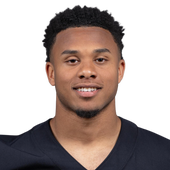 AI Picks for T. Atwell, C. Kupp, T. McBride, R. Moore and 32 more players!
Join Now
Best prop picks are generated from a combination of Sportsline AI's projection, analysis of the opposing team, and the bets value based on the current odds.