Your picks just got better. Switch any pick live in-game. Only with 247 Realtime Brackets.
Selection Sunday may have forced some to raise their eyebrows on seeding.
Keep in mind, however, that two big-time qualifiers in Louisville and SMU were not eligible. In addition, parity beyond the top seeds featured an abundance of sporadic conference play.
It's time to put thoughts of who was left out of the tournament aside and focus on the field that will be competing.
Make way for buzzer beaters, thrilling comebacks, and true madness euphoria.
West Region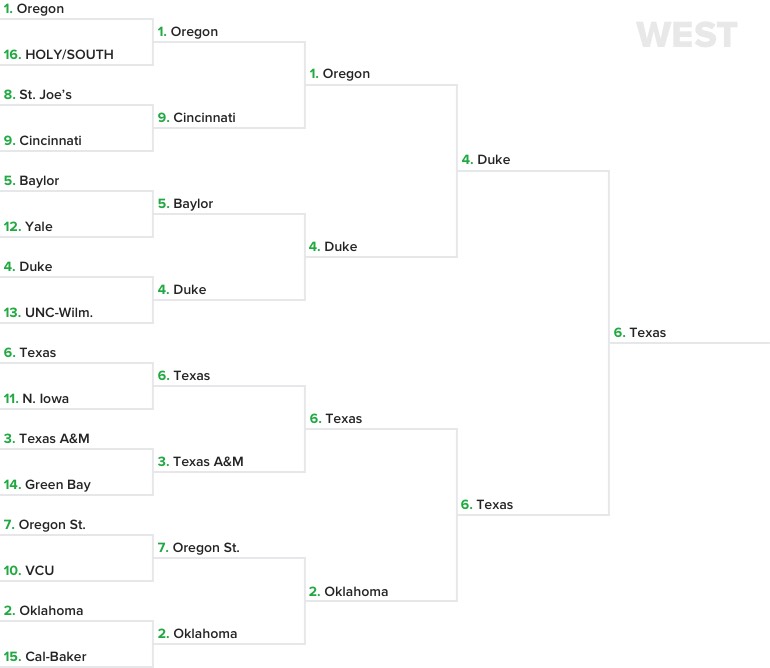 The West Region is the only region I visualize falling according to plan until the Sweet 16.
Duke drawing top seed Oregon may end up being one of the tournaments top games overall.
It's an unfavorable draw for Oregon, as Duke is more than capable of matching the Ducks high-octane offense.
Neither team has extended depth, which could trigger a few x-factors. Coach Dana Altman's Ducks rely heavily on freshman Tyler Dorsey, which may be a position he's unprepared for.
Altman is also notorious for losing in the tournament against top-tier coaches. In consecutive seasons he has lost in the Big Dance to Bo Ryan's Wisconsin squads and in 2012 to Rick Pitino's Louisville championship team.
Yet, the coaching hire of the year in Shaka Smart will lead his Texas squad to the Final Four, prevailing over Duke.
South Region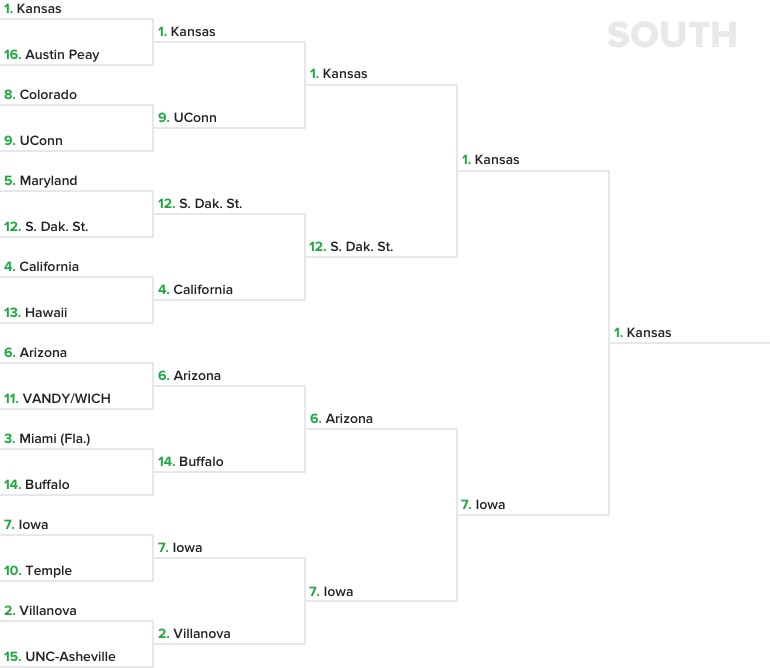 Could the committee have it out for Villanova and Jay Wright? Call it preposterous, but yet again the Wildcats are faced with a potentially odd second-round matchup in the Iowa Hawkeyes.
The Hawkeyes and Wildcats met two seasons ago in the Battle 4 Atlantis, in which Iowa blew a 15-point second half lead.
Holdover talent from that game lies with the Hawkeyes in Peter Jok, Adam Woodbury, Mike Gesell and Jarrod Uthoff.
A clear contrast from Villanova's 2013 team to this season is a steep decline in perimeter shooting, which will benefit the Hawkeyes game plan.
Look for Iowa to shake up the South and resurface as the team that was once ranked in the Top 10.
Ultimately the path for Kansas will not be as troublesome as people think.
Midwest Region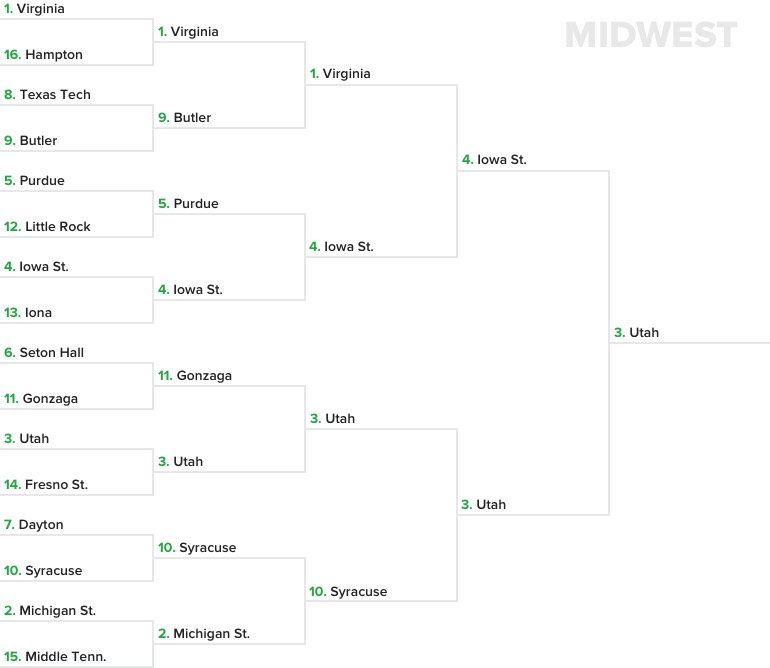 The adage that defense wins championships is not heard in the month of March.
Virginia increased their offensive identity towards the latter portion of the ACC schedule with advanced conference scouting on their side.
That luxury will not be at coach Tony Bennett's disposal, which will enable strong offensive teams to put forced pressure on the Cavaliers.
Iowa State has that mold with knock down perimeter shooters that could keep the Cavaliers on their heels for 40 minutes.
If Utah can survive the first-round against Fresno State, its path to the Elite Eight could be the easiest of any team in the tournament.
In a tough Elite Eight matchup against Iowa State, take the Utes experience from last year's Sweet 16 run to prevail.
East Region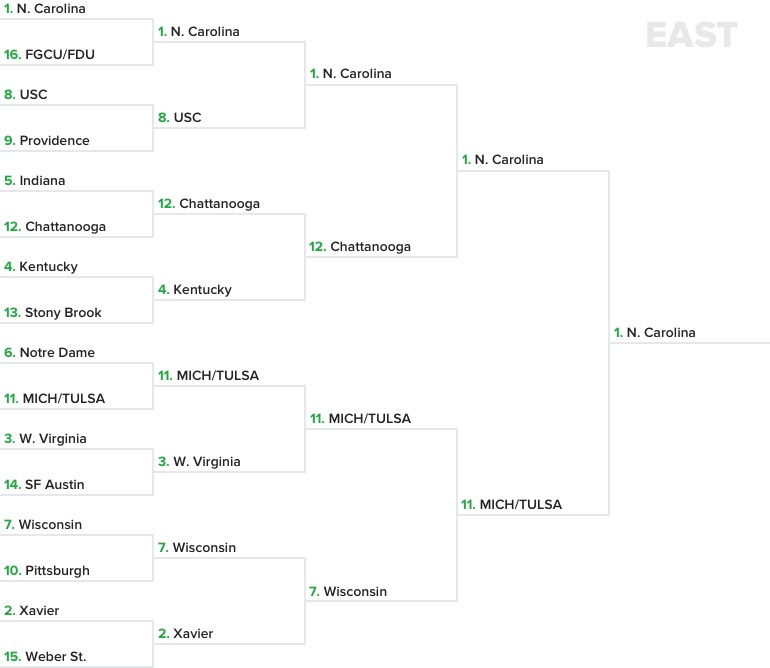 The East features a noteworthy opening round game in Chattanooga against Indiana.
The Mocs feature a veteran starting five that notched non-conference wins over Dayton and Georgia.
Coach Tom Crean's turnaround of the Hoosiers featured a 15-3 Big Ten conference record, yet they are a No. 5 seed because of their non-conference struggles.
Ironically, the Mocs have a similar blend of the non-conference opponents the Hoosiers lost to in Wake Forest, UNLV, and Duke.
Pencil in the Mocs to continue the trend of victorious No. 12 seeds.
Notre Dame may get bracket advancement love from last year's run, but will not make it out of the second round.
Top seed North Carolina fully controls its Final Four destiny, with only Kentucky being a formidable opponent.
Final Four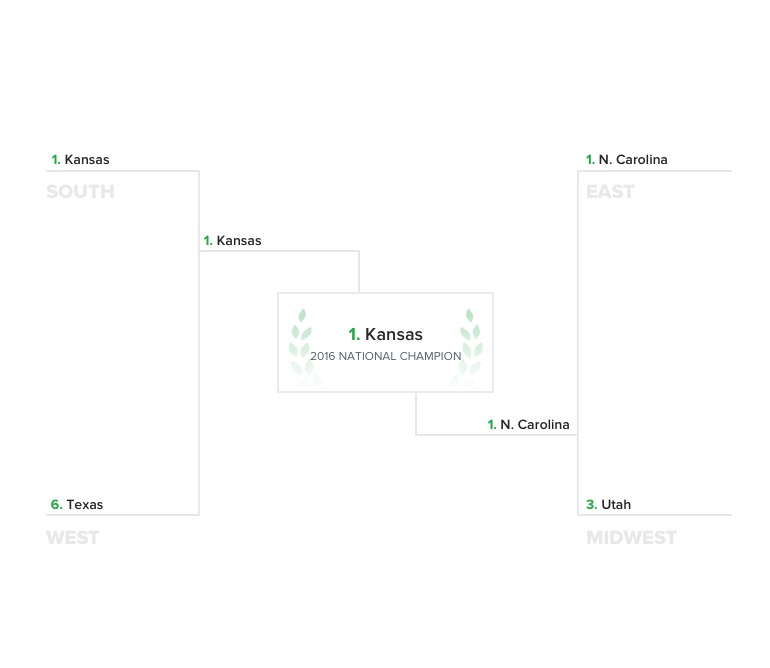 Advancing in my bracket to the championship are top seeds North Carolina and Kansas.
There will be endless storylines about former Jayhawks coach Roy Williams looking to finish off a stellar coaching career, while an ultimate showdown will be on full display between point guards Frank Mason and Marcus Paige.
Recent Final Four success stories lie with strong point guards in Kemba Walker, Shabazz Napier, Peyton Siva and last year with Tyus Jones.
In the end Bill Self will be able to eradicate his NCAA Tournament misfortunes.
Frank Mason wins Most Outstanding Player and Kansas showcases its skill set advantage in elite fashion.