Next Louisville basketball coach odds: Kenny Payne, Scott Davenport, Kevin Willard, Steve Forbes favorites to replace Chris Mack
Louisville is in the market for a new head basketball coach with Chris Mack out.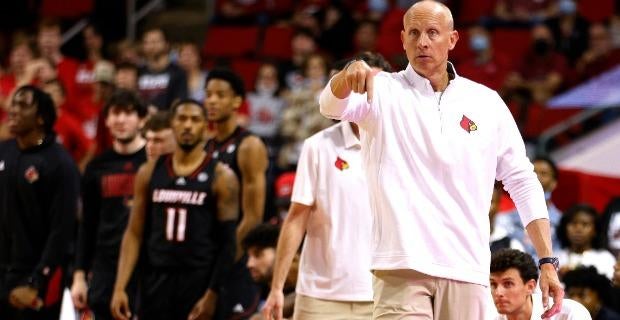 One of the Top 10 jobs in college basketball came open Wednesday with Louisville ousting Chris Mack. The Cardinals got off to good start in the 2020-21 season but collapsed and missed the NCAA Tournament, and since Mack returned from a six-game suspension to open this year, Louisville is 6-8 and has lost five of its past six games. SportsLine offers odds on whom will take over full time at the school starting next season.
The contract Mack signed in 2018 after leaving Xavier called for a $12 million buyout, but the two sides negotiated a lower amount as part of the agreement. Assistant coach Mike Pegues will finish out this season with the Cardinals next in action Saturday at home vs. No. 9 Duke. Louisville's first losing record since 2000-01, Hall of Fame coach Denny Crum's final year, is very possible.
While Louisville isn't quite as good of a job as Kentucky, it's a major city in a basketball-crazy state with no professional sports teams. The KFC Yum! Center is a modern arena with a capacity of 22,090, the second-largest in the country. The school has won three national championships (2013 title was vacated) and been to 10 Final Fours (2012 & 2013 appearances were vacated).
The Louisville leadership will aim high, but there are a few things working against the program. First, there is no full-time athletic director or school president currently. Second, severe NCAA penalties are likely on the horizon for all the violations committed under former coach Rick Pitino's watch as well as a few under Mack – and, no, the school isn't bringing back Pitino even though he's doing a sensational job at Iona.
Bruce Pearl was trending big-time Wednesday and no doubt he will get a call from Louisville and perhaps Pearl would like to coach at a basketball-first school. Alas, Pearl has committed several infractions of his own at previous stops – sanctioned twice in the last 11 years – so that's likely a non-starter.
Kevin Willard spent several seasons at Louisville as an assistant coach under Pitino and has done well at Seton Hall, which isn't an easy place to win. Willard also has been linked to the Maryland opening. He would be a safe choice for UofL.
Would Mick Cronin leave UCLA for Louisville? He's from Cincinnati – which is about 100 miles from Louisville – and of course coached UC before heading out west. Cronin, an assistant at Louisville from 2001-03, looks poised to have UCLA as a national title contender for the foreseeable future so the only reason he might leave is to return to the Midwest. Current Cincinnati coach Wes Miller also could be an option, but he's in just Year 1 there after a hugely successful run at UNC-Greensboro.
SEC coaches Nate Oats of Alabama and Eric Musselman are on every list when a major job opens, but both have large buyouts and neither have ties to Louisville.
Ohio State's Chris Holtmann is a Lexington native who grew up a Kentucky fan, but he has a great job where he is and a massive buyout. That said, all three of Louisville's national titles have come far more recently than the one (1960) Ohio State has in its history and OSU is a football school.
Wake Forest's Steve Forbes was a big winner at East Tennessee State before heading to Winston-Salem and has guided the Deacons to a 17-4 mark this season – thanks largely to the transfer portal – after a 6-16 mark in his first year.
Scott Davenport turned Bellarmine, which is in Louisville, into a Division II powerhouse and the Knights have acquitted themselves very well in their two seasons (including this one) in Division I. He grew up in Louisville, went to school at UofL, got his coaching career started as a grad assistant under Denny Crum, coached for 10 years at Ballard High School in the city and was an assistant at Louisville from 1996-2005.
The favorite, though, is Knicks assistant Kenny Payne even though he has never been a head coach. He played on the Cardinals' 1986 NCAA title team and spent 10 years as an assistant to John Calipari at Kentucky, the last six as associate head coach.
Former UK stars Julius Randle, Karl Anthony-Towns and Devin Booker are among former Wildcats who have credited Payne for his role in their success. Payne is also considered an elite recruiter. Louisville has a sizable Black fan base but has never head a full-time Black head basketball coach. Payne could be the first.  
Via SportsLine oddsmakers: Who will be the next full-time Louisville basketball coach?
Kenny Payne +400
Scott Davenport +500
Kevin Willard +500
Steve Forbes +600
Wes Miller +700
Mark Pope +900
Chris Holtmann +1000
Ed Cooley +1100
Nate Oats +1200
Eric Musselman +1300
Andy Enfield +1500
Mick Cronin +1500
Matt McMahon +2000
Scott Drew +2500
Bruce Pearl +2500
Looking for the best picks against the spread, sharp plays on the total, and props you can take straight to the pay window? Join Jonathan Coachman on the Early Edge as he speaks with SportsLine's top handicappers to preview the day's biggest games. We promise to keep it short, sweet and to put some green in your pocket. Early Edge is in your feed every single day by 11 a.m. ET. Subscribe right here on YouTube to watch daily, plus don't miss the Early Edge specials and live shows!