NFL last winless team odds: Bengals are longshots on prop even with Joe Burrow's aggravated calf injury
Could the Cincinnati Bengals be the last winless team in the NFL?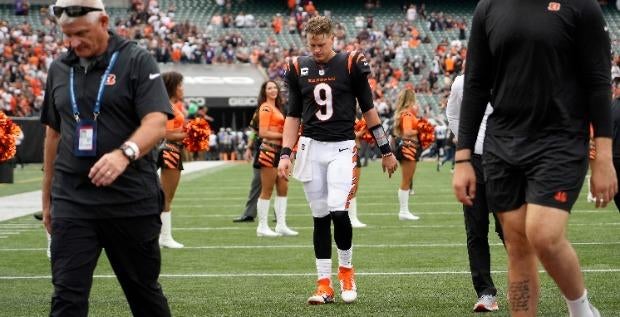 The Cincinnati Bengals have had double-digit wins in each of the past two seasons and reached at least the AFC Championship Game in both. They had an over/under win total of 11.5 this season but have started 0-2 for the second year in a row, and quarterback Joe Burrow could miss at least Week 3 vs. the Rams with an aggravated calf injury. The Bengals are one of nine 0-2 teams. Could they be the last winless club in the NFL this season? Cincinnati is a +3000 longshot to do so at DraftKings, but those odds could shorten in a hurry if Burrow has to miss extended time.
All due respect to the Minnesota Vikings and the Los Angeles Chargers, the Bengals are the biggest surprise of the winless teams. Yes, Cincinnati overcame a 0-2 start last year to make the playoffs, but no franchise has ever started 0-2 in back-to-back seasons and made the playoffs in both. Burrow strained his calf very early in camp and only returned just before Week 1 without playing any preseason games.
The former No. 1 overall pick has not looked sharp, completing just 56.9% of his passes for 304 yards, two touchdowns and a pick for a rating of 70.6 that is 27th in the league in divisional losses to the Browns and Ravens. Burrow is 0-for-12 on throws of at least 15 air yards. He had one game without a completion of 15+ air yards in his first 42 career starts and has now done it in back-to-back games. Burrow is the only QB with two starts and zero completions of 15+ air yards in 2023.
He tweaked his calf issue in Sunday's 27-24 home-opening loss to Baltimore and was seen limping afterward. The good news is that Cincinnati doesn't play until Monday night in Week 3, hosting the Rams. Coach Zac Taylor said Monday that it's "hard to say" whether Burrow will be available.
Perhaps Burrow is simply a slow starter, as he's now 0-4 in Weeks 1-2 the past two seasons combined, completing 61% of his passes at 5.2 yards per attempt with five TDs and five picks. In Weeks 3-18 last year, he was 12-2 while completing 69% of his passes at 7.6 yards per attempt with 32 TDs and eight picks.
Cincinnati is only -2 at home against the Rams, which is the sportsbooks telling you they currently believe Burrow won't play. His backup is Jake Browning, who has never thrown a regular-season pass in the NFL at age 27. If the Bengals lose Monday and Burrow sits, they could be looking at an 0-4 record with a short-week trip to a solid Tennessee team in Week 4. In Week 5, Cincinnati visits Arizona, which could be a winless showdown.
There's no updated playoff odds or season win totals for the Bengals because of Burrow. They are now +475 to win the AFC North and already in a tiebreaker hole.
Via DraftKings: Which will be the NFL's last winless team?
Cardinals +150
Texans +250
Bears +350
Broncos +700
Patriots +1200
Vikings +1200
Panthers +1400
Chargers +1000
Bengals +3000
Get more out of your SportsLine subscription! 
Qualifying SportsLine members receive a 30-day free trial of Paramount+ premium. Sync your account right here.