Bryce Young 2023 NFL props, odds: Carolina Panthers officially anoint No. 1 overall draft pick as starting QB, set at 3,500 passing yards
To no surprise, Carolina has installed Bryce Young as its QB1.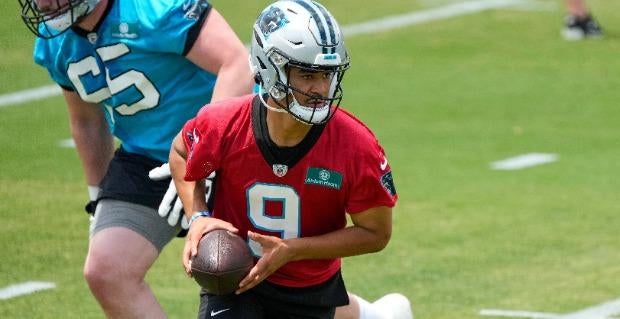 The Bengals selected quarterback Carson Palmer No. 1 overall in the 2003 NFL Draft and sat him his entire rookie season. That does not happen these days, because the most valuable commodity in the league is a good QB on his cheap rookie deal. Carolina traded with the Chicago Bears to get up to the top spot in the 2023 draft, and as expected took 2021 Heisman winner Bryce Young. The Panthers officially elevated him to QB1 today during OTAs. Let's break down the available Young props.
While Young had gotten more reps than veteran free-agent addition Andy Dalton with the first team during the first two weeks of voluntary offseason workouts, Dalton had been listed as the starter and began each drill with the first unit. That changed today in Charlotte ahead of next week's three-day mandatory minicamp – the last for the Panthers ahead of training camp.
"It's just the next step,'' new coach Frank Reich said of elevating Young. "We had a couple of weeks to watch Andy. Andy has continued to perform at a very high level. We're just trying to get our team ready. Everything is about what's best for our team, and so this was just the next step.'' Reich added this was timeline he and GM manager Scott Fitterer mapped out all along.
Not all sportsbooks currently have individual statistical player totals posted for the coming season, but DraftKings is one that has some numbers for Young: over/under 3,500.5 passing yards and 22.5 passing touchdowns.
For a point of comparison: the Chicago  Bears could have kept the top pick, taken Young and traded Justin Fields for more picks, but GM Ryan Poles chose not to go down that rabbit hole. Fields is set at O/U 2,950.5 passing yards.
Another comparison: Carolina could have taken Ohio State QB CJ Stroud at No. 1 and, he was the favorite for a while but ended up being chosen No. 2 by Houston. Stroud is set at O/U 3,400.5 passing yards and 21.5 TD passes. Young is -120 on a yardage head-to-head prop vs. Stroud (-110).
There's no doubt Young has more weapons around him than Stroud does in the likes of receivers DJ Chark, Adam Thielen and Terrace Marshall, as well as new running back Miles Sanders. To win Offensive Rookie of the Year, as former Panthers QB and No. 1 overall pick Cam Newton did in 2011, Young is a +500 second favorite to Atlanta RB Bijan Robinson (+250).
Young is +8000 to lead the NFL in passing yards. The all-time passing yardage record for a rookie is 4,374 by the Colts' Andrew Luck in 2012 (seventh-most in the NFL), and that No. 1 overall pick didn't even win OROY – Washington's Robert Griffin III did. Pittsburgh's Kenny Pickett was the lone rookie QB in the NFL last regular season to start double-digit games and threw for 2,404 yards (in 13 games).
Barring injury, Young's debut will be Sept. 10 in Atlanta, which is currently -2.5. The SportsLine Projection Model forecasts Young for 235 yards passing and 1.4 TDs.
Get more out of your SportsLine subscription! 
Qualifying SportsLine members receive a 30-day free trial of Paramount+ premium. Sync your account right here.