Damian Lillard NBA trade odds: Heat remain favorites to land Trail Blazers All-Star guard despite Raptors rumors
Could Portland trade Damian Lillard to Toronto?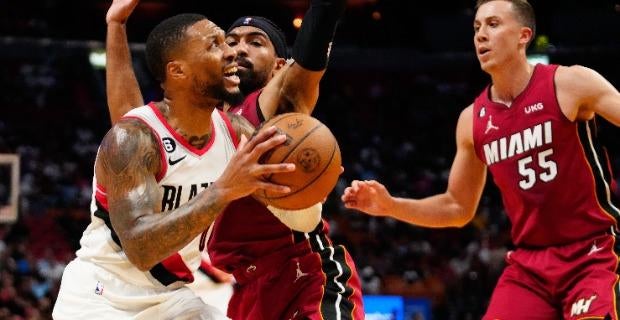 Believe it or not, NBA training camps begin to open on Wednesday and All-Star guard Damian Lillard still remains with the Portland Trail Blazers even though both sides agree it's time for a change of scenery for the franchise icon and future Hall of Famer. SportsLine offers odds on Lillard's next team. It would be an upset if Lillard is no traded before the start of the regular season on Oct. 24.
ESPN reported Monday that the Toronto Raptors entered this week as the front-runners to trade for Lillard, and that the Raptors and Blazers had talked but that no deal was imminent. Toronto boss Masai Ujiri has proven in the past he's willing to trade for stars even if said star doesn't particularly want to play north of the border. In July 2018, Ujiri acquired Kawhi Leonard from the Spurs even though there was little chance Leonard was going to re-sign with Toronto as a free agent. He didn't, but the Raptors their only title with Leonard, so it was worth it.
Are the 2023-24 Raptors a Damian Lillard away from contention? Probably not. They're coming off a disappointing 41-41 season that led to the firing of head coach Nick Nurse. Grizzlies assistant Darko Rajakovic was named the 10th head coach in franchise history to replace Nurse. Rajakovic had summer league and consulting experience with the Spurs, began coaching in the NBA G League in 2012, and spent the last nine seasons as an assistant with Oklahoma City, Phoenix and Memphis.
The Raptors were unable to re-sign former All-Star point guard Fred VanVleet in free agency as he took big money to sign with Houston, so guard is a position of need. But to get Lillard, Toronto would have to give Portland one of two foundational pieces in All-Star forward Pascal Siakam or swingman Scottie Barnes, the 2022 NBA Rookie of the Year, plus draft picks.
Both are much younger than the 33-year-old Lillard, who has made it clear he wants to be traded to Miami. The Heat reportedly have offered Portland a trade package that included sharpshooter Tyler Herro and two first-round draft picks.
This Raptors leak is most likely the Blazers trying to drive up the price for Miami. Milwaukee, Boston, Philadelphia and Chicago have also shown interest since Lillard's initial trade request. 
Training camps open Wednesday for all teams participating in preseason games outside North America. All other camps open on Oct. 3.
Via SportsLine oddsmakers: Which team will acquire Damian Lillard?
Heat +200
Raptors +300
76ers +700
Nets +1000
Knicks +1100
Celtics +1500
Bucks +1800
Bulls +2000
Get more out of your SportsLine subscription! 
Qualifying SportsLine members receive a 30-day free trial of Paramount+ premium. Sync your account right here.