Red Sox vs. Yankees Friday MLB probable pitchers, odds: Boston and Rafael Devers have been kryptonite for AL Cy Young contender Gerrit Cole
Yankees ace Gerrit Cole takes the mound vs. Boston on Friday. That might not be a good thing.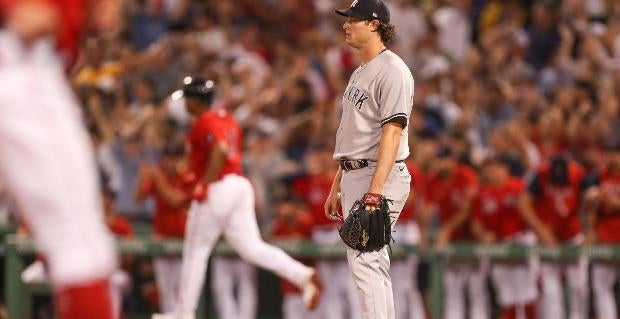 It's June 9 and the Boston Red Sox and New York Yankees are playing their first game of the season on Friday in the Bronx. This writer can't remember a time when it took this long for them to finally face off. It's ace and AL Cy Young contender Gerrit Cole on the mound for New York, which is -165 at Caesars Sportsbook. He has been largely great this year, but the Red Sox have really had his number in the past.
We are presuming this game will be played as air quality conditions are improving in the New York City and are only supposed to get better, so both this series and Saturday's Belmont Stakes shouldn't be threatened. The Yankees' home game vs. the White Sox on Wednesday was postponed. That forced the two to play a doubleheader Thursday, which is never ideal from a bullpen usage standpoint ahead of a big game the next night. 
The 31-year-old Cole is 7-0 with a 2.82 ERA, 1.13 WHIP and 84 strikeouts in 13 starts, good for a Wins Above Replacement of 2.3 that ranks fourth among all MLB starting pitchers. Cole had a bit of a two-start speed bump in late May vs. the Orioles and Padres but returned to form last Saturday at Dodger Stadium, allowing just one run and four hits over six innings against a loaded lineup. Cole is a +450 second-favorite to win the AL Cy Young behind Tampa Bay's Shane McClanahan (+300).
Home runs were a huge problem for Cole last year, allowing 33. This year, he's down to eight, but it seems to be all or nothing: Four starts with two homers allowed and nine with none. I'm not going to give you Cole's career numbers vs. Boston because those would go back to his Astros and Pirates days, but look at his numbers against the Sox the past two years:
2022 – 2-0 despite a 5.59 ERA in five starts with nine homers allowed.
2021 – 2-2 with a 4.91 ERA in four starts with five homers allowed and nine walks.
I will tell you that Red Sox batters (at the time obviously) have hit 19 home runs off Cole, easily his most allowed against any club. Red Sox All-Star third baseman Rafael Devers is truly boom or bust off Cole, batting .250 with 14 strikeouts and six homers and 16 RBI. Enrique Hernandez (9-for-19, three doubles) also hits Cole well.
The Sox will get a big bat back in the lineup Friday in outfielder Adam Duvall, who missed two months due to a fractured left wrist. Few players in the majors were off to a better start than Duvall, who was hitting .414 with four homers and 14 RBI and a ridiculous 1.544 OPS before suffering the injury on April 9 in Detroit.
Boston counters with Garrett Whitlock (2-2, 5.61 ERA), who has walked only five of his 106 batters faced (4.7%). He is 1-0 with a 3.86 ERA in two home starts this year and 1-2 with a 7.07 ERA on the road. Whitlock is 3-1 with a 2.00 ERA in 18 career innings against the Yankees, but this will be the first start against them for the converted reliever. Whitlock was originally a Yankees farmhand and was left unprotected in the Rule 5 draft. Boston claimed him, and the right-hander found immediate success with the Sox. No current Yankee has had much success off him. Aaron Judge has a homer in six at-bats but remains on the IL. 
Get more out of your SportsLine subscription! 
Qualifying SportsLine members receive a 30-day free trial of Paramount+ premium. Sync your account right here.