Super Bowl 55: How to bet props, odds and make picks for 2021 game in Tampa
Super Bowl 55 is the first Sunday of February at Raymond James Stadium in Tampa, and here are some tips for how to bet the most-wagered annual sporting event in the world.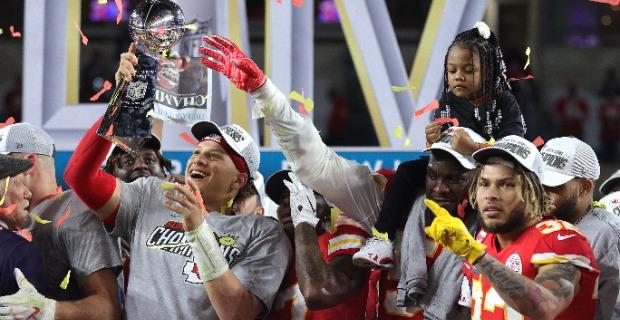 The Tampa Bay Buccaneers have become the first team in NFL history to reach a Super Bowl played in its home stadium. Tom Brady looks for a seventh ring (which would be more than any franchise), but the Bucs opened as 3-point underdogs at William Hill Sportsbook against Patrick Mahomes and the defending Super Bowl champion Kansas City Chiefs.
Super Bowl 55 is scheduled to take place Feb. 7, 2021 at Raymond James Stadium in Tampa, and the NFL remains optimistic it will be played on that date. The 2020 schedule was released in early May and everything was status quo on it. While the teams for Super Bowl 55 won't be known until late January, now is the time to learn about all the betting options -- the hundreds of various props, the different types of game odds, as well as futures picks to hoist the Lombardi Trophy. 
No single game takes more betting action annually than the Super Bowl. The men's NCAA Tournament will take more overall action, but that's spread over three-plus weeks. Soccer's World Cup final will draw a bigger worldwide handle, but the vast majority of that is from outside the United States and that event is every four years.
Sportsbooks like William Hill start planning their Super Bowl offerings months ahead of time and will roll out hundreds of prop options. Last season, Nevada sportsbooks took in $154.7 million on Super Bowl bets on the game between the Chiefs and 49ers.
The Chiefs were down 20-10 more than midway through the fourth quarter, but game MVP Patrick Mahomes led a 31-20 comeback victory. It was the Chiefs' first title since Super Bowl 4 when Kansas City was still an AFL team – that was the final Super Bowl before the AFL/NFL merger.
Nevada's total handle was the largest in the United States, while New Jersey was second in taking $54.2 million in Super Bowl bets and Pennsylvania third with $30.7 million. Total handle includes all prop wagers – and the combined handle on props generally dwarfs action on the spread or game total.
MVP Leads Super Bowl Props 
One of the most popular props is on Super Bowl MVP, and the starting quarterbacks on each side are going to be the two favorites because they usually win the award. Overall, quarterbacks have won MVP a whopping 30 times in 54 Super Bowls. Since 2010, they have won it in eight of 11 Super Bowls.
It is not recommended to wager on a running back winning MVP as it hasn't happened since Super Bowl 33 when Denver's Terrell Davis took home the hardware. No kicker, offensive lineman or tight end has ever won the award. Every other position has at least once.
Another popular prop on the Super Bowl is the coin toss – always called by the visiting team. Bettors like to get off to a fast start and get some momentum. Obviously, it's always a 50-50 proposition on heads/tails or which team wins the coin toss.
In one incredibly odd stretch from Super Bowl 32 through 46, the NFC team won the coin toss every single game. Tails has been the good bet of late, winning in six of the past seven Super Bowls.
While Kansas City looked great in Week 1, it's harder to repeat as champion in the NFL than in the NBA, NHL or Major League Baseball. When an NFL team wins a title, its roster tends to get picked clean by other teams in free agency that offseason.
Plus, with how short NFL careers are, the championship window is incredibly short. The Tom Brady Patriots were the exception, and no team has repeated as Super Bowl champion since Brady's Pats following the 2003 & '04 seasons.
Brady is now with the Tampa Bay Buccaneers, and they are +1200 to win the second title in franchise history. One major trend is working against them: No team has ever played in a Super Bowl in its own stadium.
Rookie QBs, 4 Teams Yet To Earn Glory
Don't bother wagering on any team with a rookie starting quarterback to win a Super Bowl. No rookie QB has even started in the game, much less won it. Brady and the Rams' Kurt Warner both won Super Bowls in the first seasons as starters, but they weren't rookies. Mark Sanchez (with Jets) Joe Flacco (with Ravens) are the only rookies since the 1970 merger to win multiple playoff games in their first season.
The Cincinnati Bengals are +20000 long shots to win Super Bowl 55. They had the No. 1 overall pick in the 2020 NFL Draft and took LSU quarterback Joe Burrow. No team has ever gone from the first overall pick to a Super Bowl win in the same season. Only eight have even made the playoffs that same year, last the 2013 Chiefs.
Four active franchises have never played in a Super Bowl: Detroit Lions, Houston Texans, Jacksonville Jaguars and Cleveland Browns.
As for the game matchup itself, the favorites are 27-25-2 against the spread all-time and 37-17 straight up after Kansas City covered at -1.5 in Super Bowl 54. There have been two "pushes" (ties) against the spread. The largest upset was in Super Bowl 3 when the New York Jets beat the Baltimore Colts 16-7 as 18-point underdogs. The NFC and AFC/AFL have gone 27-27 against one another straight up.
The Over-Under is 26-26-1 in Super Bowl history – there was no total posted on Super Bowl 1 and one "push" in the game's history. 
Super Bowl 55 will be televised by CBS. It last broadcast Super Bowl 53, won 13-3 by the Patriots over the Rams. That was the lowest-scoring SB ever. 
Who wins every NFL game this week? And which teams cover more than 50 percent of the time? Get picks here from the SportsLine Projection Model, which simulates every NFL game 10,000 times and ranked in the Top 10 on NFLPickWatch three of the past four years on straight-up NFL picks.