Super Bowl 55 betting odds recap: Sportsbooks win big with Bucs' 31-9 victory over Chiefs in lower-scoring game
Tampa Bay's upset of Kansas City in Super Bowl 55 was largely a big win for the sportsbooks.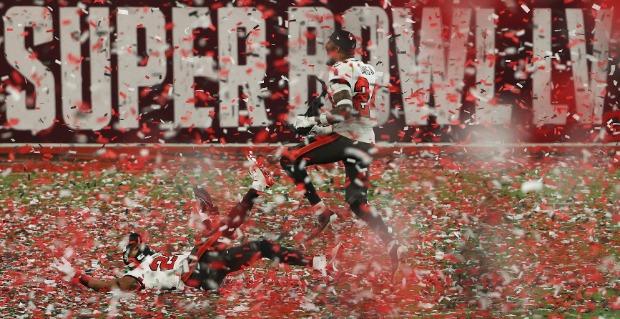 An ideal result for William Hill Sportsbook and others for Sunday's Super Bowl 55 from Tampa was for the Kansas City Chiefs to beat the Tampa Bay Buccaneers by 1-2 points as that way the books would win on the Bucs covering the 3 points and not lose with Tampa Bay at +145 on the moneyline. Tom Brady's Bucs won 31-9, and it was still a very good night for the books. The team with the better overall record (Kansas City; not including any ties) is now a shocking 2-11 overall and 1-12 against the spread in Super Bowls since 2006.
A total of 63 percent of all tickets sold on the spread at William Hill was on the Chiefs as was 65 percent of all money wagered. That spread never once got off 3 points, though. The total closed at 55.5 points and 68 percent of all tickets sold and 55 percent of all money wagered was on the Over. So, those were two huge wins for the books.
The book did take a bit of a hit on the moneyline with Tampa closing at +140 – although one bettor lost a $1.1 million wager on the Kansas City moneyline -- as well as on Bucs' futures odds to win Super Bowl 55 from way back when they first opened in the winter of 2020.
Tampa Bay was as high as +6000 at one point, but adding Brady dropped that number significantly and there was heavier action on the Bucs to win it all than any team. Two notable winners on Bucs futures: On bettor placed $40,000 on them to win it all on Jan. 2 at +1200 and won $40,000. Another placed $7,500 on the Bucs at +1500 on June 6, 2020, and won $112,500.
In winning his record seventh Super Bowl title – now more than any franchise has – Brady won his record fifth MVP Award. He was the most popularly bet to win MVP at William Hill by total dollars at 21 percent and total tickets at 10 percent. One bettor at William Hill in Nevada dropped $5K on Brady at +180 (closed at +200) and won $9K.
Individually, Rob Gronkowski was a loser for the book in scoring the game's first touchdown on an 8-yard pass from Brady with 37 seconds left in the first quarter to give the Bucs a 7-3 lead they would never relinquish. One of the most popular prop bets at the book was Gronk at +160 to score a touchdown at any point -- he would add another TD catch in the second quarter and two TDs for him paid out at +1600.
"Overall a solid day," a William Hill spokesperson said. "Game going Under was huge and Tampa was the preferred outcome. Anything Gronk related was bad for us but we expected it because he's a popular player. Biggest prop we won on was exact margin of victory with not many long-shot bets on Tampa winning by a large margin."    
That Kansas City was held without a touchdown was stunning as Patrick Mahomes was under siege all night. In fact, he was pressured more in this game than any QB in Super Bowl history (29), passing the record of 25 by Jim Kelly in SB XXVI. The last time Mahomes started and lost a game by more than one score was Nov. 19, 2016 when he was at Texas Tech and lost 66-10 at Iowa State.
Mahomes finished 26 of 49 for 270 yards and two picks Sunday. That Mahomes would throw a pick before a TD pass paid +330. Mahomes throwing a pick at any point was +110. The Chiefs to be the first team to thrown an interception was +140 and that the Super Bowl's first turnover was an interception was -135.
That Kansas City scored exactly nine points was $15000 and one bettor turned $20 into $3,000 there. No TDs for the Chiefs was +6000. Mahomes with zero TDs rushing or passing was +1500 and someone turned $3,000 into $45,000 there. Tampa Bay to finish with exactly 31 points was +1400.
The 2021 season is scheduled to begin on Sept. 9, and the champion Bucs would host the Kickoff Game -- SportsLine oddsmakers have this team as the favored opponent.