Cincinnati Bengals betting odds, Week 1 Vegas spread and Joe Burrow NFL MVP chances
The Bengals were the worst team in the league last year, but that netted them top pick Joe Burrow, and there's nowhere to go but up. Here is how their schedule breaks down: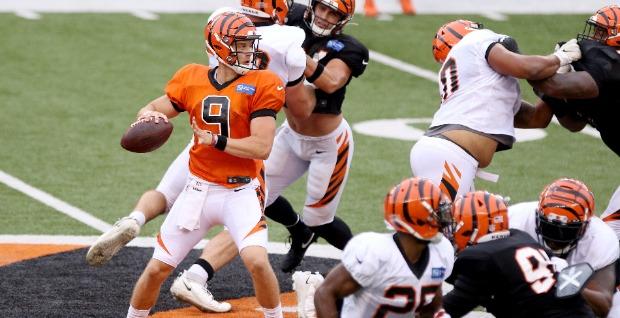 A lone rookie quarterback will start Week 1 in the 2020 NFL season and it's the one everyone expected: The Cincinnati Bengals' Joe Burrow, the record-setting Heisman Trophy-winning quarterback from LSU who was the No. 1 overall pick in the draft. The Bengals are 3-point underdogs against the visiting Los Angeles Chargers and it's only the second time since 2010 that the Bengals will open a season at home. Cincinnati opened as a 3-point underdog. 
Just don't expect Burrow to lead the Bengals from last place to the playoffs this year. Since 2010, just six rookie quarterbacks (minimum of seven starts) have led their team to the playoffs and not a single rookie QB has led his team to the Super Bowl. Although it should be noted that the last touted rookie QB to start for Cincinnati was Andy Dalton, and he did lead the team to the playoffs in 2011. 
It took Dalton (now in Dallas) seven seasons to get a season opener at home and a year to get a night game. Burrow accomplishes both in the first two weeks as the Bengals visit AFC North rival Cleveland on Thursday in Week 2. Cincinnati also hosts Pittsburgh on Monday in Week 15. Somewhat rare for a team coming off such a terrible season to be featured on Monday night, but it's all because of Burrow. Not that the Bengals likely will be in playoff competition, but they close with three of four at home. Alas, they probably won't be favored in any them. 
With Dalton the primary QB last year (then-rookie Ryan Finley started a few games too), the Bengals finished an NFL-worst 2-14, although a couple of other teams were outscored by more points. That record earned Cincinnati the top overall pick in the draft for the first time since 2003 when it took USC quarterback Carson Palmer. The Bengals were near the bottom of the league on both sides of the ball in 2019, scoring just over 17 points per game and allowing more than 26. 
The season started with 11 consecutive losses, and the Bengals went 4-7 ATS, covering three times as an underdog of 9.5 or more. The only other ATS wins were in the two outright victories, at +2.5 both times. The Over hit in the final four games as the defense allowed 30.5 points per game.
Now, Burrow is on board, but the team has few weapons beyond veteran receiver A.J. Green, who missed last season with an ankle injury, and running back Joe Mixon. Second-year coach Zac Taylor has his work cut out for him, but with a new franchise quarterback in the mix and some defensive upgrades, things are looking up a bit.               
CINCINNATI BENGALS BETTING PROFILE
2019 record: 2-14 (last, AFC North)
2019 against the spread: 6-10 ATS
2019 ATS margin: -3.2
2019 Over-Under: 7-9 O-U
2020 strength of schedule: Sixth-easiest; Bengals opponents combined for a .477 winning percentage last year (122-134).
WHO COVERS EVERY NFL GAME? JOIN SPORTSLINE NOW TO GET PICKS FROM AN ADVANCED COMPUTER MODEL THAT'S UP MORE THAN $7,000 ON ITS TOP-RATED PICKS AND HAS NEVER HAD A LOSING SEASON!
WILLIAM HILL 2020 CINCINNATI BENGALS FUTURES ODDS
Win total: 5.5 (Over -140)
To make playoffs: No -1000, yes +650
Division: +3500 to win AFC North
Conference: +10000 to win AFC
Super Bowl: +20000 to win SB 55
MVP: Joe Burrow +8000, Joe Mixon +15000
Offensive ROY: QB Joe Burrow +275 (favorite), WR Tee Higgins +2500
Defensive ROY: LB Akeem Davis-Gaither +4000, LB Logan Wilson +8000, LB Markus Bailey +10000
Comeback POY: WR A.J. Green +800
Coach of the Year: Zac Taylor +2800 
SportsLine Model's projection: 5.4 wins (Lean to the Under) 
CINCINNATI BENGALS GAME-BY-GAME BETTING TRENDS
Week 1 vs. LA Chargers, 4:05 PM ET: The Bengals are 2-6 SU but 5-3 ATS in the past eight against the AFC West.  
Week 2 at Cleveland, 8:20 PM ET (Thursday): A 27-18 loss as a 6.5-point underdog last season broke a 5-0 ATS run (4-1 SU) at FirstEnergy Stadium. 
Week 3 at Philadelphia, 1 PM ET: The Bengals are 9-0 ATS (5-3-1 SU) in the past nine (dating to 1988).
Week 4 vs. Jacksonville, 1 PM ET: The Jaguars are 5-2-1 (5-3 SU) in their past eight visits.  
Week 5 at Baltimore, 1 PM ET: The Ravens are 7-3 SU but just 3-6-1 ATS in the past 10 home meetings.   
Week 6 at Indianapolis, 1 PM ET: The Bengals are 4-1 SU and ATS in the past five after losing the seven previous meetings.   
Week 7 vs. Cleveland, 1 PM ET: The Bengals are 9-2 in the past 11 home matchups (6-4-1 ATS).   
Week 8 vs. Tennessee, 1 PM ET: The Titans are 6-2 SU (4-3-1 ATS) and the Under is 7-1 in their past eight visits.  
 Week 9 BYE: Cincy is 1-5 SU and ATS in its past five after the off week. 
Week 10 at Pittsburgh, 1 PM ET: The Bengals have lost six of the past seven (2-5 ATS) in Pittsburgh. 
Week 11 at Washington, 1 PM ET: Cincy is 7-3 ATS (4-6 SU) in its past 10 on the road against the NFC East.  
Week 12 vs. NY Giants, 1 PM ET: The Bengals are 6-1-1 SU (6-2 ATS) and the Under is 7-1 in the past eight at home against the NFC East.
Week 13 at Miami, 1 PM ET: The Dolphins are 10-4 SU and ATS in the past 14 meetings (dating to 1987).   
Week 14 vs. Dallas, 1 PM ET: The Bengals are 9-1-1 SU and 8-3 ATS in the past 11 at home against the NFC East.  
Week 15 vs. Pittsburgh, 8:15 PM ET (Monday): The Steelers have won six in a row (4-1-1 ATS) at Paul Brown Stadium.   
Week 16 at Houston, 1 PM ET: The Texans are 6-1 SU (5-2 ATS) and the Under is 6-1 in the past seven meetings.  
Week 17 vs. Baltimore, 1 PM ET: The Bengals are 6-2 SU and 5-3 ATS in the past eight home meetings.
Some trends contributed by SDQL Gurus     
EXPERT PICK FROM LEGENDARY ODDSMAKER KENNY WHITE: Under 5.5 wins (+135). 
Burrow will start his career with four road games in his first six with a four in five weeks run. If the Bengals don't get wins early its big trouble because they end with Dallas, Pittsburgh, at Houston and Baltimore.
SO WHAT 2020 FANTASY FOOTBALL SLEEPER SHOULD YOU SNATCH IN YOUR DRAFT? AND WHICH WR1 CANDIDATE CAN YOU WAIT ON UNTIL LATE? JOIN SPORTSLINE NOW TO GET 2020 FANTASY FOOTBALL CHEAT SHEETS FROM THE MODEL THAT WAS ALL OVER DERRICK HENRY'S HUGE SEASON, AND FIND OUT.