2023 NFL Week 1 odds: Jordan Love era begins with Packers rare underdogs vs. Bears; top rookie showdown between Panthers' Bryce Young and Falcons' Bijan Robinson
The Green Bay Packers begin life without Aaron Rodgers in Chicago.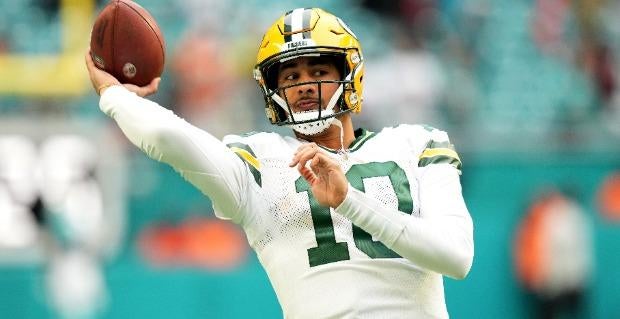 On Sept. 8, 2008, Aaron Rodgers officially became the Green Bay Packers' starting quarterback, replacing a legend in Brett Favre. Rodgers led a 24-19 home win vs. Minnesota that Monday night. Fifteen years later almost to the day, Jordan Love will officially become the Packers' starting quarterback, replacing the traded Rodgers as Green Bay opens the 2023 season at rival Chicago on Sept. 10. The Bears are 2.5-point favorites at Caesars Sportsbook, which is notable itself. You can check out early expert picks for the entire Week 1 slate here.
If that Packers-Bears spread holds, Chicago would be a favorite in the series for just the fourth time since 2008, and the first time since Week 1 in 2019 when the Bears lost 10-3 at home. That Chicago team was coming off a 2018 NFC North title and looked like a rising power under Matt Nagy and QB Mitchell Trubisky. That didn't exactly work out, to say the least.
The Packers infamously traded up a few spots in the 2020 NFL Draft to take Love at No. 26 out of Utah State, even though Rodgers was still playing at an MVP level. That selection is part of what eventually led to Rodgers' divorce with the club this offseason. No one really has any clue what Love can be, although Green Bay already signed him to a one-year extension through 2024 instead of exercising his rookie fifth-year option.
As a rookie, Love didn't get any preseason action because there wasn't one -- the COVID-19 pandemic wiped out all the preseason games, and he never saw the field in the regular season, either. In his second year, Love started his lone NFL game, a 13-7 loss in Kansas City that Rodgers missed due to a positive COVID test. Last season, Love's only meaningful action came in the fourth quarter of a late-season loss at Philadelphia. Love did at least take most of Green Bay's first-team reps the past two summers while Rodgers was away from the team during the offseason program.
"I think the first year was the longest," Love said recently to reporters. "Rookie year, it's a long year, first year in the league, first year playing a full season. It's a lot different than college. I think the next two years kinda went a little bit faster, kinda flew by. But yeah, it's definitely felt like a while."
Rather amazingly, Love projects to be the only former first-round pick to start on offense in Week 1 for Green Bay, compared to as many as eight first-round picks on defense. You can see why Rodgers was so perturbed in 2020 when the team didn't get him any offensive help with that draft pick.
Just like Favre, Rodgers absolutely owned the Bears with a 24-5 regular-season record in the NFL's oldest rivalry. Chicago not only has lost eight straight to Green Bay, but didn't cover the spread in any of those games. The last Bears win in the rivalry was at Lambeau Field on Dec. 16, 2018, when Trubisky somehow outplayed Rodgers. This will be the sixth time this century the teams open against one another, with Green Bay winning four of the first five.
Love has not taken a snap against Chicago in his career. Bears third-year QB Justin Fields threw for only 324 yards in the two one-sided losses last year with no TDs and three picks but did rush for two scores. As an aside, this season will be the first time since 2004 where Chicago and Green Bay don't play a prime-time game unless the NFL flexes the Week 18 finale.
The Bears of course traded the No. 1 overall pick in this year's draft to Carolina, which took Alabama QB Bryce Young. He's a +400 second favorite for NFL Offensive Rookie of the Year behind Falcons running back Bijan Robinson (+350). Those two face off in Week 1 in Atlanta, assuming Young wins the starting job in camp.
This isn't 2003 when the Bengals chose QB Carson Palmer first overall and didn't play him a snap as a rookie. Nowadays, players chosen first don't sit as a rookie if they're healthy. The Falcons are 3-point favorites. Carolina last had the No. 1 overall pick in 2011 and took QB Cam Newton. He started from Day 1. Young only has to beat out Andy Dalton.
As for Robinson, chosen No. 8 overall, he signed his rookie contract this week already. The former Texas All-American and Doak Walker Award winner might be sharing carries for a while with Tyler Allgeier, who finished his rookie season with more than 1,000 rushing yards, and veteran Cordarrelle Patterson.
Caesars Week 1 Opening NFL Odds
Thursday: Lions at Chiefs (-7, O/U 54)
Cardinals at Commanders (-5.5, 41)
Dolphins at Chargers (-2.5, 49.5)
Titans at Saints (-3.5, 42)
Texans at Ravens (-9, 45.5)
Bengals at Browns (+2.5, 47)
Bucs at Vikings (-7, 45.5)
49ers at Steelers (+3, 41.5)
Jaguars at Colts (+3.5, 43)
Raiders at Broncos (-3, 44.5)
Panthers at Falcons (-3, 44)
Rams at Seahawks (-5.5, 47)
Packers at Bears (-2.5, 42)
Eagles at Patriots (+4.5, 46)
Sunday night: Cowboys at Giants (+3, 47)
Monday: Bills at Jets (+1, 47)
Get more out of your SportsLine subscription! 
Qualifying SportsLine members receive a 30-day free trial of Paramount+ premium. Sync your account right here.