Ben Simmons NBA trade odds update: Timberwolves, Kings, Trail Blazers, Warriors lead favored destinations for Sixers All-Star
Ben Simmons has officially told the 76ers he wants to be traded and will not report to training camp later this month.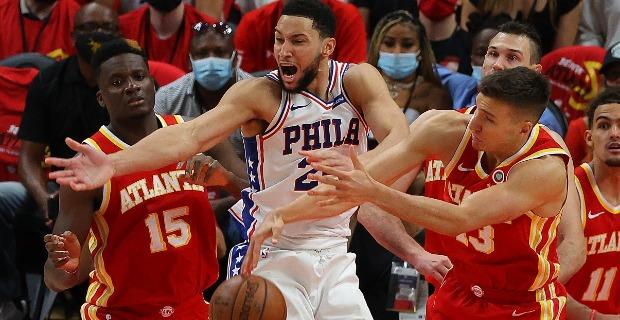 According to the Philadelphia Inquirer, 76ers three-time All-Star point forward Ben Simmons has told team officials that he no longer wants to be with the team, is demanding a trade and does not intend to report to training camp if still with the club -- camp begins Sept. 28. He met with owner Josh Harris, president of basketball operations Daryl Morey, GM Elton Brand and Coach Doc Rivers recently in Los Angeles. SportsLine offers updated NBA odds on where Simmons will be traded.
When we first addressed this in late June, the Portland Trail Blazers were the betting favorites and while they don't hold that role any longer are still a top option. Damian Lillard appears to be off the table as he is willing to give the team one more chance to contend this year, but Simmons for a package involving CJ McCollum always seemed the most likely scenario. Portland recently made a three-way trade and landed Cavaliers forward Larry Nance, but that shouldn't impede any potential Simmons deal.
There's no question that the 76ers want guard/perimeter help in any Simmons trade. The Sacramento Kings could offer that. Reportedly, Philadelphia would be open to a package involving young point guard De'Aaron Fox, but the Kings aren't interested in that or sending away fellow guard Tyrese Haliburton, who was first-team All-Rookie last season. A trade, though, of shooting guard Buddy Hield and forward Marvin Bagley, the injury-plagued but still young No. 2 overall pick from the 2018 draft, would work financially. Simmons has four years and $147 million remaining on his deal.
It's no secret around the NBA that the Minnesota Timberwolves want to get Simmons, but Philadelphia reportedly isn't interested in D'Angelo Russell and the Wolves aren't dealing Karl-Anthony Towns or Anthony Edwards, so a third team may have to get involved.
Golden State and Philadelphia talked before the draft, but the Warriors opted to keep picks No. 7 and 14 and took Jonathan Kuminga and Moses Moody, respectively. The Sixers reportedly asked Andrew Wiggins, James Wiseman, the No. 7 and 14 picks and two future first-round picks in exchange for Simmons. That's an absurd price. For what it's worth, Simmons wants to play in California, but he has no leverage.
San Antonio reportedly is prepared to give up the likes of Dejounte Murray and Lonnie Walker for Simmons, but that won't be enough. Oklahoma City has a gazillion draft picks and Simmons is still young enough to be on the Spurts' timeline of a return to respectability. The Raptors and Sixers have talked a few times, but with Kyle Lowry already signed-and-traded to Miami, there may not be a fit.
Washington would be in play if the Wizards were ready to dangle All-Star guard Bradley Beal, but the Wiz instead are planning to build around him – unless Beal demands his own trade. Simmons owns a home in L.A. and would love to play for to the Clippers, but I don't see how they have anything the Sixers want in return as obviously Kawhi Leonard is off the table, plus hurt (the Lakers have even less to offer so they aren't listed).
Via SportsLine oddsmakers: With which team will Ben Simmons play his first game of the 2021-22 season (if not 76ers)?
Timberwolves +300
Kings +400
Blazers +700
Warriors +700
Spurs +1000
Raptors +1200
Thunder +1500
Wizards +1700
Clippers +2000
Which Fantasy Football sleepers, breakouts and busts should you target and fade? And which QB shocks the NFL with a top-five performance? Join SportsLine now to get 2021 Fantasy Football cheat sheets for every single position, all from the model that called Josh Allen's huge season.