Other SportsLine brackets: Todd Fuhrman | Josh Nagel | Simulation
The NCAA Tournament -- especially the first two days -- represent high holy days on the sports gambling calendar.
No event offers the all-day frenetic energy of the NCAA Tournament; it's truly a gambler's paradise.
This guide will help you navigate through both the opening rounds and the Final Four, as I believe I've got winners to help line your wallet with cash and win that bracket pool!
East Region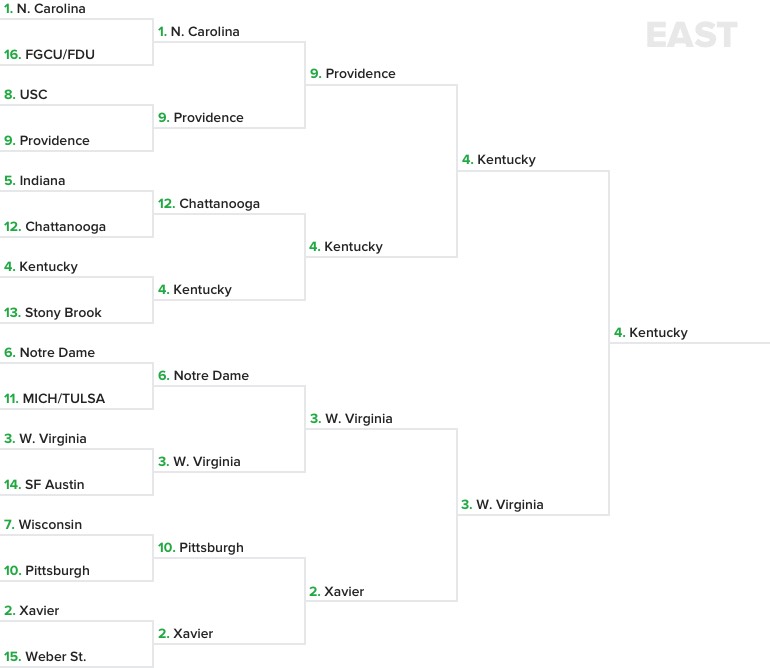 I'll bet you think I've got North Carolina in the Final Four, right? Everyone else probably will, right?
Well, you're right that most people will. But as for me? I will not.
I have the Tar Heels getting bounced in the second round by the Providence Friars. That's right. I said it. Kris Dunn and Ben Bentil are both NBA-caliber players, and will help propel Providence to the biggest upset of the entire tournament.
So with UNC facing an early ouster in my bracket, it leaves the East Region wide open.
On the other side, I like chalk to advance to the Sweet 16, with No. 2 Xavier battling No. 3 West Virginia for the right to move onto the regional final.
(And no, I do not believe Stephen F. Austin will pull an upset of West Virginia in the first round, as I've heard some pundits predict.)
As for first-round upsets: I've got Chattanooga moving past Tom Crean and Indiana, and Pittsburgh upending Wisconsin.
Ultimately, I see Bob Huggins' team moving past Xavier in a hard-fought matchup -- and they'll meet Kentucky for the right to move to the Final Four.
And there, it'll be Tyler Ulis and the Wildcats cutting down the regional nets. I just love how Kentucky is playing, and Ulis is an absolute stud.
Give me the No. 4 Wildcats to reach the Final Four.
South Region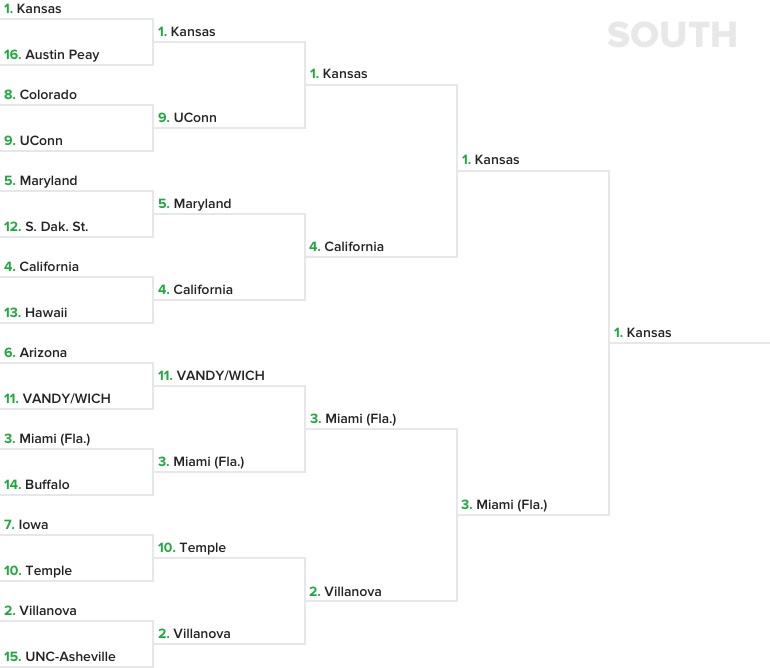 The South Region is absolutely loaded, which could be bad news for No. 1 Kansas.
The operative word in that sentence, of course, is "could" -- as I'm expecting the Jayhawks to mow down the competition en route to Houston.
I've been saying it for about a month now here on SportsLine and The Opening Line podcast: Kansas is the best team in the country and will win the national title.
So I'm not about to change my pick, especially after the Jayhawks rolled through the Big 12 tournament.
The most intriguing second-round matchup in the entire Tournament will be between No. 4 California and No. 5 Maryland. Both teams are ripe with NBA talent, and both have the ability to test Kansas.
Ultimately, I like the Golden Bears to edge past an inconsistent Maryland team, behind great games from Jaylen Brown and Ivan Rabb.
I'm actually annoyed Cal ended up in the same bracket as Kansas, as I would have taken them to beat any other No. 1 seed in the Sweet 16. But they won't beat Kansas, which I have advancing to the Elite Eight.
On the other side of the bracket, I like No. 2 Villanova and No. 3 Miami to meet in the regional semifinal, with the Hurricanes moving on to the Elite Eight -- where they'll lose to Kansas.
I like two upsets in the South -- No. 9 UConn over No. 8 Colorado and No. 11 Wichita State over No. 6 Arizona. And yes, I like the Shockers to beat Vanderbilt in the First Four play-in game.
Midwest Region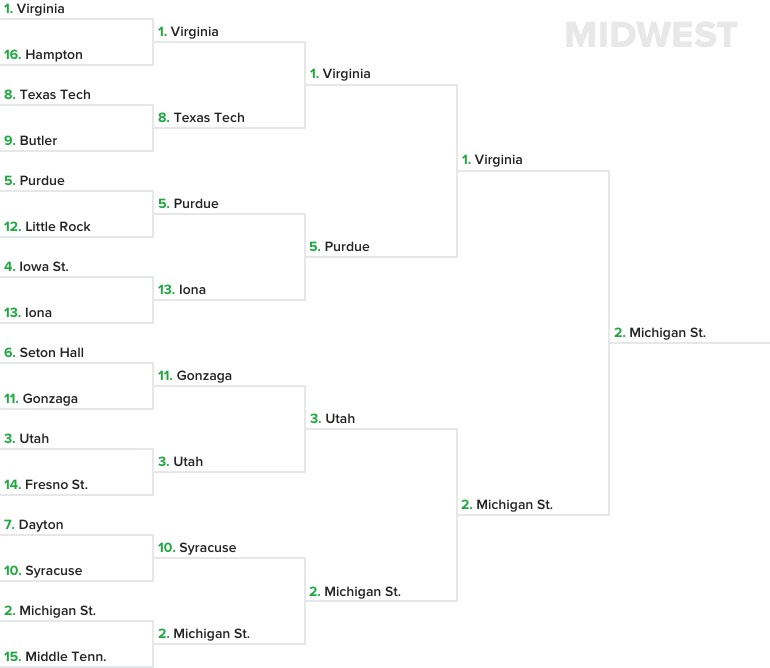 Let's get down to brass tacks in this region: I don't see a scenario where No. 1 Virginia and No. 2 Michigan State aren't playing in the elite eight. So let's slot the Cavaliers and Spartans into that spot and move on to the rest of the region.
I like Syracuse in a 10-7 upset over Dayton, and I think No. 11 Gonzaga upends No. 6 Seton Hall. And give me the No. 13 Iona Gaels to beat No 4. Iowa State outright.
I like Purdue to get past Iona in the second round and eventually fall to Virginia in the Sweet 16. And give me Utah to beat Gonzaga in the second round before being bounced by Michigan State.
And for the third consecutive year, I like Michigan State to bounce Virginia out of the NCAA Tournament. Sorry, Cavalier Nation.
West Region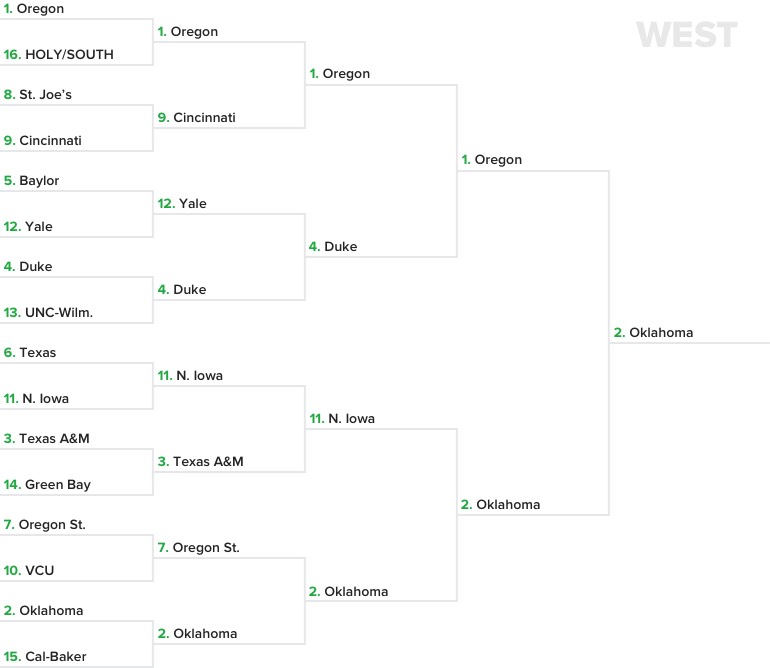 While one can construct an argument that the West Region is wide open, I actually like chalk to advance to the regional final, with No. 1 Oregon meeting Buddy Hield and No. 2 Oklahoma.
I'm taking Cincinnati in a mild upset over St. Joe's, and my big upset is No. 12 Yale over No. 5 Baylor.
You might think I'm nuts, but remember Baylor was bounced early last year as a high seed, and that the game will be played in Providence, making it a quasi-home affair for Yale. I think the Bulldogs win outright before falling to Duke in the second round.
My highest-seeded Sweet 16 team will be No. 11 Northern Iowa, which has three solid guards and a nice resume of wins, including one over North Carolina. I see the Panthers completing a sweep of Texas in the first two rounds, brushing aside Texas before squeaking past Texas A&M.
Oklahoma will end UNI's Cinderella run in the Sweet 16, while Oregon will beat Duke by double digits, setting up an electric regional final.
And in that regional final, Buddy Hield will put up 35-plus points to lead Oklahoma back to the Final Four.
Final Four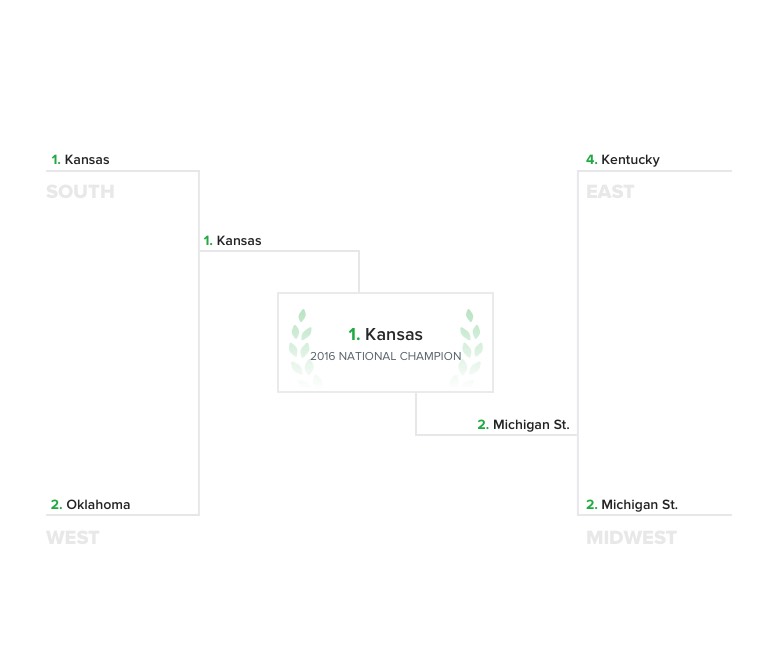 Kansas and Oklahoma have already played two immensely entertaining games this year --including the probable game of the year back in January -- so why not a third contest between the two Big 12 rivals?
Unfortunately for Oklahoma, I see the third tilt going the way of the first two -- with Kansas emerging victorious.
On the other side, I like Michigan State to win a close game over Kentucky. I love Tyler Ulis, but he won't be enough to beat Denzel Valentine and the Spartans.
And in the national title game, I like Kansas to upend Michigan State in what should be an instant classic, and for Bill Self to win his second championship as coach of the Jayhawks.