Jordan Travis out for season odds fallout: Winner of Florida State-Louisville ACC championship now expected to miss College Football Playoff
Florida State quarterback Jordan Travis is done for the year.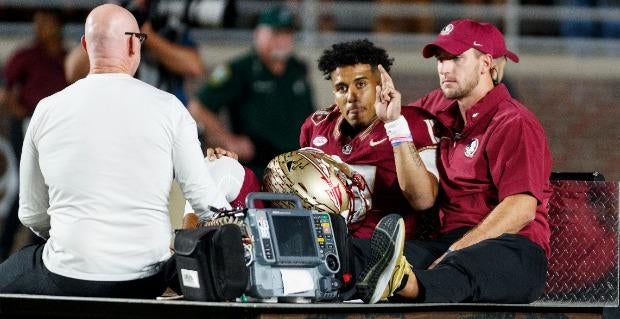 Entering Week 12 of the college football season, unbeaten No. 4 Florida State had the shortest odds by far to reach the College Football Playoff of any school because the Seminoles were perceived to have the easiest route there through the ACC title game. However, star quarterback Jordan Travis suffered a season-ending injury in Saturday's non-conference "scrimmage" against North Alabama, and the Seminoles are now -320 to not reach the playoff at DraftKings. They're priced +250 to make it.
Why are the Seminoles even playing North Alabama you ask? A lot of schools schedule an FCS opponent the week before a rivalry game, and Florida State is at Florida this Saturday with FSU at -6.5. It had been a double-digit favorite on last week's lookahead lines. Florida will be without its own starting quarterback, Graham Mertz, after he suffered a season-ending collarbone fracture last week against Missouri.
Travis was carted off the field at Doak Campbell Stadium with an air cast on his left leg. He was hurt on a run in the first quarter against North Alabama on Saturday night. Travis was crossing midfield when UNA players converged on the tackle, and Travis' leg bent at an awkward angle underneath him as he landed on the turf. The senior confirmed today that his NCAA career is finished. Travis will finish as the only player in school history ranked in the top 10 on both FSU's career passing touchdowns and rushing touchdowns lists.
"I have been overwhelmed by the support from my teammates, coaches, the Florida State community and those all around the world," Travis wrote in a statement on social media. "Although the injury [...] marks the end of my Seminole playing career, the great memories created here at FSU will never fade. Being the quarterback here at Florida State University has been a dream come true. I am humbled, honored and forever grateful. The journey this team set out on is not over yet as all of our goals still lie just ahead. I am excited to be by my brothers' sides every day as we continue our attack. We're all we got, we're all we need. Job's not finished. Go Noles!"
Junior Tate Rodemaker will presumably take over as starter after relieving Travis in the 58-13 win over North Alabama. Rodemaker was 13-for-23 for 217 yards and two scores. The redshirt junior had thrown 70 career passes leading into Week 12, completing 61.4% of them for 550 yards, five touchdowns and five interceptions. Sister-site 247Sports ranked Rodemaker the No. 12 overall pro-style QB in the Class of 2020 out of Georgia.
Florida State, which has won 16 straight games, also ballooned from around +800 to +3000 to win the national title, behind even one-loss schools Oregon (+600), Alabama (+700), Texas (+1300) and Washington (+1500).
The Seminoles had been -7.5 on the lookahead lines for the ACC title game vs. Louisville, but the spread is now off the board. The Cardinals are +2000 to make the playoff and -20000 to miss it, so oddsmakers are telling you they think the committee may not take the ACC champion regardless of who wins. How much will the committee punish FSU for an injury if the Seminoles run the table?
Looking for even more Black Friday deals? Fashion, beauty, sports fan gear, fitness equipment, furniture, appliances, mattresses, toys – no matter the category, our friends at ET, CBS Sports, and CBS News have your holiday shopping needs covered.