Trey Lance injury: 49ers' Super Bowl odds slightly improve at sportsbook with Jimmy Garoppolo back as starting QB
The 49ers will play the rest of the season without quarterback Trey Lance.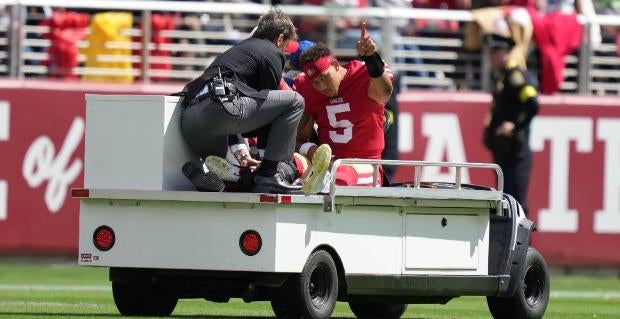 For a while this summer, no player was taking more betting action at Caesars Sportsbook to win NFL MVP than San Francisco 49ers second-year quarterback Trey Lance despite having all of two professional starts under his belt. That bet will not hit with the news that Lance will miss the season after breaking his ankle in Sunday's win over Seattle. He'll have surgery today. I can't remember the last time I saw a team lose a starting quarterback and have its Super Bowl odds improve, but the Niners have dropped from +2000 to +1800 at PointsBet with this news.
Most of San Francisco's other futures odds have stayed pretty much the same: +150 second favorites at DraftKings to win the NFC West, over/under 9.5 wins, and -190 to make the playoffs and +150 to miss. Garoppolo is +20000 to win MVP, and Lance is obviously no longer a betting option.
Remember, the Niners surprised pretty much everyone when they didn't trade or cut Garoppolo on the eve of the season and instead reworked his contract to be worth $6.5 million fully guaranteed with incentives (that he'll probably now reach barring injury) that can push it to close to $16 million. The deal lowered Garoppolo's 2022 salary-cap number from $26.95 million to around $8.5 million.
Lance had not looked that great in his game-and-a-half or so, completing 15 of his 31 passes for 194 yards with a pick. That rating of 55.0 is second-worst in the league. Garoppolo was pretty sharp when he took over Sunday against the Seahawks, completing 13 of 21 for 154 yards with a passing TD and a rushing score. Just for a point of comparison, that's good for a rating of 100.1.
NFL analyst Maurice Jones-Drew says the Niners are still Super Bowl contenders: "I think everyone in the NFC is nervous about this. With Trey Lance, you were going to see more read-option, as you saw there in the play where he got hurt. Kind of a quarterback read. They were going to experiment there a little bit, still trying to figure out their offense with him. … But with Jimmy G, you know your offense. You know what's going on. You know that you're going to run the ball, play-action pass. You're going to see the check downs. You're going to see the Deebo Samuel quick screens. You're going to see what you saw last year, which ran them all the way to the NFC Championship Game."
Garoppolo is a good player but one knock on him is that he's injury-prone, so the Niners figure to sign a veteran quarterback this week as the only other QB on the roster was Mr. Irrelevant in the 2022 draft, Iowa State's Brock Purdy. He beat out Nate Sudfeld for the third spot on the active roster; Sudfeld is now in Detroit.
Cam Newton is available. So is Colin Kaepernick (that would be truly stunning). San Francisco also can sign someone off another team's practice squad (Josh Rosen?) except for the Broncos' this week because they play Sunday in Denver. The team also could trade for someone -- perhaps Pittsburgh third-stringer Mason Rudolph.
Looking for the best picks against the spread, sharp plays on the total and props you can take straight to the pay window? Join Jonathan Coachman on The Early Edge as he speaks with SportsLine's top handicappers to preview the day's biggest games. We promise to keep it short and sweet and to put some green in your pocket. The Early Edge is in your feed every single day by 11 a.m. ET. Subscribe right here on YouTube to watch daily, plus don't miss The Early Edge specials and live shows!