Next USC Trojans football coach odds: Luke Fickell, James Franklin, Chris Petersen, Bob Stoops, Urban Meyer favorites to replace Clay Helton full time
One of the marquee college football coaching jobs is open at USC.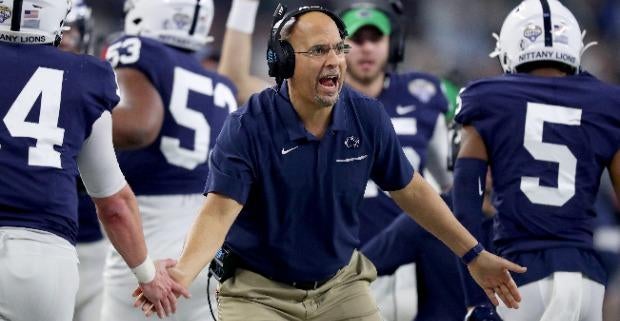 It's not a surprise that USC fired football coach Clay Helton at some point this year as he entered the season on one of the hottest seats in the nation, but it was pretty shocking that the Trojans did it after just two weeks – although, they were embarrassed at home as 18-point favorites this past Saturday against Stanford. Associate head coach Donte Williams will finish out the year as the interim head coach but isn't a candidate for the full-time job. SportsLine offers NCAAF odds on the next USC permanent coach.
Cincinnati's Luke Fickell is at the top of the list because new USC athletic director Mike Bohn hired Fickell to be the Bearcats' head coach when he was the athletic director at Cincinnati. Going from a Group of 5 school to USC would obviously be a no-brainer move for Fickell. However, he is an Ohio guy through and through and Cincinnati will be playing in the Big 12 in a few years.
Penn State's James Franklin has previously been linked to the USC job (would be first Black head football coach there, which isn't nothing), and he might be ready to get out of the Big Ten East Division and away from playing Ohio State every year. Franklin does have a sizable buyout, and USC just had to pay more than $10 million to get rid of Helton. Franklin's 2022 recruiting class at PSU is also shaping up as his best ever and might be No. 1 in the nation so that could keep him in Happy Valley. 
Two guys who would not cost USC any type of buyout are "retired" Chris Petersen and Bob Stoops. The Trojans tried to hire Petersen from Boise State after the 2013 season. Stoops, meanwhile, was mega-successful at Oklahoma and recruited well in California while there. At 61, he might want to stay in the cushier job of a TV analyst for Fox.
Iowa State's Matt Campbell is always linked with higher-profile Power 5 jobs but like Fickell is a career Midwestern guy. USC might try to give Oregon's Mario Cristobal a call, but the Ducks surely will be giving Cristobal a huge raise and extension any day now on the wake of their big win at Ohio State on Saturday.
It's simply a matter of time before Alabama offensive coordinator Bill O'Brien is a head coach again, whether it's in the NFL or college. Minnesota's PJ Fleck would bring a Pete Carroll-level of charisma to the USC job – but the LA Times wonders if Fleck is "too quirky" for a big city.
Would Urban Meyer actually pull a Bobby Petrino and bail on the NFL in less than a year? His Jaguars debut has not gone smoothly thus far and CBS Sports insider Jason LaCanfora reported Monday that there are already problems within the organization. None less than Nick Saban lasted just one year with a Florida NFL team (Dolphins) before returning a college power to glory. How much fun would it be if USC brought back Lane Kiffin? Not likely but it sure would be entertaining.
The Trojans are at Washington State this Saturday. 
Via SportsLine oddsmakers: Favorites to be next full-time USC coach
Luke Fickell +600
James Franklin +600
Chris Petersen +700
Bob Stoops +800
Matt Campbell +1000
PJ Fleck +1000
Bill O'Brien +1100
Urban Meyer +1200
Mario Cristobal +1500
Gary Patterson +1800
Tony Elliott +2000
Lane Kiffin +3000
Who wins every college football game? And which teams will sink your bankroll? Join SportsLine now to get college football picks every week, all from the model that simulates every game 10,000 times and went 56-36 on top-rated picks last season.