Washington Football Team next nickname updated odds: Commanders, RedHogs new favorites with RedWolves no longer in consideration
The Washington Football Team will announce its new nickname on Feb. 2.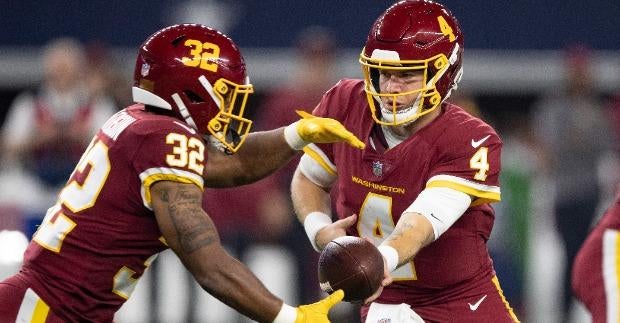 Back in mid-August when SportsLine oddsmakers released odds on the new nickname of the Washington Football Team, RedWolves was the betting favorite and was easily the fan favorite as well. However, on Tuesday the team announced that it would be unveiling the new nickname Feb. 2 and RedWolves wasn't an option for copyright reasons. Thus, the new favorites are Commanders and RedHogs.
"Early on we understood Wolves -- or some variation of it -- was one of our fan favorites," team president Jason Wright wrote in a statement on the team site today. "As I've said all along, we take feedback from our fans seriously, and because of your interest in this name, we put Wolves on a list of options to explore fully. Once we began looking into Wolves, however, we became aware of a notable challenge: trademarks held by other teams would limit our ability to make the name our own. And without Wolves, variations like RedWolves wouldn't have been viable either for these and other reasons."
The new helmets and uniforms will still feature the franchise's burgundy-and-gold colors and a video teasing the reveal also included a "W" logo making an appearance. There are also three stars on the new uniforms, which would hint at a military nickname.
In the summer, the team listed eight unofficial "finalists" for the nickname and those were: Presidents, Brigade, RedHogs, Washington Football Team, Commanders, Armada, Defenders and RedWolves. When the initial news was announced about dropping the old nickname, Washington coach Ron Rivera said the team wanted to include the military in the new one. There are reports that keeping Football Team is no longer an option.
Did the team goof up, though? Earlier today, WashingtonAdmirals.com directed users straight to the team's official site – but now it no longer does. It could have been a red herring.
There is widespread scuttlebutt on social media that it will be RedHogs because of the release date: Feb. 2 is Groundhog Day. RedHogs would refer to that famous former Washington offensive line during the 1980s and early 1990s when the team won three Super Bowls under former coach Joe Gibbs. Note this, though: "Washington Groundhogs" was recently filed with the US Patent and Trademark Office. That could have been by anyone. 
Also note that the Washingtoncommanders domain name was created less than 30 minutes before the original Washington press release on July 3, 2020, announcing that the team was undergoing a thorough review of the former Redskins nickname. JP Finlay of NBC Sports Washington has been on record saying Commanders was his guess and Finlay knows that team better than just about anyone.
The WFT closes its season Sunday at the New York Giants. 
Via SportsLine oddsmakers: What will be the Washington Football Team's new nickname?
Commanders +200
RedHogs +300
Defenders +500
Armada +800
Brigade +900
Red Tails/RedTails +1000
Sentinels +1200
Admirals +1500
Groundhogs +2000
Presidents +2000
Who wins every NFL game? And which teams will sink your bankroll? Join SportsLine now to get NFL picks every week, all from the model that simulates every game 10,000 times and is up almost $8,000.