New York Giants betting odds, Week 1 Vegas spread and Daniel Jones NFL MVP chances
New quarterback Daniel Jones showed promise at times, and new coach Joe Judge will try to provide a spark for the New York Giants. Here is how their schedule breaks down: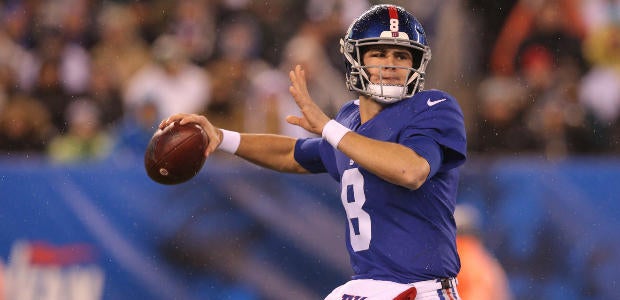 The past two NFL MVP winners have been second-year quarterbacks. Could the New York Giants' Daniel Jones continue that trend this year? Jones is a long shot at William Hill sportsbook, but so were Lamar Jackson and Patrick Mahomes entering the past two seasons. The post-Eli Manning Era for the Giants officially begins Monday night with Big Blue a 6-point underdog on the NFL odds vs. the Pittsburgh Steelers. It's the head coaching debut of the Giants' Joe Judge.
"Monday Night Football" has been around since 1970. The Giants had never hosted two MNF games in a single season. They will in 2020: Against Pittsburgh in Week 1 and vs. Tom Brady's Tampa Bay Buccaneers (that still feels weird to type) in Week 8. The Giants will be playing three prime-time games overall (possibility of more being flexed into Sunday night) in 2020 as they also visit Philadelphia on Thursday in Week 7.
Giants fans are probably shocked their team isn't opening in Dallas as New York had opened there five of the past seven years. New York has lost eight of its past nine openers overall (0-8 ATS in past eight). Pittsburgh, though, is just 2-7 ATS in its past nine openers. 
Interesting that the Giants' in-division schedule is largely bunched together as they play five of their six NFC East games between Weeks 5-10. Big Blue is 4-14 SU vs. division opponents in the past three seasons.
Last year, the Giants lost by 18 to the Cowboys and by 14 to Buffalo to start the season, but they won and covered the spread in their first two games with Daniel Jones at quarterback. They scored more than 20 points just three times in the next nine, losing all of them and going 3-6 ATS. Games against the struggling Dolphins and Redskins helped New York close on a positive note with two wins in its last three. The Giants were favored in five games and went 3-2 SU and ATS, beating Miami and Washington (twice). The Over hit in seven of the last nine, with the New York defense allowing 30 points or more six times.  
Coach Pat Shurmur was fired after going 9-23 in two seasons, and Bill Belichick disciple Judge was brought in as coach; former Cowboys coach Jason Garrett was added as offensive coordinator. Garrett has weapons to work with, but the defense will need to show great improvement.  
NEW YORK GIANTS BETTING PROFILE  
2019 record: 4-12 (third, NFC East)
2019 against the spread: 7-9 ATS
2019 ATS margin: -3.1
2019 Over-Under: 10-6 O-U
2020 strength of schedule: Seventh-easiest; Giants opponents combined for a .482 winning percentage last year (123-132-1).
WHO COVERS EVERY NFL GAME? JOIN SPORTSLINE NOW TO GET PICKS FROM AN ADVANCED COMPUTER MODEL THAT'S UP MORE THAN $7,000 ON ITS TOP-RATED PICKS AND HAS NEVER HAD A LOSING SEASON!
WILLIAM HILL 2020 NEW YORK GIANTS FUTURES ODDS 
Win total: 6.5 (Under -120)
To make playoffs: No -450, yes +350
Division: +750 to win NFC East
Conference: +3000 to win NFC
Super Bowl: +6000 to win SB 55
MVP: RB Saquon Barkley +3000, Daniel Jones +10000
Defensive ROY: CB Xavier McKinney +3300 
Coach of the Year: Joe Judge +3000
SportsLine Model's projection: 5.7 wins (Pick is Under)
NEW YORK GIANTS GAME-BY-GAME BETTING TRENDS
Week 1 vs. Pittsburgh, 8:15 PM ET (Monday): The Giants are 1-3 ATS in the last four home meetings despite being favored in two of those.
Week 2 at Chicago, 1 PM ET: The Giants are 6-0 ATS in the past six meetings in Chicago (dating to 1992) and are 4-2 SU, losing the past two.  
Week 3 vs. San Francisco, 1 PM ET: New York is 3-2 SU (2-3 ATS) since beating the Niners in the NFC title game before winning Super Bowl XLVI.     
Week 4 at LA Rams, 4:05 PM ET: The 51-17 drubbing at home in 2017 was the last meeting, but New York was on an 8-0 run SU and ATS before that.    
Week 5 at Dallas, 4:25 PM ET: The Cowboys are 6-1 (5-1-1 ATS) in the past seven home meetings. 
Week 6 vs. Washington, 1 PM ET: The Giants are 5-2 ATS in the past seven at home, and the Under is 8-2 in the past 10 at MetLife Stadium.  
Week 7 at Philadelphia, 8:20 PM ET (Thursday): The Eagles have won six in a row at Lincoln Financial Field, but the Giants are 3-3 ATS after covering in the past three.
Week 8 vs. Tampa Bay, 8:15 PM ET (Monday): New York is 6-1 in the past seven meetings (5-1-1 ATS) after last year's unlikely rally.  
Week 9 at Washington, 1 PM ET: New York is 5-2 ATS in the past seven in D.C., scoring at least 40 points three times. 
Week 10 vs. Philadelphia, 1 PM ET: The Over has hit in eight straight meetings at the Meadowlands, with Philly scoring at least 34 points and going 6-2 SU and 5-3 ATS.
Week 11 BYE: New York is 3-1 ATS coming off its bye the past four years, but that loss was an epic 51-17 beatdown at home against the Rams in 2017.   
Week 12 at Cincinnati, 1 PM ET: The teams have met eight times since 1985, with the home team winning each game. The Giants are 1-3 ATS in Cincy, losing by one point in 2004.  
Week 13 at Seattle, 4:05 PM ET: The Seahawks are 4-0 ATS in the past four meetings overall, and a 41-7 rout in 2010 was the only Giants' win in Seattle since 1981.
Week 14 vs. Arizona, 1 PM ET: The Cardinals are 6-1 ATS and the Under is 5-2 in the last seven matchups in New York.
Week 15 vs. Cleveland, 1 PM ET: The Giants are 4-1 ATS in the five meetings since the Browns resumed play in 1999.        
Week 16 at Baltimore, 1 PM ET: The teams have split the four meetings, with the winning team covering each time since the Ravens' 34-7 Super Bowl win after the 2001 season.   
Week 17 vs. Dallas, 1 PM ET: Dallas is 6-0 SU and ATS in its past six overall against the Giants, with the Over hitting the in past three. 
Some trends contributed by SDQL Gurus   
EXPERT PICK FROM SUPERCONTEST GURU R.J. WHITE: Under 6.5 wins (-120), division at +750
I initially liked the Giants as a division dark horse, as I think the strength of this roster is pretty underrated. But dealing with a new coach during an offseason where the league is in upheaval is already a tall order, and they have the second-hardest schedule to contend with based on Vegas win totals. Aside from playing the Redskins twice and the Bengals once, their easiest games are at home against two teams in the Browns and Cardinals that are going to garner a lot of preseason hype, then away games against the Bears and Rams. Their other third-place NFC game comes against the Bucs, another hyped team after the addition of Tom Brady. The deck is just stacked against the Giants in 2020.
I don't think the Giants are going to win the division, but at +750, I'm willing to take a flyer. The team focused on improving the line in front of Jones, and he'll have a solid group of pass-catchers after the emergence of Darius Slayton last year. The defense should be better as well with James Bradberry, Blake Martinez and Xavier McKinney in place. If you want to be conservative, hit the Over instead, but I can see the Giants making a push to win the NFC East this year if Jones can take a step forward.
SO WHAT 2020 FANTASY FOOTBALL SLEEPER SHOULD YOU SNATCH IN YOUR DRAFT? AND WHICH WR1 CANDIDATE CAN YOU WAIT ON UNTIL LATE? JOIN SPORTSLINE NOW TO GET 2020 FANTASY FOOTBALL CHEAT SHEETS FROM THE MODEL THAT WAS ALL OVER DERRICK HENRY'S HUGE SEASON, AND FIND OUT.