2023 Hard Knocks NFL team odds: Jets clear favorites over Bears to host HBO show with likely Aaron Rodgers addition
Which team will appear on HBO's "Hard Knocks" this summer?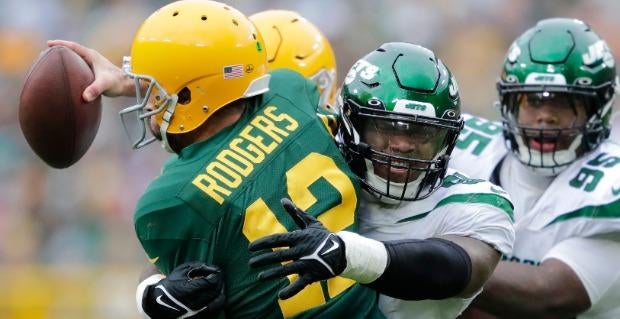 While another team could come out of the woodwork and request to host the show, via NFL guidelines four teams can be forced to host HBO's "Hard Knocks" show this summer -- the Chicago Bears, New Orleans Saints, Washington Commanders, and New York Jets. SportsLine offers odds on which of those teams will be featured.
In order to "qualify" to welcome the HBO cameras, an NFL team must have missed the playoffs in the past two seasons, have a head coach in at least in his second season and not have hosted "Hard Knocks" before.
When the 2022 NFL regular season concluded, the Bears would have been the favorites on this list with a rising young star quarterback in Justin Fields and the top pick in the NFL draft in hand, but general manager Ryan Poles recently traded that pick to the Carolina Panthers. Under the McCaskey family, the Bears have always been a rather secretive organization, so it would be very interesting to see behind the scenes of one of the NFL's flagship teams in training camp.
However, the Jets are clearly the favorites now that Aaron Rodgers will likely be traded there from Green Bay once the teams can figure out the compensation. With Rodgers under center, that also may draw Joe Namath to training camp. Namath has given permission for Rodgers to wear his retired Jets No. 12 jersey.
With Tom Brady retired, one could make an argument that Rodgers draws eyeballs more than any player in the league, except for perhaps Patrick Mahomes. The Jets also could add Odell Beckham Jr. in free agency, and head coach Robert Saleh is on the hot seat entering 2023. New York also had both 2022 Rookie of the Year Award winners in receiver Garrett Wilson and cornerback Sauce Gardner. There's a lot of good storylines. The Jets are up to +1400 sixth favorites at Caesars Sportsbook to win Super Bowl 58, but no team has reached the big game in the season it was featured on "Hard Knocks."
New Orleans got a bit more interesting this offseason with the free-agent addition of quarterback Derek Carr, but it's still largely an anonymous team and doesn't have the national cache the Jets and Bears do.
Washington remains a bit of a toxic franchise because of embattled owner Dan Snyder. The Commanders' biggest on-field storyline right now might be whether Sam Howell holds off journeyman Jacoby Brissett for the Week 1 starting QB job. It's unclear whether the NFL would want an HBO microscope on all the off-the-field issues regarding the Commanders and Snyder.
The Detroit Lions hosted the 2022 summer version of "Hard Knocks" and missed the playoffs again but were vastly improved. That it was a Midwest team from the NFC North on the show also may work against Chicago.
Via SportsLine oddsmakers:  If an "obligated" team is shown on HBO's Hard Knocks this summer, which team will it be?
Jets -300
Bears +400
Saints +900
Commanders +1500
So which 2023 Fantasy baseball busts, breakouts, and sleepers should you target or fade in your drafts? Visit SportsLine's Fantasy baseball cheat sheets now to get rankings for every single position, all from the model that called Joey Votto's disappointing season, and find out.